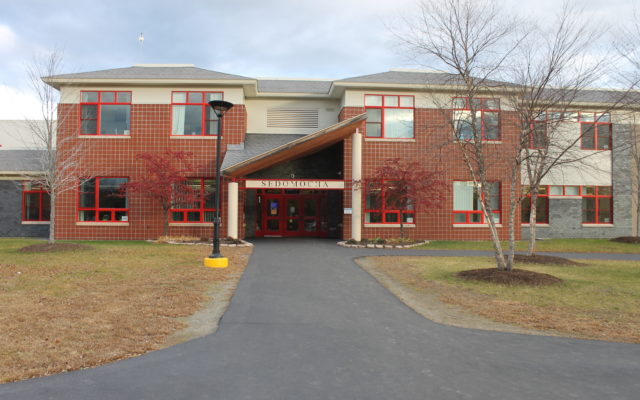 IMG_4585
The SeDoMoCha School in Dover-Foxcroft
School year underway in RSU 68
DOVER-FOXCROFT — A few days into the start of classes, RSU 68 school board members learned more about the opening week of school from administrators during a meeting at the superintendent's office building on Tuesday evening.
SeDoMoCha School Principal Adam Gudroe said he likes to start off his board report by mentioning enrollment figures. He said the elementary school has 344 pupils and the middle school count is 292 for 636 total students, about 20 fewer than at the close of the 2022-23 academic year.
He said some students got a boost by taking part in summer school, with about 65 elementary pupils and two dozen from the middle school participating in the program funded through the first of a 4-year 21st Century Community Learning Centers grant.
Gudroe said Natasha Colbry will be moving on as the program director, and former science teacher Cassidy Miller will be succeeding her.
The principal said he is glad to have School Resource Officer Glenn Graef of the Dover-Foxcroft Police Department in the building. "He has proved to be beneficial not just because of his presence and to build relationships but to be there if any situations arise," Gudroe said.
The hire of Student Success Coach Davan Walker has been a great addition to the SeDoMoCha School, Gudroe said. "She already has been a great resource for our staff and students," he said.
Walker works with students on overcoming barriers both in and out of the classroom, and building relationships with families.
Gudroe said the kickoff for the annual One Book, One School shared family reading program is set for early in the evening of Thursday, Sept. 14 — with this year's selection to be announced that night. He said the program will be over in time for families to attend Foxcroft Academy's annual Homecoming parade.
Assistant Principal/Athletic Director Cameron Archer said the Eagle teams have been practicing with most having the first games this week.
He said about 20 players are on the football squad and boys soccer has a similar roster size. Thirty girls went out for soccer and they are split between A and B squads. Field hockey has 24 players and the plan is to have some 7-on-7 B-level games for sixth-and seventh-graders.
Archer said cross country has seven runners, and so far only one golfer is representing SeDoMoCha on the links but a few other students have expressed interest.
The soccer and field hockey field behind the school has a new scoreboard. Archer said Powerline Construction did the installation and would be wiring the scoreboard on Thursday morning to have it up and running for the first games of the season.
"Pre-K started today, it was a lot of fun and they were so excited to be here," Superintendent Stacy Shorey said, with this program being housed in the superintendent's office at 572 Bangor Road.
The district's administrative team applied for and was awarded a $166,000 grant to expand the pre-kindergarten program. RSU 68 is partnering with SAD 4 of Guilford, the Milo-based SAD 41, and SAD 46 of the Dexter area as well as Child Development Services to provide four classrooms for this program.
Last year 20 pre-K students with unmet needs were found, and expanding pre-K in a collaborative effort will help serve the children across the region better. If there is room, the hope is to expand the program to include some 3-year-olds.
She said Little Linus Childcare opened its doors last month at the facility and she is in discussions with a private firm about renting space. She said between the superintendent's office and Head Start Building, RSU 68 is bringing in about $50,000 in annual revenue through the rental agreements.
The superintendent said RSU 68 is part of a Comprehensive Electronic Health Pilot program which would make all health records electronic, enabling the nursing and guidance staff to have easy access to relevant information.