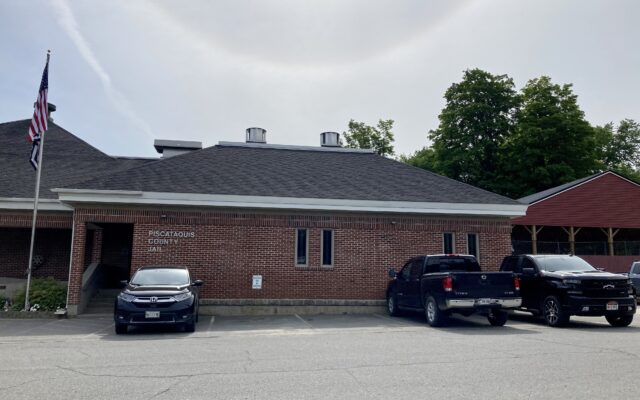 Piscataquis-County-Jail-070522
Observer photo/Valerie Royzman The Piscataquis County Jail in Dover-Foxcroft.
County to go with Bangor firm for jail HVAC upgrades
DOVER-FOXCROFT — The Piscataquis County Commissioners selected ABM Mechanical, Inc. of Bangor to carry out upgrades to the HVAC system at the county jail during a meeting on Tuesday morning. The firm's bid of approximately $828,000 will be covered with American Rescue Plan Act funds.
Head of Maintenance Josh York said an engineering firm had been hired to solicit project bids. He said six companies looked into the HVAC work but ABM Mechanical, Inc. was the only company to submit a proposal.
The bid was "far less than the previous company we got a quote from two years ago," York said. He said ABM Mechanical, Inc. submitted a proposal of around $828,000. This figure is before any unforeseen issues once work starts which York said usually do come up with building projects.
Earlier this year York told the commissioners that a few years ago the HVAC upgrades had an estimated cost of $1.2 million, and the figure likely would have risen with time to as high as $1.7 million. At the time he recommended the county hire an engineer to provide an expert opinion on the specific work that needs to be done and associated prices.
Commissioners Chairperson Andrew Torbett said if the HVAC project was to go out to bid again then the same result of having few proposals come back would be likely. York said doing this would also kick the project down the road as work can only be done in the fall or spring when temperatures are not too hot or too cold.
In July the county had approximately $2.2 million of its $3.2 million in ARPA funding left. Commissioners had mentioned splitting this money between the HVAC system and a dispatch center remodel.
In other business, the commissioners discussed some ideas to place a new flag pole(s) on the county campus as a flag pole currently sits atop the complex building.
York said one site could be near the sidewalk with the pole, base, and electrical work to spotlight the flag costing around $10,000. The other by the side of the building would include room for multiple poles and with the landscaping and electrical installation the price would be in the $35,000 ballpark.
Torbett wondered if the location near the sidewalk could accommodate a second pole.
"I know we can't do three there," York said, mentioning he would check and he would also see about flag protocols concerning how to display the county and state flags with the American flag. York said work would not start until the spring so there is still time to plan.
"It would be nice to have two, it would make it a lot cleaner," Torbett said.
Bangor Daily News reporter Valerie Royzman contributed to this story.