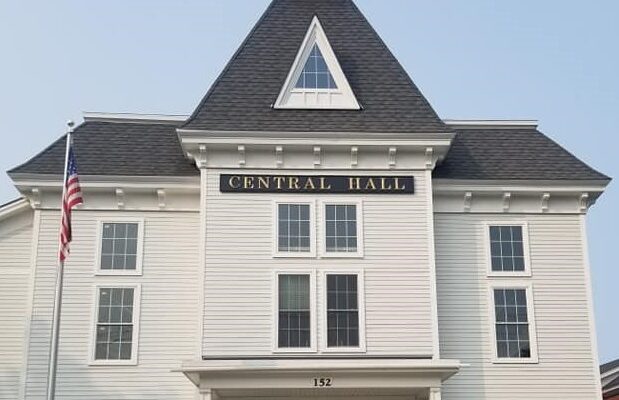 CHC sign (2)
The Commons at Central Hall in Dover-Foxcroft.
Barn quilt painting classes
DOVER-FOXCROFT — Central Hall Commons is excited to share new programming as well as many of our usual classes and activities this autumn. From tai chi and meditation, to game days, coffee talks, and community conversations, there is something everyone can enjoy. Subscribe to our monthly newsletter to stay in the loop or visit our website to learn more. To register for any of our classes, or for more details, please email us at: operations@centralhallcommons.org or call: 207-343-3018.
Barn quilting classes will be Sept. 21-22 Join us over two days to learn about barn quilting. In these classes you will learn about painting and finishing quilt patterns onto wood. After completing the class you will then be able to hang your barn quilt outside on your house or barn. To register, choose a quilt design, or ask questions, email our instructor Cindy Pullyard at cindypullyard@gmail.com. There is a $50 registration fee for each participant. Materials for class will be provided.
Pullyard is a retired accountant, as well as a long term painter and quilter. She began quilting over 30 years ago, and enjoyed painting in her teenage years. More recently, Pullyard has combined these two hobbies into barn quilting, and wishes to welcome members of the community to learn about this artistic expression. We hope to see you there.
Central Hall Commons aspires to bring people together to celebrate and serve the community through programs, events, and the arts.