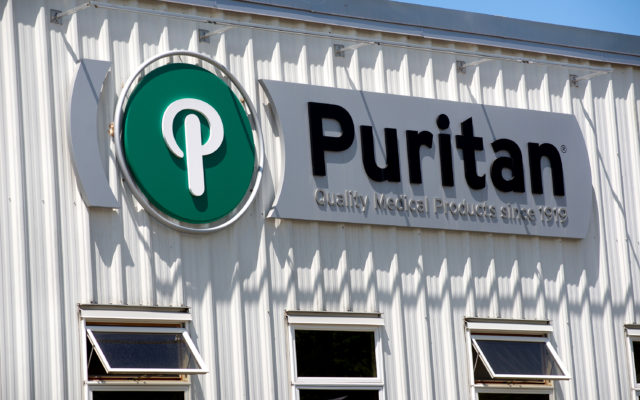 PuritanProfile060420 B LCO
Guilford, Maine -- June 4, 2020 -- Puritan Medical Products, a family-owned Guilford company, is one of just two companies worldwide that makes specialized medical testing swabs.
Puritan Medical Products to exhibit at ASM Clinical Virology Symposium 2023
GUILFORD — Puritan Medical Products – the world's most trusted manufacturer of swabs – announced that the company will attend a key international trade show, exhibiting its world-renowned swabs and other products. Puritan representatives will discuss the upcoming supply needs for winter illness season, customization opportunities, and much more. As a global leader in the creation and manufacture of innovative disposable medical products, Puritan's representatives are looking forward to connecting with other influencers in lab management and demonstrating their high-performance specimen collection devices and patented flocked swabs.
From Saturday, Sept. 9th to Tuesday, Sept. 12th, Puritan will attend ASM Clinical Virology Symposium 2023, hosted by the American Society for Microbiology in West Palm Beach, Florida. The company will be at Booth #514 throughout the event, which attracts the world's top biomedical scientists, physicians, and laboratory scientists. Puritan plans to highlight its most important business lines – and core product offerings – to thousands of scientists, researchers and healthcare professionals who are on the forefront of medical advancement, while also gaining unique insights into the latest diagnostic virology, molecular diagnostics and vaccine development research.
"We are America's swab experts, and we look forward to discussing it at another pivotal trade show this September, especially given the recent COVID spike," said Bob Shultz, president and CFO at Puritan. "Puritan has a unique opportunity to expand its international presence while also connecting with existing customers, explaining why our unique approach to customization is applicable to a wide range of industries. From Maine to Florida and a wide range of countries around the world, Puritan changes the world for the better on a daily basis, and we couldn't be prouder to share that story with others."
Event information can be accessed at https://asm.org/Events/Clinical-Virology-Symposium/Home.
Puritan was founded in 1919 as a toothpick manufacturer with the goal of producing a quality product that people needed, and delivering it with superior customer service. Family owned and operated, Puritan is proud of the families and the rural, small-town work ethic that make the company what they are today: a world-class manufacturer with customers on seven continents. With an ever-expanding line of medical products made of the most up-to-date materials and manufacturing processes, Puritan delivers innovative solutions for even the most demanding application. For more information go to www.puritanmedproducts.com.