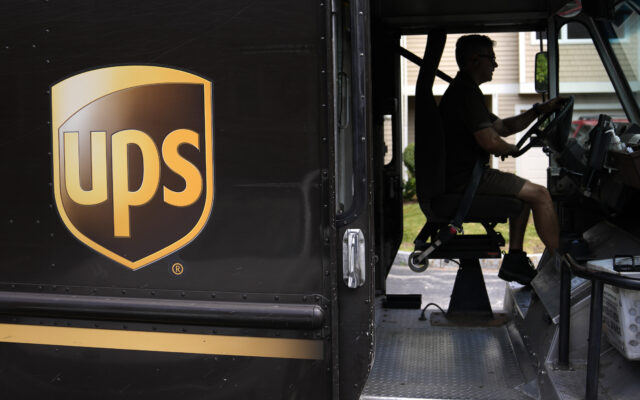 UPS Labor
A United Parcel Service delivery driver steers his truck, Friday, June 30, 2023, in the East Boston neighborhood of Boston. The delivery service is curtailing deliveries in central Maine, meaning longer wait times for many Piscataquis County residents. Credit: Michael Dwyer / AP
UPS cutting service in rural Piscataquis County towns
United Parcel Service is cutting deliveries from five to three days a week in a handful of Piscataquis County towns.
Deliveries to the towns of Abbot, Monson and Shirley were consolidated starting Aug. 21 in an effort to help UPS drivers more efficiently serve customers, spokesperson Mitch Polikoff said. Information about whether the change affects other parts of Maine was not available Wednesday, he said.
In rural parts of the state, Mainers use online stores for goods and medications rather than traveling to major cities like Bangor. Some area residents are unhappy about the change because it may mean longer wait times for packages.
"I think it's a terrible decision," Monson resident Jim Greenleaf said. "UPS continues to deliver to Greenville and Guilford, passing through Monson, which it determined doesn't warrant service."
Greenleaf learned about the change from his delivery person late last week, and his neighbors were also talking about it, he said. It means daily Monday-through-Friday deliveries will now be made only on Monday, Wednesday and Friday.
The 75-year-old counts on UPS to deliver packages containing coffee, bird feed and over-the-counter medicine, among other items that he buys online because there isn't a major retailer near him.
Monson has a general store but not a larger grocer or home improvement store, which people usually access in Dover-Foxcroft or Greenville.
Places such as Dick's Sporting Goods, Target and Kohl's are a 2.5-hour round trip from Monson to Bangor. Walmart stores in Palmyra and Skowhegan are closer to some Piscataquis County towns than the Bangor location.
Greenleaf acknowledged the importance of supporting local businesses, but online shopping is convenient and sometimes more financially beneficial, he said. By the time he fuels up his vehicle for a trip to Bangor and buys what he needs there — sometimes more because it's easy to get carried away, he said — it adds up quickly.
Since returning to Monson permanently about 12 years ago, Greenleaf has noticed small hits to services, he said. For example, Amazon offered two-day shipping to Prime members, but in some parts of the country people, including Greenleaf, have been surprised by slower delivery speeds than they were once used to.
"I buy from online merchants because it's kind of a way of life up here," he said. "Amazon in particular uses UPS for just about everything."
UPS shipments to Abbot, Monson and Shirley will spend an additional day in transit, but customers will still have certainty about the delivery date of their packages, Polikoff said.
"The vast majority of our customers will not experience any difference in the service they receive," he said, noting that critical health care packages will not be delayed. "We are constantly evaluating and modifying our network, and we remain committed to providing our customers with the most reliable and efficient service wherever they live and work."