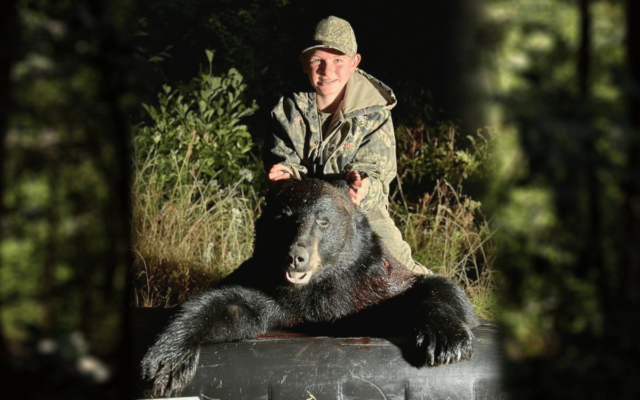 YouthBearHunt-083023
Photo courtesy of Dustin Lander FIFTH BEAR — Chase Lander of Guilford shot this 283-pound boar on Youth Bear Hunting Day. It was the fifth bear harvested by the 14-year-old.
Guilford 14-year-old harvests 5th bear
By Pete Warner, Bangor Daily News Staff
Chase Lander of Guilford is a busy young man. The honor student has just started his freshman year at Piscataquis Community High School in Guilford, where he's a member of the varsity soccer team.
He stays plenty busy throughout the school year, as he plans to play basketball and baseball for the Pirates.
However, the 14-year-old also is able to squeeze in some time for one of his favorite hobbies: hunting.
Lander harvested his fifth black bear on Youth Bear Hunting Day, including one that he trapped two years ago. This year's bear, which he shot, weighed 283 pounds.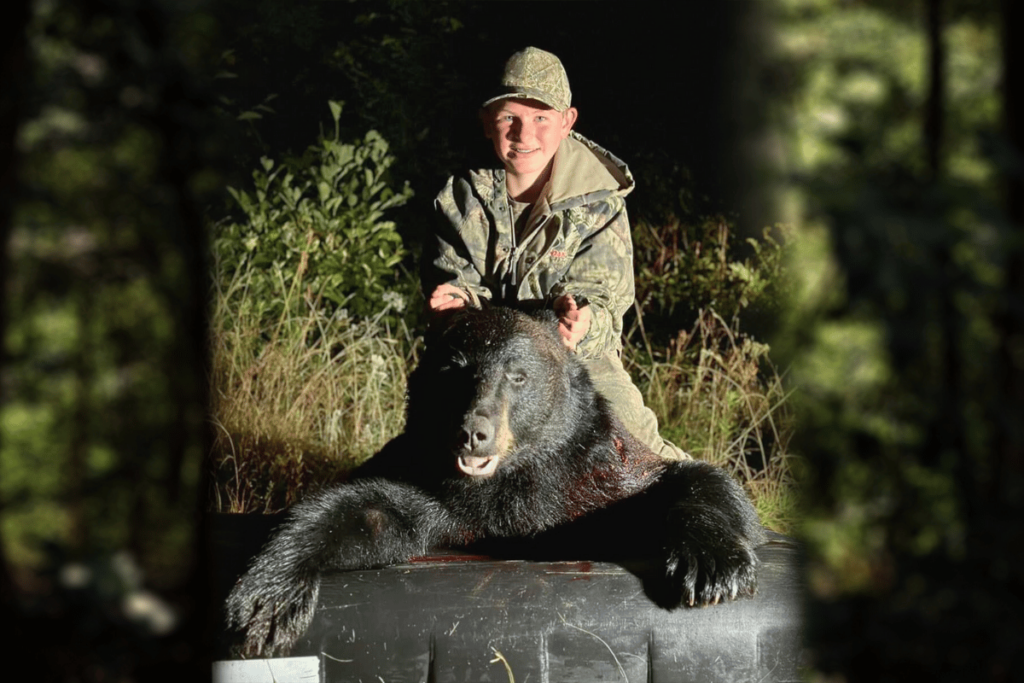 In Maine, hunters are allowed to take two bears per year, one by hunting and one by trapping.
This year, the teen didn't try to shoot the first bear that came to the bait. He knew there were other larger bears that had been visiting that particular site on leased land in Blanchard.
"There's four bears that I would have shot there," he said. "I think there's a picture of four bears all at once and they're all big."
There were some tense moments during his youth day hunt, specifically because the light was fading fast when the bear emerged.
"It was really dark and I could only see through the scope, pretty much. It was 7:44 and legal was at 7:53," Chase Lander said.
The bear had been coming to the bait consistently, at the same time every day.
"They definitely are a creature of habit," said Dustin Lander, his father. "When they get into a routine, it's almost like clockwork."
Lander, his dad and his mom Kristen are avid bear hunters and they share that passion with a large group of friends who share the baiting workload and costs.
"Chase is the only kid [in the friend group] left in school, everybody else has moved on," Dustin Lander said.
That gives him first crack on youth day.
Dustin Lander has only been hunting bears for five years himself, but he enjoys being able to sit next to Chase in the two-man treestand.
"Even though I'm not the one pulling the trigger, I'm just as excited," Dustin Lander said. "I haven't shot a deer since Chase started hunting. He gets to pull the trigger."
Chase Lander started off his bear hunting career with a 305-pounder when he was only 10 years old. He needed 40 hours of sitting and a lot of patience to bag a 100-pounder in 2020, then shot a 180-pounder the following year and trapped a 140-pounder.
And Chase Lander's hunting success isn't confined to bears. Four times, he has harvested a bear, a deer and a turkey in the same year. He has a total of five deer to his credit.
"We kind of joke about it, but you know he's harvested a lot of animals that most grown men don't do in their lifetime, so he's fortunate," Dustin Lander said.
Dustin Lander also wants to help put Kristen on a bear this year before he gets a shot for himself. Last year, she harvested a bruising 410-pound boar (male bear).
Chase Lander also enjoys putting on some walking miles in the spring searching for moose antler sheds. But when push comes to shove, there might be something he likes a little better than hunting.
"Sports," he said.
That said, once deer season rolls around, Chase Lander is going to be ready to go.