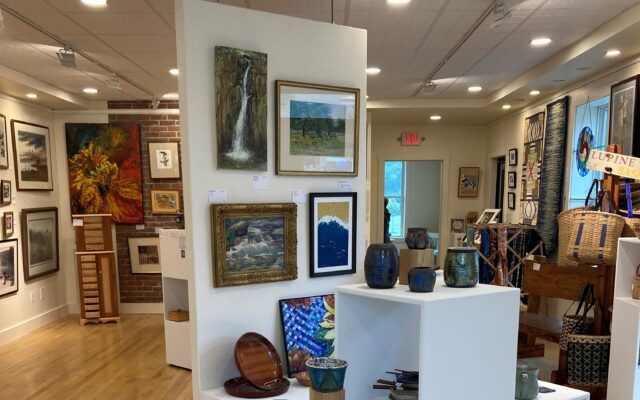 Monson-Gallery-Store-2 (1)
Photo courtesy of Monson Gallery Store The Monson Gallery Store opened in early July. It's the Portland-based Libra Foundation's latest investment in the small, rural Piscataquis County town.
A tiny Maine community is growing with an art gallery store
A thriving arts community in a small Piscataquis County town has expanded with a gallery store, bringing even more exposure to area artists.
Monson Gallery Store, located at 8 Greenville Road, opened in early July. The store is set up like a gallery, with ceramics, paintings, prints, jewelry, stained glass, woodcraft and other creations on display to be purchased. It also sells art supplies and books.
The gallery store is the Portland-based Libra Foundation's latest investment in Monson, a rural town in one of Maine's poorest and least diverse counties. Since the foundation invested more than $10 million into revitalizing the town starting in 2017, a pocket of diversity has grown there.
The Quarry, a restaurant in town, won a distinguished James Beard Award for Outstanding Hospitality in June, which left locals buzzing and hopeful about the town's future.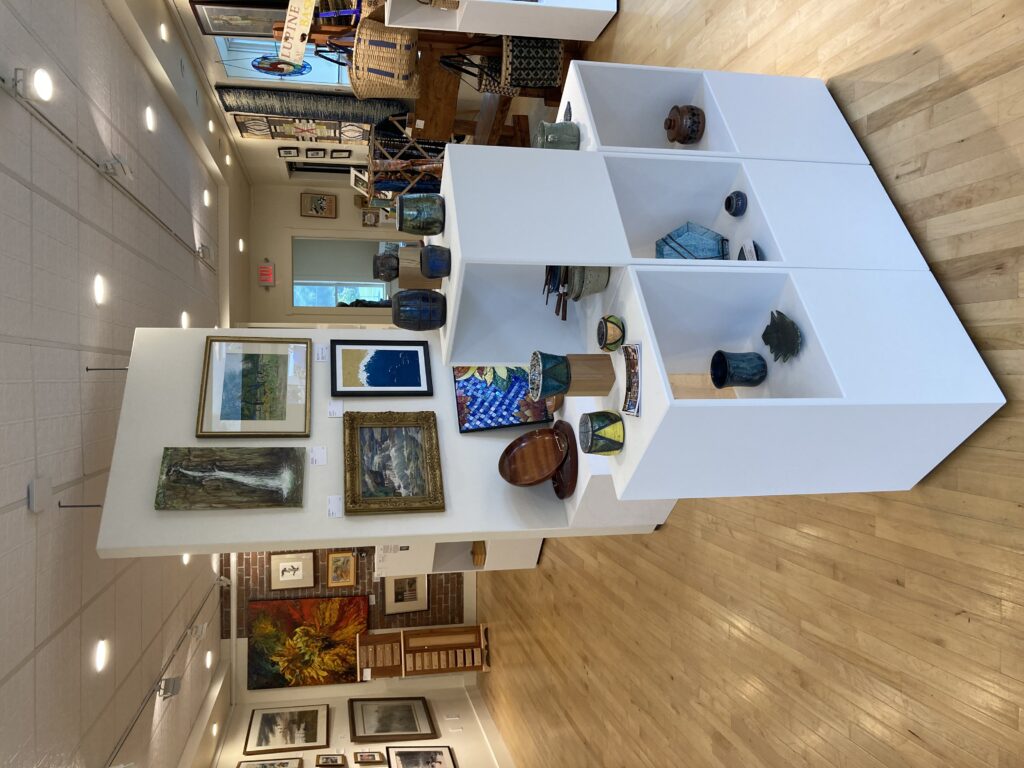 "On a practical level, we're supporting local artists and selling their work," manager Jennifer Friedrich said about the gallery store. "They're able to pursue their art and be rewarded for it. This will hopefully draw more people into the town."
The store was previously used as office space for Monson Arts, which offers workshops to the public as well as two-week and month-long residencies for visual artists and writers. The nonprofit also has a gallery next door to the store, where Northwoods: Absence and Presence, an exhibit including Alan Bray's artwork and Wesley McNair's poetry, is on display through Oct. 29.
Because of renovations completed several years ago, the store didn't need many changes, said Friedrich, who worked at the Monson General Store downtown until the gallery store opened.
Artwork for sale is mostly made by Piscataquis County creators, but the store includes some works by artists from farther away if they use a unique medium. For example, the store is able to carry art made from glass because it works with an Auburn-based artist, Friedrich said.
When Friedrich first visited Monson while hiking the Appalachian Trail in 2007, the town looked depressed, she said. Lately she's noticed "good energy" from summer tourists, young families moving in and the return of those with roots in Monson.
Expansions, whether big or small, keep that momentum going, she said. That includes the gallery store, which gives people passing through town a new place to check out.
"Monson has generated a new modern image," she said. "There has been a rebirth here."
Monson Gallery Store is open from 10 a.m. to 5 p.m. Monday and Thursday-Saturday, and from 11 a.m. to 5 p.m. Sunday. Hours will likely change during the winter, Friedrich said.