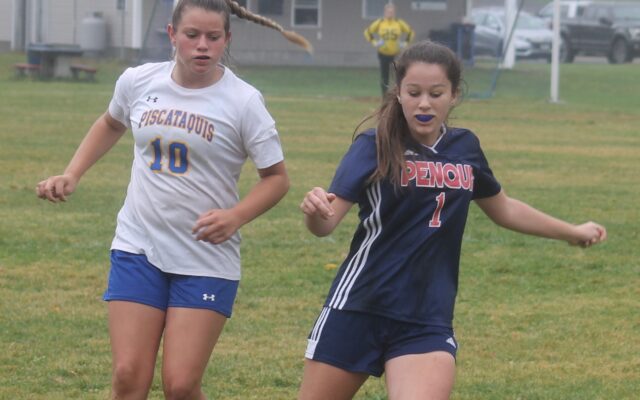 PO-sppenquisdriscoll-42-22 (1)
Observer file photo/Stuart Hedstrom TOEING THE LINE – Amara Driscoll of Penquis keeps the ball in play while being pursued by PCHS' Elizabeth Gilbert during a game in Milo last October. This season both teams have switched to the eight-player game along with the Dexter boys and both Greenville squads.
Eight-player soccer kicks off across Maine
By Sam Canfield, Bangor Daily News Staff
The country's newest high school sport has made its debut.
With Wisdom's (St. Agatha) 6-2 victory over Van Buren on Aug. 23, the nation's first official game of boys eight-player soccer entered the books.
This April, more than two dozen boys and girls high school soccer teams from around the state made the switch to eight-player, due to decreasing enrollment and the desire to remain competitive. Maine was the first state in the country to adopt the sport.
Local teams that will compete in eight-player soccer are the Dexter Regional High School boys, both Greenville High School teams, the girls of Penquis Valley High School, and the Piscataquis Community High School girls.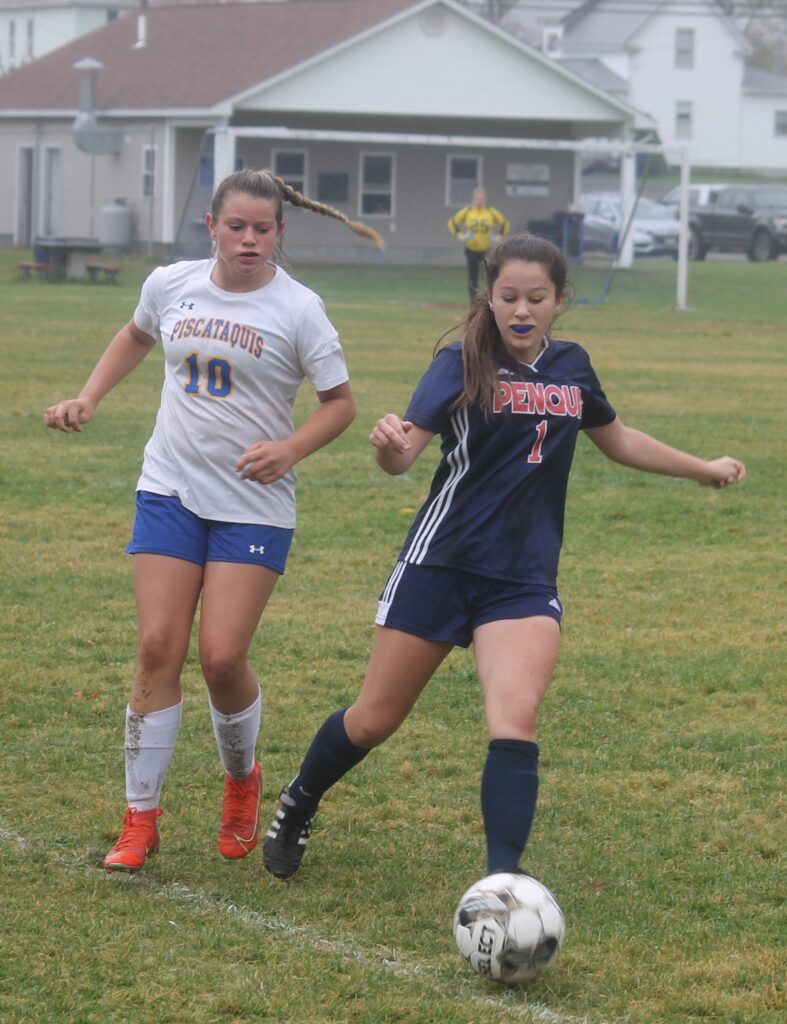 Aside from having 30-minute rather than 40-minute halves, eight-player soccer is practically identical to 11-player, including the size of the pitch the games are played on. Teams are busy navigating the newfound pros and cons associated with this sudden increase in space between players.
"The kids are gradually learning how to play the field," Wisdom head coach Rhylee Wright said. "They can't stay in their positions like they used to, and get tired faster."
With more space to start breakaway plays, it appears eight-player soccer could produce higher-scoring games. Junior Camden Pelletier, co-captain of the Wisdom Pioneers, scored the sport's first goal less than 60 seconds into the game.
"Our assistant coach told the team he wanted to see a goal in less than a minute," Wright said. "They went and got one."
Last year, Van Buren and Wisdom combined their rosters just so they could field a team. It was Van Buren head coach Steve LaPierre's first time not coaching the Crusaders in more than 40 years.
"We're glad to have a team again, but we've obviously never done eight-man," LaPierre said preseason. "It's going to be a lot of trial and error; we don't know what to expect."
In Bethel, the Telstar Rebels' girls team is also back online. Last year, they had to join the boys team at Telstar, which prepared them for another season full of changes.
"Every season since COVID has been different," head coach Scott White said. "We have familiarity with abnormal conditions, and the girls are embracing it."
This year, White is focusing on conditioning and spatial awareness more than usual in practice.
"I want them to move up and down the field as a unit, to support one another," White said. "There's more ground to cover, and their passes have to be longer. It can be hard for inexperienced players; I'm perplexed why they kept the field sizes the same."
White was not the only eight-player soccer coach to express befuddlement with the Maine Principals' Association's decision to keep field sizes the same.
"It's a compromise. Smaller and younger teams will struggle," LaPierre said. "Players are now going to have more time with the ball at their feet, so speed and skills are much more important."
In Millinocket, players on the Stearns and Schenck co-op boys team are "in love" with their larger roles on the field.
"They're totally bought in," head coach Aaron Hutchins said. "With fewer players and more space on the pitch, they feel more active and involved. The style of play has changed, but they're having fun."
In the Maine Principals' Association, eight-player soccer is divided into two divisions: North and South. Teams are permitted to play 11-player teams, but both teams have to agree to play eight-on-eight instead of 11-on-11 by default.
A state championship game will be played between the North and South regional champs at the end of the postseason in November.