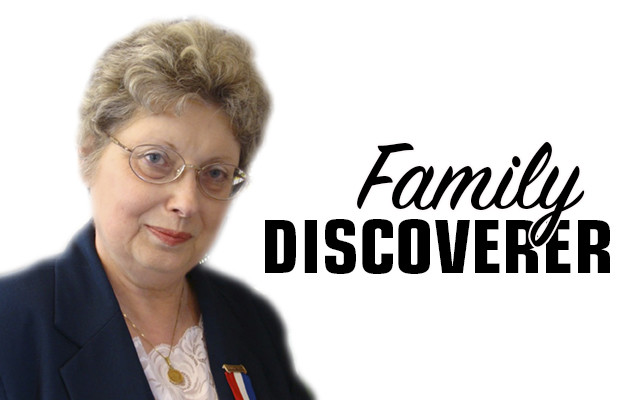 Nancy Battick.jpg
Nancy Battick (of Dover-Foxcroft, president of the Daughters of Union Veterans.) (BDN Photo by Diana Bowley)
Consider offers carefully
By Nancy Battick
Genealogy is a hobby, but for many of us it's an obsession. It's a pursuit where you can spend as much or as little time and money as you like.
Once you're identified yourself as being interested in genealogy, you can expect the offers to roll into your mailbox or your inbox. The truth is there's a lot of genealogical material out there, including online and in-person classes, genealogical societies, journals, magazines, newsletters, blogs, e-zines, podcasts, state and national organizations, online research sites, and surname groups, among others. In fact, there are so many that it's sometimes difficult to make a choice as to what is worth your time and money.
My advice is to take a good look and then a second one at any offers to see if they are going to benefit you. Many sites will offer trial memberships or free days, most publications have cancel features, and many organizations allow you to attend meetings free. It's a good idea to take advantage of these to see if they're a good fit for you.
The same is true with online classes. There are a lot of classes and webinars out there on the internet. Some, like those on FamilySearch.org, are free; others charge fees. Some require you to be a member of the site or organization. You can also find online conferences, though many require a fee, sometimes quite steep.
What you need to do is not jump into all and sundry, but to take your time and figure out if you'll be able to digest all the data that comes your way. If you can access websites at your local library or family history center, you may save yourself money by using those rather than paying for an online subscription. If, however, travel or time is a factor, purchasing a short membership on an online site may be the way for you to go.
As for journals and magazines, try to get a sample copy to see if the material offered is of value to you. Some journals deal mostly with case studies which are great for learning techniques but may not be appropriate or of interest to you. Blogs, particularly those dealing with areas where your ancestors lived or originated, may be of value especially if they let you post queries.
And then there are podcasts, where you can listen to any number of genealogists speak about assorted topics.
Just reading this list of available resources may be overwhelming, and while I support genealogy wholeheartedly, you should ask yourself: How much time can I devote to any of the above sources? Will I have time to do research, read journals, visit websites, take classes, attend meetings?
If, like most of us, you have a life, take that into account. If you're a new genealogist, I advise you to take things slowly. You can always add more resources as you develop your research and can identify what will benefit you the most in your new hobby.
Columnist Nancy Battick of Dover-Foxcroft has researched genealogy for over 30 years. She is past president of the Maine Genealogical Society, author of several genealogical articles and co-transcribed the Vital Records of Dover-Foxcroft.  Nancy holds an MA in History from UM and lives in DF with her husband, Jack, another avid genealogist. Reader emails are welcome at nbattick@roadrunner.com.