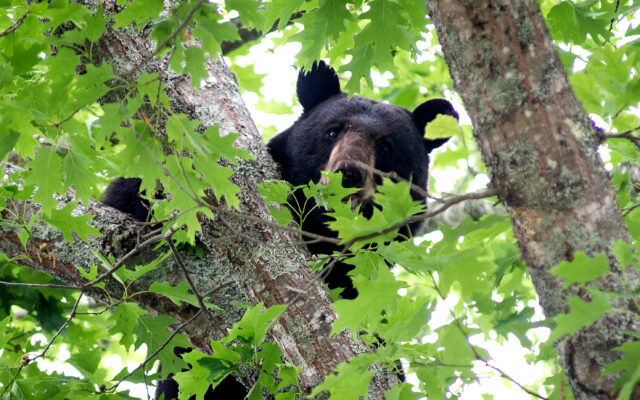 Bear062420 A LCO
Bangor Daily News file photo/Linda Coan O'Kresik BEAR SEASON — In this June 2020 file photo, this black bear was hanging around the neighborhood near Ellsworth Elementary-Middle School. Maine's bear hunting season began Aug. 26 with Youth Bear Hunting Day.
Plenty of natural food for bears means bait hunters may need to be patient this season
By Pete Warner, Bangor Daily News Staff
For the last month, guides, outfitters and hunters have been placing bait in preparation for the 2023 bear season.
Starting Saturday, Aug. 26, they'll begin to discover whether their efforts to bring the bears in during the daylight hours have been successful. But this year, an abundance of natural food may make it harder for those who are bait hunting.
The season begins with Youth Bear Hunting Day, which gives youngsters aged 16 and under the opportunity to get first crack at bears coming to baiting sites. The regular bear baiting hunting season gets underway on Monday, Aug. 28, and runs through Sept. 23.
Bear trapping season starts on Sept. 1 and continues through Oct. 31, while hunting bears with dogs runs from Sept. 11 to Oct. 27.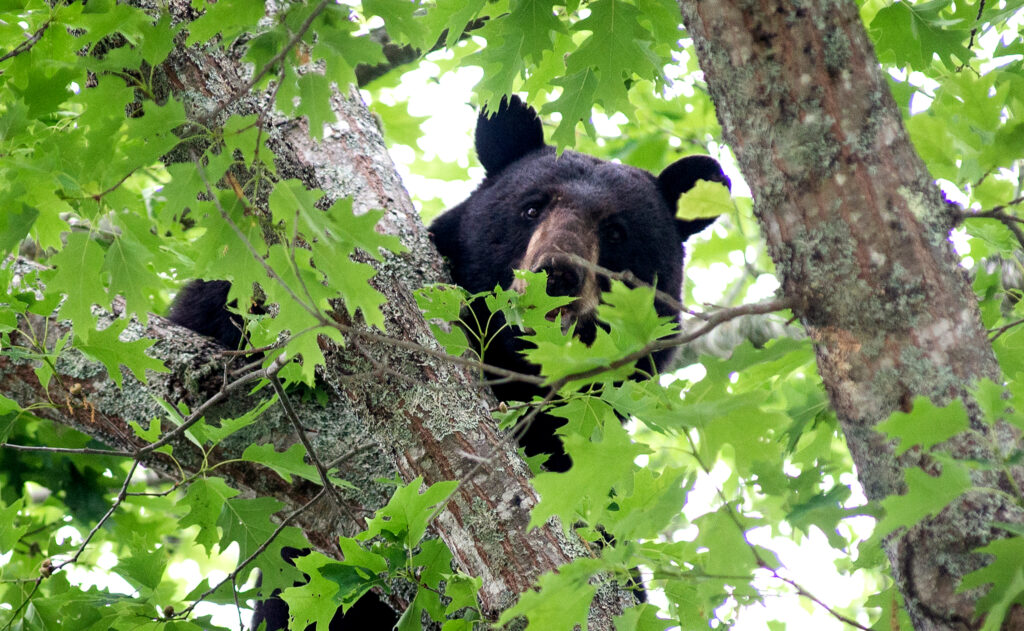 In Maine, bears may be hunted by three species-specific methods — baiting, using dogs and trapping. Some are also harvested using spot-and-stalk tactics or by hunters who encounter them during the regular firearms season for deer in November.
The success of bait hunters is predicated in great part on the availability of natural foods. This year, in spite of the relentless rain, bears have been eating well.
"Lots of rain grows great greens, grasses and forbs, and the digestibility stays better longer through the growing season," said Doug Kane, regional wildlife biologist for the Maine Department of Inland Fisheries and Wildlife.
In the Greenville region, where Kane lives and works, it has been a pretty good season as far as the production of black bear food favorites such as wild strawberries, raspberries, blueberries and bristly sarsaparilla, another berry that is just emerging in areas where it exists.
In general, an abundance of natural food means bait hunters may have a harder time luring bears into their sites, especially early in the season. But it also causes bears to delay their denning activity, meaning trappers, hound hunters and deer hunters have a better chance of coming across bears in October and November.
"There seems to be a fair amount of natural foods and the bears' response to the baits seems to be right in line with that," said Kane, who is a longtime bear hunter.
Bait sites around Greenville are encountering some typical bear traffic.
"You're seeing less visits by adults, a lot of visits by sub-adults, and that's exactly what you expect when natural foods are plentiful," Kane said.
Kane said that regardless of food-driven bear behavior during baiting season and throughout the fall, there is a silver lining for hunters.
"We have a great bear population, so even when the baits aren't doing as well as you hope, the bears are out there," he said.
The state estimates there are between 26,000 and 30,000 bears in Maine.
Kane said there weren't any beech nuts in his area last year, so those should be on the landscape this fall, providing more forage. In other places south of Moosehead Lake, and in central Maine, acorns and apples will be other important food sources that could keep bears out longer.
Bait hunters should try not to get frustrated if bears aren't visiting the bait sites early in the season, especially if they're hunting near a good natural food source such as beech nuts.
"If you're patient later on in the season, the bears often aren't as predictable as far as coming in during daylight hours, but the bigger bears sometimes are more vulnerable."
DIF&W reported 3,758 black bears were taken by all methods of hunting during 2022. That makes three years in a row that hunters shot more than 3,750 bears.
That number coincides with a continued increase in the number of bear hunting permits in Maine. At last report, the 2022 count was 13,600 permits, a 33 percent increase since 2019, when 10,255 were sold.
The record harvest of 3,951 bears came in 2000. The most permits ever issued in a single year was in 2002, when 15,227 hunters received them.