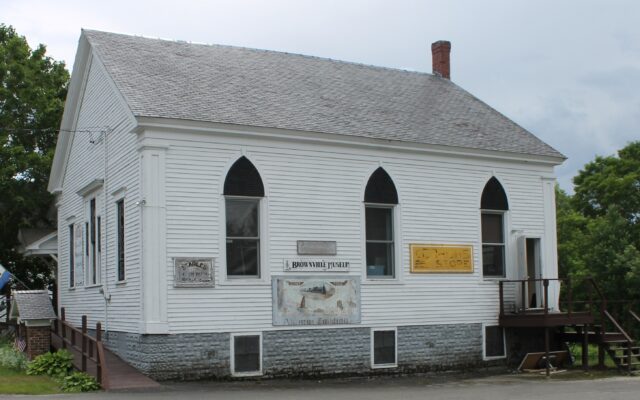 PO-brownvillemuseum-30-19
Observer file photo/Stuart Hedstrom The Brownville-Brownville Junction Historical Society Parish House Museum.
BJHS alumni opt to begin process of dissolution at annual meeting
BROWNVILLE — The Brownville Junction High School Alumni held its annual meeting on Friday, Aug. 18. This was a very important meeting for the organization as it was time to decide if there was enough interest for the group to continue or if it was time to dissolve. This was certainly not an easy decision. This group formed in 1982 when the class of 1962 held a 20th reunion and invited members of other classes to join them.
Over the course of 40 years, they accomplished a great deal. With the financial help of several very generous alumni donors and a lot of fundraising by the group, they were able to build the Brownville Junction Alumni Building. In order to maintain this building there were many suppers and craft fairs as well as rentals over the years. Over all those years, much of the work was completed by a core of alumni who handled the rentals, maintained the building, and worked on the suppers and fairs.
Several years ago there was an agreement with the Bernard Jones American Legion Post 92 to transfer ownership to that organization with the understanding that as long as the alumni continued they would have access to the building at no charge.
Why would the group consider disbanding, you might ask. The last graduating class was the Class of 1968. Do the math. Everyone is getting older. There are fewer people to do the work and fewer people to attend events like the annual reunion. After much discussion it was decided to begin the process of dissolution. A committee consisting of four of the officers (June Marsh, Lynn Weston, Charlene Buzza, and Susan Worcester) will take charge of this task. Members interested in following this process will be notified by email of what's going on. If you are a member of the alumni and would like to be added to that email list, contact susan.worcester@me.com.
One of the decisions that needed to be made was what would happen to all of the items in the Trophy Room. It was decided that all would be given to the Brownville-Brownville Junction Historical Society and they would do their best to display what they could. This process will take some time to complete.
Since the year of its inception, the BJHS alumni has awarded scholarships to children, grandchildren, and great-grandchildren of its members. Over that 40 year period of time, the group has given more than $175,000 to eligible applicants. These funds will be depleted with the 18 scholarships awarded this year.
This year's recipients are:
BJHS Alumni Scholarship – Emma Grace Clukey is a recent graduate of Mountain Valley High School in Rumford. She is the granddaughter of Marvin Lundin. She is planning to attend the University of Maine to study nursing.
Allen B. Lente – Madison J. Brown graduated this spring from John Bapst Memorial High School and also plans to attend the University of Maine. She is the granddaughter of Jack and Sue Percival Brown.
Margaret Law (medical) Scholarship – Trevor Lyford is the son of Marilyn Zwicker Lyford and attends Eastern Virginia Medical School. He will graduate in 2026.
Gavin Murphy and Sapphira Murphy are the grandchildren of Charlene Kenney Buzza. Gavin hopes to graduate with a Doctor of Pharmacy degree from the University of Rhode Island. His sister, Sapphira, is attending the University of Maine studying to become a nurse.
Lauren Morrill, the granddaughter of Larry and Donna Morrill is attending Husson University. She is studying nursing, as well.
Henry & Annie Graves Scholarship – Hannah Petrie is the granddaughter of Patty Petrie. Hannah attends Bryant University and is pursuing a master of business administration.
Zak Mills is the son of Jason and Andrea Mills and great-grandson of Emma Lockhart Barker who graduated from BJHS. Zak is attending Husson University to study sports broadcasting and journalism.
Del Bonsu-Anane, grandson of Kay Chase Whitney, is attending North Carolina State University studying marketing.
Jennah Lyford is the great-granddaughter of Elmer Cunningham. Jennah attends the University of Maine and is majoring in business – marketing and management.
Eleanor Rosebush Scholarship – Gracie Moore is the granddaughter of Rod Blue. She is attending Bentley University with an undeclared major in the area of business.
Joshua Martin, grandson of Donald Martin, Sr. attends Husson University. He is majoring in school counseling.
Abigail Hogan is the granddaughter of William Hogan. She also attends Husson University. Her major is criminal justice.
Greta Connors Scholarship – Madison Coover is the daughter of Kylie Rendzia Coover. Madison is another student attending Husson University. Her major is conservation law.
Jeremy Martin is also the grandson of Donald Martin, Sr. He also attends Husson University and is majoring in hospitality and tourism management.
Lydia Chase is the granddaughter of David Chase and the great-granddaughter of Violet Grant. She is attending Maine Maritime Academy, majoring in international business and logistics.
Don Stiles Scholarship – Kiran Morrill is the granddaughter of Donna and Larry Morrill. Kiran attends the University of Maine and is majoring in marine science.
Ben Wuoristo is the grandson of Jan Nelson. His mom, Janelle, is a Penquis Valley graduate. Ben is studying art history and museum professions at the Fashion Institute of Technology in New York.