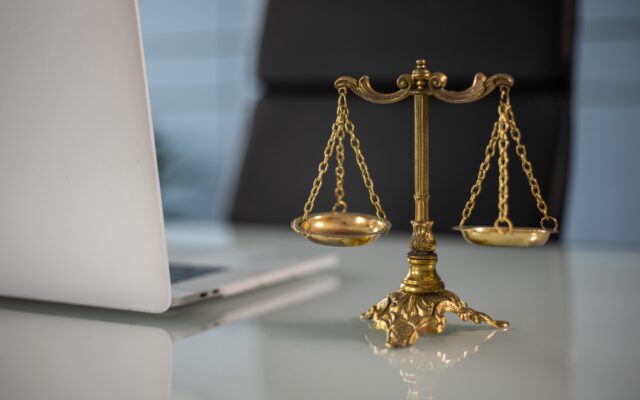 Scales-of-Justice-Judge-Law-Court-Maine-Bangor-Courthouse-1
Federal judge dismisses lawsuit over alleged conspiracy to seize and sell cars
By Ethan Andrews, Bangor Daily News Staff
A federal judge has dismissed a civil lawsuit against Maine towing companies, municipalities, police departments and state agencies that claimed they conspired to illegally seize vehicles and sell them.
The case was brought by Jennifer Coates, Michael Christopher King and Jennifer Hunt, who alleged their cars were seized by police after baseless traffic stops, and in one case a minor crash, in Washington, Hancock and Penobscot counties. In court documents, they described how the titles to their cars were transferred to the towing companies without their consent and sold at auction.
Their attorney, Scott Fenstermaker, filed the lawsuit in U.S. District Court on Feb. 9.
A month later, Fenstermaker's license to practice law was suspended after he was charged with trespassing at Therriens Used Cars Towing & Recycling in Addison, one of the companies his clients said was involved in the conspiracy. His license is under review by the Maine Supreme Judicial Court in a case that the Portland Press Herald reports is still active.
With Fenstermaker unable to represent the pending lawsuit, the court gave the plaintiffs until July 21 to find a new attorney or represent themselves.
In his Aug. 8 dismissal order, U.S. District Judge Jon Levy, said the plaintiffs were warned that their case would be dismissed but "have not responded to the show-cause order or otherwise appeared." For that reason, he wrote, "dismissal is warranted."
Defendants in the case included the Maine secretary of state, Maine Bureau of Motor Vehicles, Washington County government and sheriff, Therriens Used Cars Towing & Recycling, Donald Therrien, Vivian Therrien, the city of Ellsworth, Ellsworth Police Department, Hancock County government and sheriff, Dave's Auto Repair & Towing, Inc., the town of Dexter and its police department, and All Time Towing & Automotive.
The plaintiffs, Coates, King and Hunt, are identified in court documents as being from Washington, Penobscot and Waldo counties, respectively.