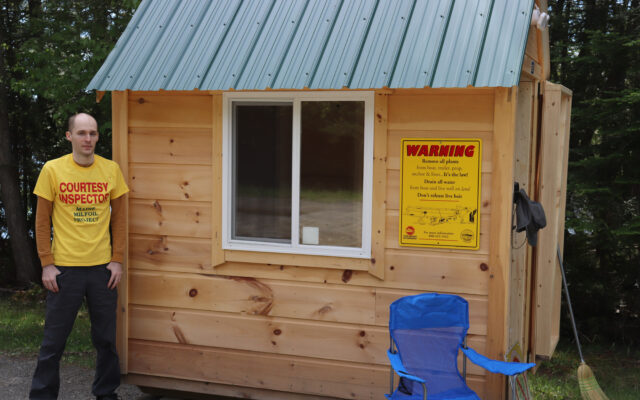 hpt_milfoil_project_houlton_nickerson_lake
Houlton Pioneer Times file photo BOAT INSPECTION — In this May 2021 file photo, James Dobbs stands at the boat inspection station near the public boat launch at Nickerson Lake, where he worked inspecting boats for invasive species.
New aquatic invasives law tightens restrictions on boaters in Maine
By Pete Warner, Bangor Daily News Staff
Maine is a popular place for residents and vacationers alike and many folks spend time during the summer fishing, boating and water skiing on the state's lakes and ponds.
Since boats are moved around frequently, there is an increased threat of spreading invasive aquatic plants.
That's why the state this year passed a tougher law to reduce the chance of introducing potentially damaging plant species into Maine waters.
"An Act to Minimize the Propagation of Invasive Aquatic Plants," signed into law in June by Gov. Janet Mills, directs operators to take further steps to properly drain water from their boats.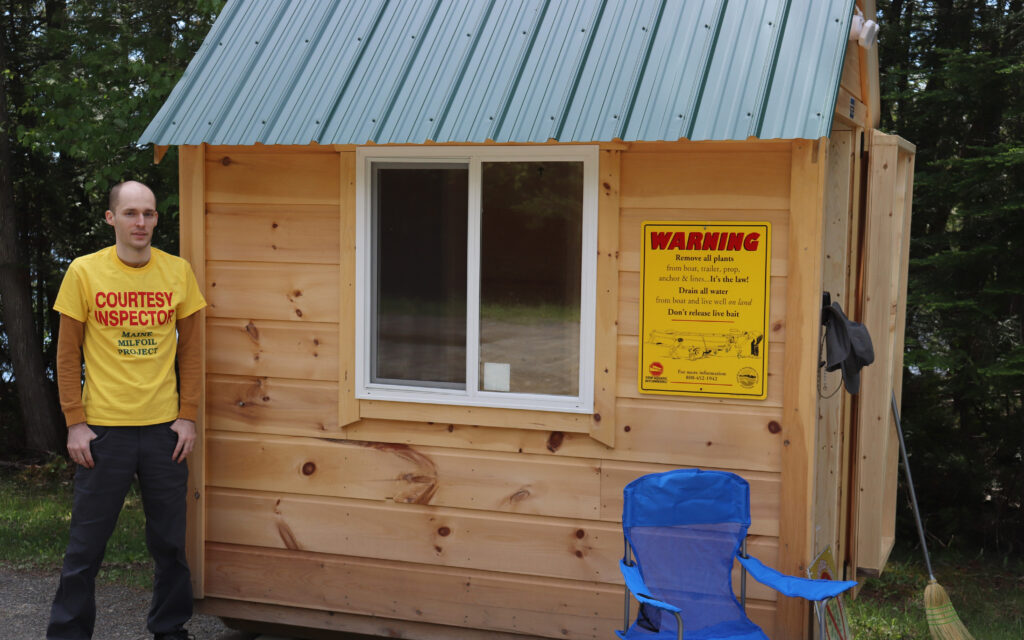 The emergency legislation, which went into effect immediately after receiving the governor's signature, makes it illegal for boaters to "drain or release water held on or within a watercraft, allowing that water to enter any inland water body of the state."
The law is designed specifically to address water that might be transported from one water source to another. It requires the boat operator to take other precautions just prior to launching or immediately prior to transporting away from a launch site, including removing or opening hull drain plugs.
The intention is to prevent boaters from introducing, either directly or indirectly, water, plants or other pollutants into a lake or pond. Thus, the water must be drained from the boat or equipment in a spot where it won't find its way into the adjacent water.
The Maine Department of Environmental Protection promotes a "clean, drain and dry" philosophy. It asks people to clean any mud, plants and animals from boats, trailers, motors and other equipment. Any materials removed should be placed in a trash bin or on high, dry ground where they won't wash into any water body.
People are expected to drain all water from boats, engines and other equipment in a location away from the water. Boats, trailers and other equipment should also be dried in the sun for five days in the event rinsing with hot, high-pressure water is not possible.
There are 11 invasive aquatic species that have been identified under Maine law as illegal to import, sell or transport. Those can disrupt or displace native plants and animals and cause irreparable harm to water bodies.
Some infestations reduce fishing and recreation opportunities, damage habitat and can result in poor water quality and a reduction in property values.
According to the DEP, 2,400 lakes in Maine are larger than 10 acres and fewer than 1 percent of these have been infested with invasive plants.
The state helps keep that number low through its Courtesy Boat Inspection program. Volunteers inspect boats and equipment at launches, pointing out potential issues and educating boaters about the importance of closely monitoring each time they put in or take out.