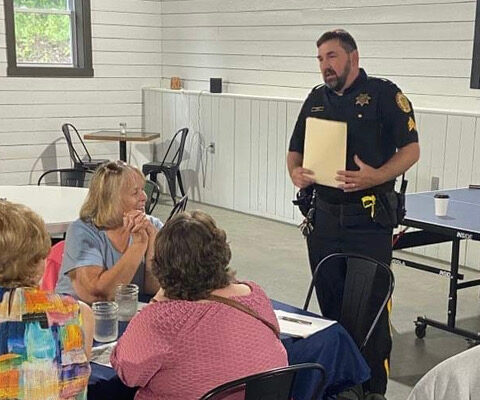 IMG_0123
Contributed photo GUEST SPEAKER – Sgt. Guy Dow of the Piscataquis County Sheriff's Office speaks to the Piscataquis Region Retired Educators Association at their monthly meeting at the Craft Cafe in Guilford.
Retired educators news
GUILFORD — Seventeen members of the Piscataquis Region Retired Educators Association met June 27 at the Craft Cafe in Guilford. Our guest speaker, Sgt. Guy Dow, of the Piscataquis County Sheriff's Office presented a very informative session on topics of interest to retirees — how to avoid scams, crime in the county, the cycle of domestic violence as well as drug related problems.
Members were encouraged to research information on the Maine Attorney General's website. Dow urged us to have our bank check our status on the three credit bureaus. When asked about the discontinuance of the DARE program, it was his opinion that COVID-19 was a major factor. He shared that while he did not enjoy school as a student he is thankful for his high school English teacher who taught him the proper way to write reports. His police reports are read by many depending on the situation and he credits her perseverance in his ability to create well-written reports.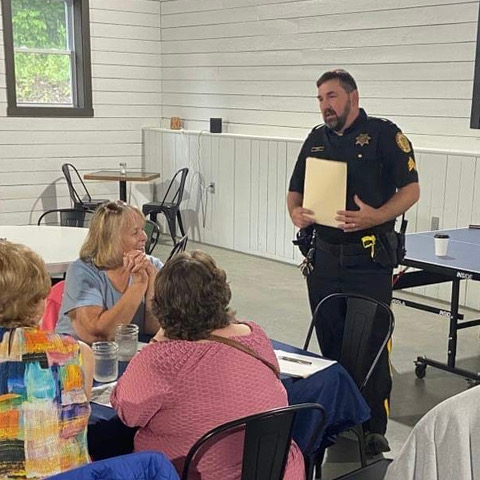 In old business, the annual Day of Caring funds will be distributed amongst the five district nurses again this year. Our two newly retired educators highly suggested that the school nurses use the $100 to purchase underwear and socks for those students in need.
Membership dues are due each September. Currently each member is paying $10 for dues and donating $10 to the scholarship fund. This fall the scholarship will be given to either an SAD 46 college student in an education program or a teacher with less than three years experience in the field.
The installation of officers has been moved to our July meeting in Greenville.
Andrea Thurlow gave a brief presentation on the Our Power referendum which will create the Pine Tree Power Company, a not-for-profit, customer-owned utility.
Our annual Pound Auction to benefit our scholarship fund was very successful, netting $145. Items ranged from a puzzle to an outdoor lantern to a sponge cake with the strawberries and whipped cream included! There were many laughs when Gil Reynolds waited patiently to buy his own item back!
As we were picking up our belongings at the end of our meeting, owner of the Craft Cafe, Jeanine Thomas, handed Janie Lander (her former grade 3 teacher) a check for $200 to be added to the scholarship fund! This was after serving a yummy lunch and surprising us with three kinds of delicious cheesecakes! We are so grateful for her heartfelt donation!
Our next meeting will be in Greenville in the conference room at the town office at 11:30 a.m. on Tuesday, July 25.