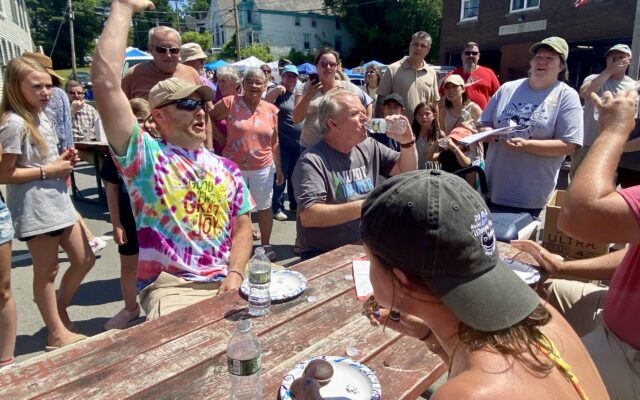 Whoopie-Pie-Festival-7-062522
Observer file photo/Valerie Royzman FIRST TO FINISH — Bryan Lowder of North Carolina raises his hand to declare victory in the adult whoopie pie eating contest at the 2022 Maine Whoopie Pie Festival in Dover-Foxcroft. He was the first among eight adults to scarf down four whoopie pies.
What a VIP ticket for Maine's Whoopie Pie Festival gets you
By Valerie Royzman, Staff Writer
Maine's beloved Whoopie Pie Festival, which draws thousands to Dover-Foxcroft each summer, will return June 24 — this year with VIP entrance and parking passes to get attendees to the sweet treats faster.
More than 7,000 people attended last year's festival, and 2019 was the best attended with nearly 8,000 people, said Patrick Myers, executive director of the Center Theatre, which organizes the event with the Piscataquis Chamber of Commerce. He expects a similar turnout this year.
"The festival is three weeks from Saturday, so we are in full whoopie pie mode," he said. "We've got about 22 bakers signed up, which is a wonderfully large number to have."
The Whoopie Pie Festival will return for its 14th year with new features meant to make it run more efficiently, including VIP passes to get attendees closer access to the festival and past long lines, as well as a cooling tent after last year's sweltering temperatures. It's the largest annual event in Piscataquis County and benefits the Center Theatre and Piscataquis Chamber of Commerce.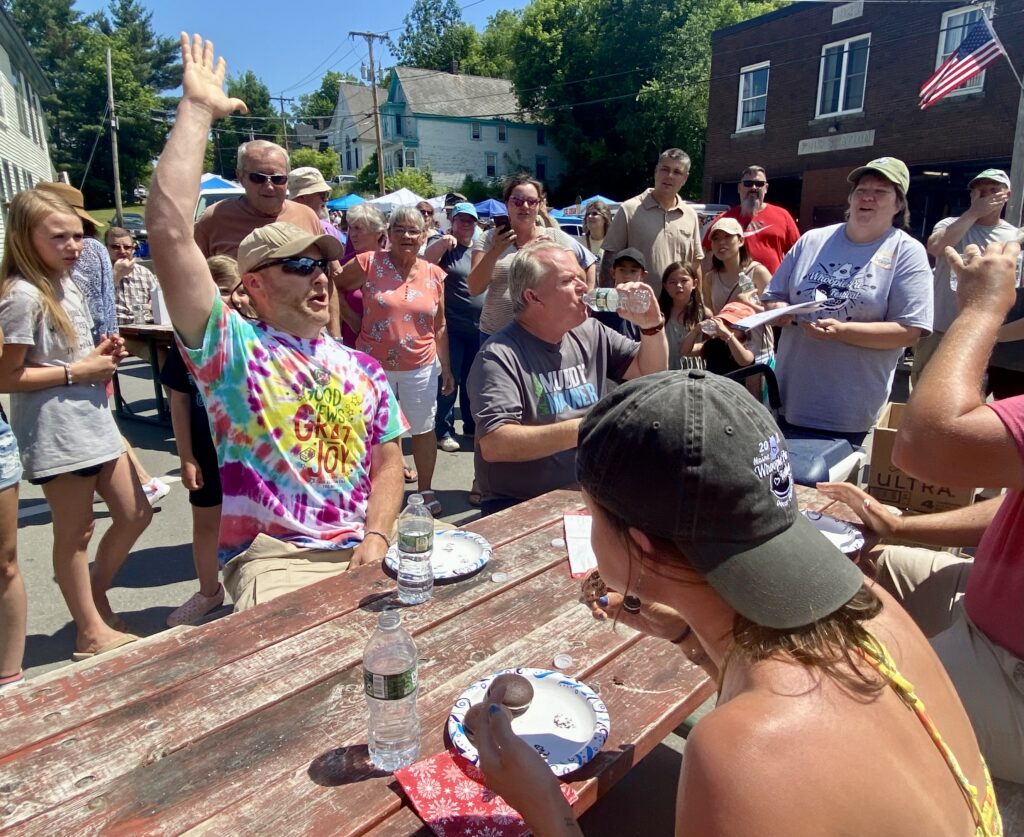 The festival is set for 10 a.m. to 4 p.m. June 24. Admission fees have increased a dollar, now costing $6 per person, though kids 12 years and under are still free.
"During the busy times, those entrance lines are 50, 60, 70 people deep," Myers said. "We try to move them through as fast as we can, but it's a lot of people. We were looking for a way to help people avoid lines and make everything move a little smoother."
VIP parking passes, which are limited to about 40 spots in downtown Dover-Foxcroft with around half already sold, are $25 and available online or by calling the theater. That's also where people can purchase VIP entrance passes, which are $10, and tokens to sample whoopie pies.
Parking is also available at the Piscataquis Valley Fairgrounds. Two shuttles will travel back and forth from there to the festival to drop off attendees.
Dave's World is providing the cooling tent, which will be set up near the food court area on East Main Street. Festival-goers will receive a map to navigate the offerings.
Although not a new feature, the whoopie pie eating contests are a crowd favorite. This year they'll take place outside True Value Hardware, as will activities including live music performances from musician Brian Smith and local band Thief of Joy. Augusta-based Burns Bears will be doing chainsaw carving.
The youth whoopie pie eating contest, for children 12 years old and under, is at noon. Teens compete at 12:30 p.m., and adults 20 years old and up are set to stuff their faces at 1 p.m.
Besides whoopie pies from bakers around Maine, attendees will have a chance to chow down on burgers, hot dogs and other popular festival foods. There will be more than 100 vendors, including artists and crafters, selling their creations. A designated area will feature games and rides for children.
"The festival is a beloved event in the area and for the whole state," Myers said. "We're excited to be back."
To purchase VIP passes, tokens and access other information, visit the event's website. People can also call the theater at 207-564-8943.