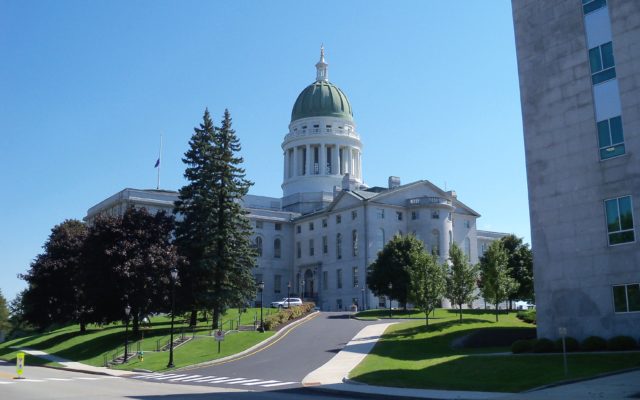 Legislative Republicans propose amended legislation to address net energy billing concerns concerns shared by Maine's public advocate
AUGUSTA – During a press briefing on Tuesday, Republicans in the Senate and House of Representatives unveiled an amendment to LD 1347, a bill sponsored by Rep. Steven Foster, R-Dexter, that aims to address a looming crisis in the state's Net Energy Billing program.
The legislation comes amid the testimony of Maine Public Advocate William Harwood, who told the Legislature's Energy, Utilities and Technology Committee in April that ratepayers were facing a $220 million per year rate hike for the next 20 years due to solar industry subsidies under the NEB program.
"I think what's really important and what we want to underscore today is that there is still time to change course," said Senate Republican Leader Trey Stewart, R-Aroostook, a co-sponsor of Foster's bill. "There is still time to do something about this impending rate increase that's coming as a result of bad policy that the Democrats have passed since they reclaimed their majorities."
According to Sen. Matt Harrington, R-York, the amendment proposed by Foster replaces the original text of LD 1347 and is the result of a collaboration with Harwood's office. Harwood said previously that if left unaltered, the program will cost the average ratepayer an extra $275 per year beginning in July.
"Since January, we've been coming to you saying we have to do something by the end of this session. The end of the session is now only a couple of weeks away," said Harrington. "Certainly, we have a looming crisis ahead of us."
Foster told reporters the original bill he and Stewart put forward would have eliminated the program altogether; but that met a lot of opposition. Instead, he worked with Harwood's office to come up with comprehensive language that would at least make the following changes:
· Limit the number of Community Solar subscribers to 10 starting September 2023
· Reduce qualifying nameplate project capacity from 5 megawatts to 660 kilowatts
· Allow the PUC to periodically review and adjust the subscriber compensation
· Require the distributed generation resource to be on the same side of the meter
· Direct the PUC to conduct a competitive solicitation for distributed generation contracts
· Not allow selected distributed generation resources to continue to participate in NEB
· Direct the PUC to adopt rules and develop policies to govern development of solar energy projects less than 5 megawatts
Foster said he trusted the figures ratepayers would face that were provided by Harwood's office. He said the goal at this point is to avoid further rate increases amid already high wholesale natural gas prices that have affected the power generation markets. If nothing changes, he fears Maine could have the highest per-kilowatt-hour rate in the nation, something he wouldn't have believed just a few years ago.
"We're hoping that we can garner enough support from representatives on the other side of the aisle that have been hearing from their constituents – this is not a Democrat or Republican issue when it comes to paying our light bills," Foster said. "I know that all legislators have been hearing more and more about the cost of electricity."