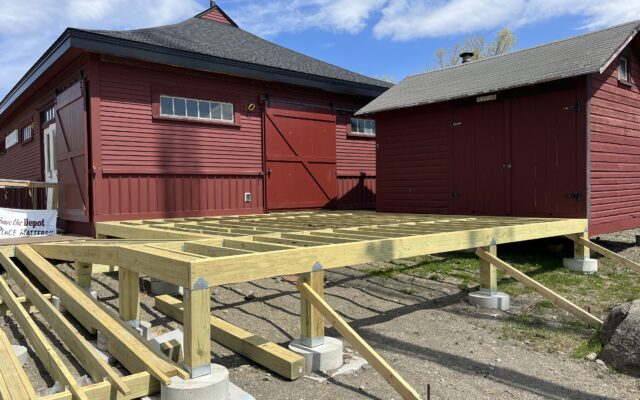 depot ramp
Photo courtesy of Greenville Junction Friends DEPOT RAMP — The ramp at the Greenville Junction Depot is under construction.
Scooting along at the Greenville Junction Depot
Each spring and fall the Greenville Junction Friends, a nonprofit group from Greenville, sends out its newsletter "The Scoot", which was named for a vehicle that they used on the railroad tracks years ago for track inspection.
The Greenville Depot Friends are pleased to announce that the Greenville Junction Depot is upgrading its freight shed area to accommodate community organizations and private individuals for functions.
Renovations include a caterer's kitchen, handicapped bathrooms, and seating for at least 75 depending on the event. They are pleased to offer another rentable spot for the Moosehead Lake region from May to October as well as house our own events like the upcoming Depot Artisans Show on June 17.
They are pleased with all the support, local, and far flung, that has helped get this venue a revenue source finally after 12 years of hard work from a very dedicated group of individuals.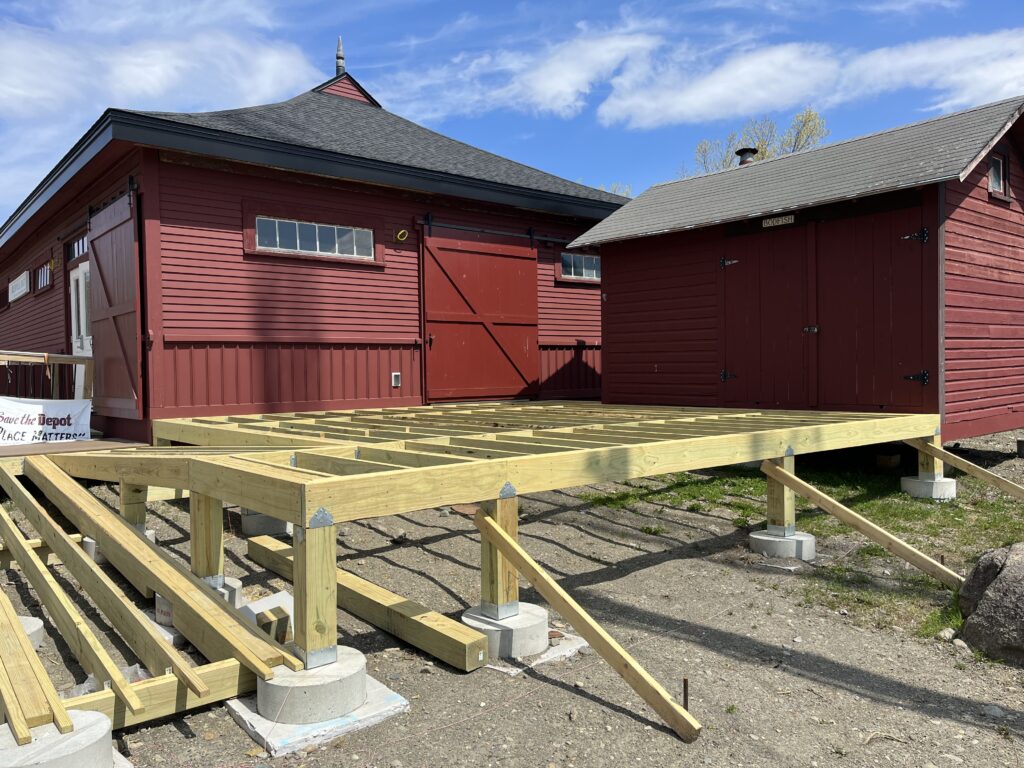 Speaking of dedicated supporters, they are pleased to announce that the Depot was this year's recipient of the H. Albert Webb Memorial Railroad Preservation Award. It is given annually by the Webb family to an organization that "Preserves historically significant railroad equipment or structures."
This $10,000 award, is administered by the Massachusetts Railroad Enthusiasts and is intended for the entrance steps, handicapped ramp, and a platform into the freight shed. It will also connect the Bodfish Car House pocket museum making it accessible to all. Thank you to the Webb family for this award. This grant has been matched by donations during their 2022 winter fundraising letter.
The Depot's Reconstruction is being done by Hardy Construction of Brewer. The Hardys have had ties to the Moosehead region for many years and have worked on other projects here at the Depot.
The freight shed interior now has the ambiance of railroading days gone by with lighting that complements the rustic interior and its views of Moosehead Lake. And if you are lucky enough, you will experience Canadian Pacific running its locomotives within feet of the Depot. Trains run from the Canadian Border to Brownville Junction and beyond. Watch this happening on the Depot's live feed webcam also.
The Depot in the past, has depended on three events it holds each year to keep this building scooting along. The Depot Artisans Show Saturday, June 17 will be the first event this year.
Artisans from surrounding areas or with ties to the Moosehead Lake region will be displaying and selling from 9 a.m. to 3 p.m., rain or shine. New this year will be a photography contest. Child, amateur, and professional photographers are invited to enter.
There is no fee to participate and ribbons will be awarded for top three in each category.
So if you want to share some of your favorites, contact Cheri Goodspeed at cherigoodspeed1@gmail.com for more information or follow the Greenville Junction Depot on Facebook.
Two other events follow, the Maine Country Tea on July 8, and Our Annual Depot Celebration Mooseburger BBQ. Reservations for this year's tea can be made with Jane Hall at 207-691-0731.
At the celebration and BBQ they will be celebrating the Depot's 134th year with demonstrations, exhibits, music, and tours.
If you would like more information regarding the Depot and their upcoming events visit their website www.greenvilledepot.org or follow them on Facebook. Volunteer opportunities are available at some of our events also. They look forward to seeing you!