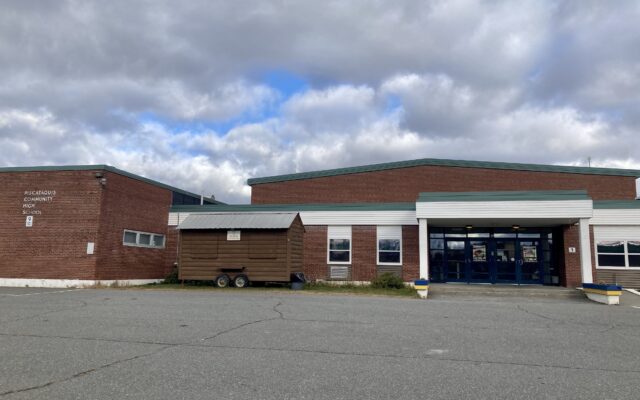 Piscataquis-Community-High-School-111621
Observer photo/Valerie Royzman Piscataquis Community Secondary School in Guilford.
Piscataquis Community Secondary School third quarter honor roll
Grade 12, highest honors: Emma Calnan, Gabriella Clark, Kendall Kimball, Saia Miles, Maria Fernanda, and Pinheiro Velame; high honors: Samantha Goodwin, Jarrin Grant, Sydney Grenier, Jennifer Lonergan, Norah MacMahon, Christina Maguire, and Christopher Maguire; honors: Chad Bush, Maximillan Daehn, Braeden Gerry, Hunter Ronco, Molly Sipple, Gracie Talbot, Katelynn White, Meriel Willey, and Anna Zimmerman.
Grade 11, highest honors: Zachariah Demmer; high honors: Emma Brasier, Nayara Camazon, Scott Chadbourne, and Midnight Moffett; honors: Lily Carr.
Grade 10, highest honors: Timothy MacNeil; high honors: Khloe Kimball, Gabriella Koscielny, and David Tuttle; honors: Abbigail Burgess, Sevren Lenihan, Jonathan MacNeil, and Alaska Maloon.
Grade nine, highest honors: Audrey Chadbourne, Arianna Crosby, Molly Goodwin, and Ava Goulette; high honors: Alexander Hall, Noah Kain, and Billie Lynn Kunkel; honors: Jazmin Channon, Dawson Draper, Hannah Firth, Hope Hunt, Sadie-Mae Kelley, and Logan Works.
Grade eight, highest honors: Conrad Rollins; high honors: Emery-Jo Chambers, Emma Folsom, Olivia Goodwin, Chase Lander, Aria Lenihan, and Karrigan Wilson; honors: Aireana Bickmore, Corey Commeau, Kiley Cupero, Brandon Descoteaux, Hunter Fleming, Desmond Gould, Taylor Herrick, and Dawson Seiler.
Grade seven, high honors: Ava Edes, Breelyn Gaw, Maria Kopf, Macie Littlefield, and Dakota Seiler; honors: Jonah Brown, Ryan Gaetzke, Allie Martin, Kiara Moore, and Gabriella Zeller.