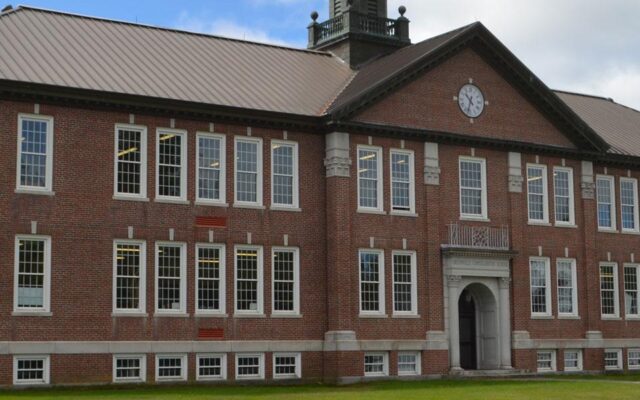 greenville school
Contributed file photo The Greenville Consolidated School
Greenville officials mull moratorium ordinance
GREENVILLE — As a potential way for Greenville to be proactive before any large-scale development projects come before the town, a moratorium ordinance may be added to the larger existing land use ordinance. The planning board has been discussing this for several months and the select board opted to move forward after learning more during a May 17 meeting.
Planning Board Chairperson John Contreni said board member Jenny Ward brought up amending the overall land use ordinance to include a moratorium provision and the planning board discussed this for several months before recommending a written document be brought to the select board.
Contreni said moratoriums from across Maine have been in the news, such as Lewiston approving one for six months concerning homeless shelters. He said earlier this year voters in the Washington County town of Columbia Falls temporarily halted the construction of a near 1,500 foot tall flagpole as part of a larger $1 billion-plus Flagpole of Freedom Park "to think about the impact of such a project on Columbia Falls," Contreni said.
He said Corinth residents in March approved a moratorium to consider the future of solar farms in their community.
"We felt we should have a moratorium that's divorced from any particular issues that's coming up, have it ready for the select board to use in the future if any permitting issue came up that you wanted to think about or talk about or have the planning board analyze beforehand," Contreni said.
The planning board chairperson said the board felt it was better to give the town time to pause any permitting activity and think about it for a time period of up to 180 days.
"A moratorium is not a way of killing a project but, as I've said before, it's an opportunity to give pause to the development of permitting a project so the select board and the planning board can consider the impact on the community," Contreni said.
"The way I look at this is it also gives the parties involved the opportunity to do their due diligence," Select Board Chairperson Geno Muray said.
Murray asked and was told a moratorium could be in place for less than 180 days.
Contrenti said it could be extended for another 180 days if the issues are not resolved.
"This is not targeted at anybody because there's nothing on the horizon as far as I can see," he said.
"It's being way more proactive to a difficult situation that could arise," Town Manager Mike Roy said.
Selectperson Burt Whitman said Greenville has been growing, to which Contreni said, "Who knows what someone will suggest a year from now?"
In other business, town officials met with Police Chief Jim Carr to discuss the school resource officer position which has been included in the proposed 2023-24 municipal budget.
Saying he has applied for a 3-year, $125,000 grant to help fund the position, Carr said he has heard from residents both in favor and opposed to the position and subsequent budget increase and from others who did not realize it is being proposed.
"It's benefitting everybody, not just the school," the police chief said, saying the costs would be split proportionally between the town and school department. He said when school is not in session the resource officer would work around town, giving the department an extra person during school vacations and the busy summer months.
"He is going to do more than just be at the school," Carr said. "The first thing everybody thinks is safety at the school, and yes he's going to be doing that."
The police chief said the school resource officer would be a presence before and after the start of classes and at after-school events. The officer could also check in on absent students and maybe teach a health or physical education class.
"There's a lot more than just hanging around," Carr said. He said with time, hopefully students would feel comfortable with the officer and could go to talk to them about whatever is on their mind.
"Our world is changing and our environment is changing," Selectperson Bonnie Dubien said. "We might feel safe here in our little town but we're not and I don't think it's a question of if it's going to happen here, it's when it's going to happen here and if we're gonna have a school we need to protect our children."
"I agree with you 100 percent, that's by far the best way and safest way to protect our children," Carr said. "That's exactly what the position's for, it's to protect kids"
"Everything I have heard has been positive," Selectperson Richard Peat said. "Usually the group I'm around is 'I don't want my taxes to go up,' that's all I hear. Chances of an active shooter are slim but the chances an officer builds a bond with a kid and helps them make the right decision because they don't want to disappoint that person I think makes a huge difference."
Carr said if the police budget is approved at the June 5 annual town meeting then he will formalize a job description and a candidate will be sought.
The select board also looked at a request to change Ledge Drive from an association travelway into a town road, with a letter from residents sent to Roy last August mentioning this would be in large part for the purposes of snow removal and maintenance.
Roy said in his view, Ledge Drive meets all the standards for a town road as defined by Maine Municipal Association.
"If it meets the standards I have no problem with it but it's not my decision, it's up to the town," Selectperson Burt Whitman said, as the decision would be made via a town meeting vote.
"I think it's going to open up the door for a lot of other people to start coming and ask for their roads to be done and I think it's going to be a problem," Select Vice Chair Newton Pierce said.
Bubien said the town has trouble taking care of the roads currently under its jurisdiction, so she would not be in favor of adding more to its responsibility.
Murray said if the town says no to such a request then there should be a specific reason, such as budgetary or regulatory, to avoid unintended consequences.
The board is set to discuss Ledge Drive more at a special meeting on Monday, May 22. Another item will concern finalizing the budgetary articles on the annual town meeting warrant.
The meeting, which will include the articles for the school budget, will start at 6 p.m. on Monday, June 5 at the Greenville Consolidated School. If necessary, the meeting will reconvene at 6 p.m. on Tuesday, June 6. Municipal elections are set for Tuesday, June 13.