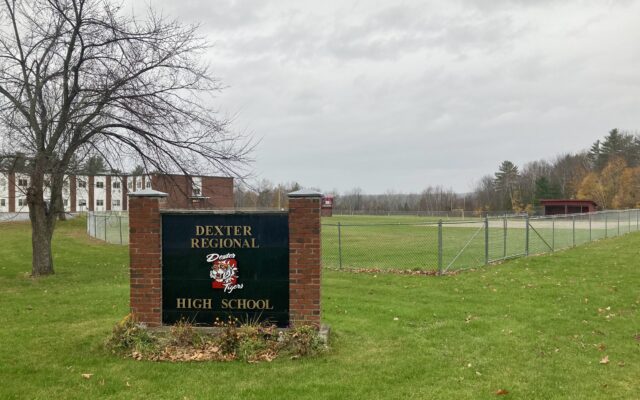 Dexter-Regional-High-School-111221
Observer photo/Valerie Royzman A sign sits at the entrance to Dexter Regional High School in Dexter.
Dexter Regional High School third quarter honor roll
Grade 12, highest honors: Emma Alexander, Lauryn Brunner, Jennifer Downing, Sydney Fogler, Elyssa Jerome, William Kuznierz, Alexandria Mullins, Sophia O'Donnell, Aleaha Richards, and Payson Reinhardt; high honors: Ivey Batey, Benjamin Bourgoin, Bryce Connor, Sydney Dyson, Tiffany Heinrichs, Kasey Hurd, Kayden Kimball, Annika King, Brendon Mehlhorn, Jozlynn Paige, Elisa Picariello, Caleb Schobel, and Cole Tibbetts; honors: Brooklynne Blockler, Hunter Burrill, Tami Cummings, Dawson Dow, Olivia Gilman, LaKota Glidden, Zachary Gudroe, Makayla Moore, Jillean Poliquin, David Race, Brady Reynolds, Madison Rowe, Thomas Rowe, Camryn Spack, and Ethan Tarr.
Grade 11, highest honors: Cally Gudroe; high honors: Lily Bagley, Elizabeth Bernard-Whittaker, Lily Brown, Shelby Dyson, Cian Galligan, Holdyn Guenther, and William Spratt; honors: Mackenzie Beem, Hannah Dean, Miles Grant, Taylor Howell-Hanson, Kial Hunter, Brianna Packard, Mazie Peach, Kellen Peavey, Graci Scott, Gabrielle Shorey-Coy, Dylan Talbot, Mckenzie Trafton, and Rachael Watts.
Grade 10, highest honors: Keira Bennett, Abilene Corson, Cole Doherty, Chase Farnsworth, Avery Fogler, Claire Fogler, Amelia Greaves, Megan Hreben, and Willis Rienhardt; high honors: Lucy Alexander, Abigail Bradley, McKenzie Clay, Preslee Dow, Emily Manter, Alexander Vafiades, and Brianna Vafiades; honors: Harley Ahern, Jason Bowden, Jennifer Bradley, Addyson Brown, Thomas Burgess, Jr., Mariyah Castigliego, Alice Childers, Seth Craig, Teegan Day, Ethan Doherty, Alyvia Dorman, Brooklyn Dow, Carolyn Lufkin, Fannie Patel, Sabrina Pike, Elizabeth Roberts, Kaylee Simpson, and Aiden Walton-Denham.
Grade nine, honors: Desiree Adams, Ethan Addington, Shealyn Bagley, George Childers, Emily Giles, Ryan Hocking, Paige Jandreau, Ella Jones, Chloe Murdock, Annabelle Peakes, Caleb Pelkey, Laney Scott, Adriana Sibert, Kallie Stone, Casey Swenson, Baylee Turcotte, and Lexi Wintle.