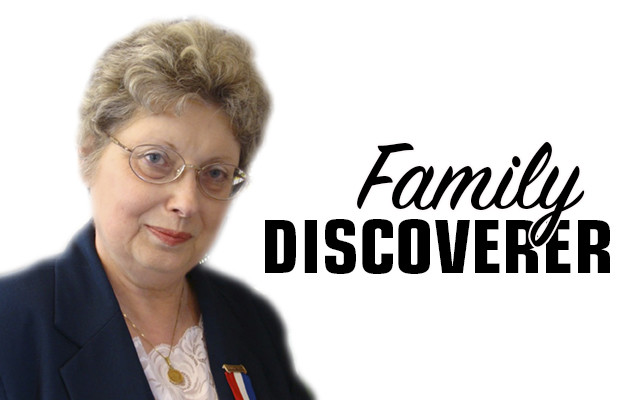 Nancy Battick.jpg
Nancy Battick (of Dover-Foxcroft, president of the Daughters of Union Veterans.) (BDN Photo by Diana Bowley)
No more pickles
If you're not planning on writing a book about your ancestors, is it still necessary to note your sources? The short answer is a resounding yes! I've written about this before, but it's important. If you're a newbie to genealogy you may neglect noting where you found information, assuming you'll never need to or that you'll remember. Trust me, you won't remember, and you will eventually need to.
My friend "Albert" does his genealogy the old-fashioned way, not using genealogical software but on paper, and he was recently in a pickle. He had a date and place but no source from where it originated. That meant searching for the information again.
If information comes from an online source, it can be simple or complicated, depending on where you found it. Relying on your memory to recall a source in an article or book is not easy. Unless you have a flypaper mind you can easily lose track, especially when you have done a lot of research and time has gone by. In other words, you can find yourself caught in a pickle jar like Albert.
This is important because you'll inevitably run into alternate information, perhaps even multiple alternates. How do you know what you have is the correct name, date or place? How dependable was your source? How reliable are the alternates? Are they anonymous postings online or from well researched and sourced experts? Or were you simply told something by someone, and you may have forgotten who it was since you didn't write it down?
In the case of Albert, he did have the source noted, but in a different file for another member of the family he was researching. Luckily, he didn't have to start researching from scratch.
Confession time: I started genealogy many years ago and I was not always consistent in noting sources. I quickly learned the hard way and had to redo a lot of research. It was a valuable experience in that I learned to note my sources for all information I entered into my software. As a historian, noting sources was natural, but as a brand-new genealogist, I didn't grasp the importance and figured I would remember where I found things. I didn't.
What do you need to note? For an interview with someone, their name, the date and a synopsis of what they told you as well as contact information for them. For an online source, the website address, author if known, the date you accessed the data (important because later entries may change information), and the date entered on the information if given. For a book or article, the name of the book or magazine, author, publisher, date of publication, the page numbers, and if found in a library its name, and the book's call number. If it is a second or later edition, note that, as a later one may correct earlier errors.
Bottom line: Take time to cite your sources and stay out of that pickle jar.
Columnist Nancy Battick of Dover-Foxcroft has researched genealogy for over 30 years. She is past president of the Maine Genealogical Society, author of several genealogical articles and co-transcribed the Vital Records of Dover-Foxcroft. Nancy holds an MA in History from UM and lives in DF with her husband, Jack, another avid genealogist. Reader emails are welcome at nbattick@roadrunner.com.