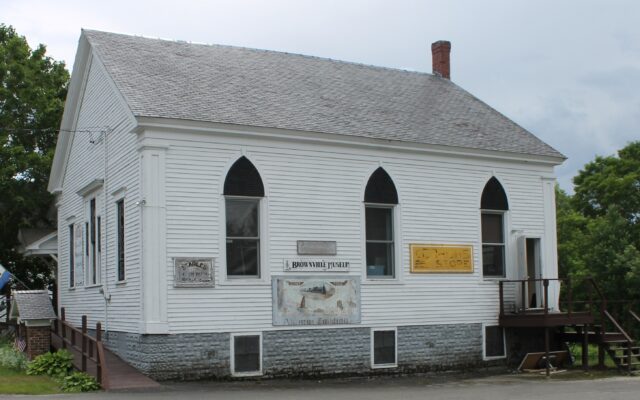 PO-brownvillemuseum-30-19
Observer file photo/Stuart Hedstrom The Brownville-Brownville Junction Historical Society Parish House Museum.
Brownville-Brownville Junction Historical Society holds annual meeting
BROWNVILLE — The Brownville-Brownville Junction Historical Society held its 2023 annual meeting on May 16 at the Parish House Museum.
The officers and board members elected to serve for 2023 are the same as those who held the offices in 2022: President/Secretary Susan Worcester; Vice President Dan Peters; and Treasurer Allana Washburn. Board members are Lynn Gerrish, Lynn Weston, and Jeff Larson.
At this point there is no major project on tap for the year but discussion at the meeting surrounded building needs and Brownville's 2024 Bicentennial.
Gerrish reported on a phone conversation with grant writer Victoria Flynn. The more than 200-year-old building is in need of much work if it is to survive another 100 years. Gerrish reported that Flynn would like to meet with the group and see the museum to get a look at the needs. Her process for working with nonprofits is flexible but there is no guarantee when applying for grants that an organization will be successful at obtaining the funds needed for its projects.
Gerrish also talked about the upcoming 2024 Bicentennial for Brownville. She is a member of the Brownville Days Committee and will keep the group up to date on what's going on and how they can help. There was also discussion about creating a calendar for 2024 featuring pictures from both Brownville and the Junction and old and new photos. It's been about 20 years since the group last had a community calendar.
This summer there will be a quilt raffle. The quilt was made and donated by Allana Washburn. Tickets are available at the museum for $1 each or six for $5.
The museum is seasonal and will open for this 2023 season on June 13. The building is open to the public on Tuesdays and Thursdays from 10 a.m. to 2 p.m. Appointments can be made to visit by contacting Worcester at susan.worcester@me.com or calling her at 207-965-8070. The Parish House Museum is located at 72 Church Street.
The group is always looking for new volunteers to assist at the museum when it is open or to help with a variety of "behind the scenes" tasks.
For anyone wishing to join the organization, dues are $5 annually (or $100 for a lifetime membership). Dues can be sent to B-BJ Historical Society, PO Box 794, Brownville ME 04414.