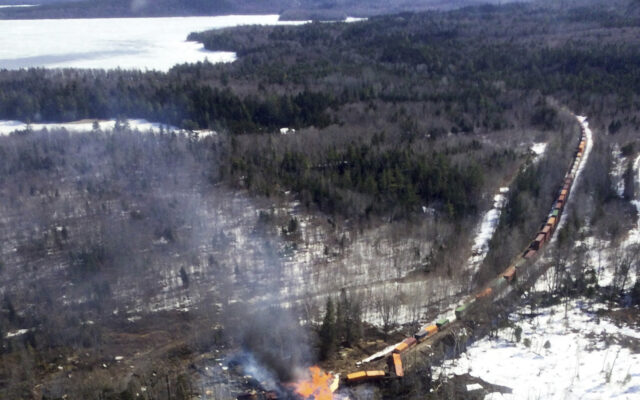 Train Derailment Maine
This photo provided by the Maine Forest Service shows several locomotives and rail cars burning after a freight train derailed, Saturday, April 15 in Sandwich Academy Grant Township, near Rockwood, Maine. Three workers were treated and released from a hospital, and Canadian Pacific Railway will be leading the cleanup and track repair, according to officials. (Maine Forest Service via AP)
Maine politicians try to kill law shielding records on hazardous rail shipments
By Michael Shepherd, Bangor Daily News Staff
A 2015 law that shielded records on hazardous materials transported by rail in Maine is on the chopping block under a quick response from lawmakers to the train derailment in the Moosehead Lake region in April.
Nobody was injured in the derailment of three engines and six cars of a Canadian Pacific Kansas City freight train near Rockwood, which was carrying hazardous materials that did not burn in the resulting fire. But there were consequences in the hundreds of gallons of fuel that leaked into nearby waterways. The state has cited the railway for erosion near the site.
The very worst was avoided in Maine, but the derailment gained national attention on the heels of a February derailment in eastern Ohio that released hazardous chemicals and prompted environmental and public health responses in three states, plus government lawsuits against the railway. It is pushing lawmakers here to overturn that law from eight years ago.
The past debate: During a period of divided government in 2015, the Legislature passed a measure that made all records confidential that describe the hazardous materials trains carry, as well as the routes and the frequency of travel, which effectively barred the public from getting those records from police or fire departments.
Then-Rep. Michael Shaw, D-Standish, argued at the time that the proposal actually increased public safety because railways would be more likely to provide information to government agencies on their activity if they knew it would not be made public. His sponsorship of the hastily passed bill drew attention since he was an Amtrak conductor.
The Legislature passed it, but it was vetoed by then-Gov. Paul LePage, who said in a message that he was "not at all comfortable shielding this information from the Maine citizens that may be placed in harm's way." But lawmakers easily overrode the veto, with just five of them agreeing with the Republican's stance.
What's next: The new bill to strip the confidentiality law comes from lawmakers across the ideological spectrum, from progressive House Speaker Rachel Talbot Ross, D-Portland, to moderate Sen. Rick Bennett, R-Oxford, and conservative Sen. Stacey Guerin, R-Glenburn, who represents much of the Moosehead Lake region.
This wide group of sponsors bodes well for passage and shows how the consensus policies of yesteryear can be flipped quickly when the kinds of events that have drawn national attention hit home.