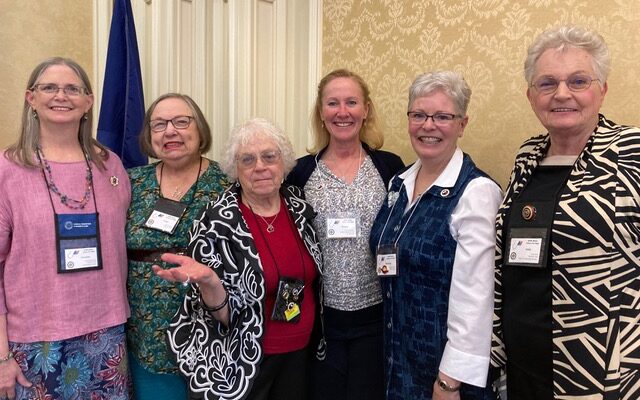 IMG_3075
Courtesy of GFWC Miosac Club SPRING CONVENTION — GFWC Miosac Club members attending the General Federation of Women's Clubs Spring Convention at the Hilton Garden Inn in Bangor on May 11-12 were, from left, Suzanne Raymond, Vicki Moschella, Minnie McCormick, Wendy Hutchins, Barbara Austin, and Anne Cress.
Local clubwomen attend GFWC Maine Spring Convention
Six women from the GFWC Miosac Club of Dover-Foxcroft attended the General Federation of Women's Clubs Spring Convention at the Hilton Garden Inn in Bangor on May 11-12. Attending were Suzanne Raymond, who is GFWC Miosac Club treasurer, GFWC Maine parliamentary advisor, and serves on the GFWC New England Region Resolutions Committee. Anne Cress is the GFWC Maine corresponding secretary. Both women are past GFWC Miosac Club presidents and past GFWC Maine state presidents. Minnie McCormick is GFWC Miosac Club president. Wendy Hutchins is GFWC Miosac Club vice president. Vicki Moschella is GFWC Miosac Club publicity chair, and Barbara Austin is GFWC Miosac Club auditor. Fifty-nine clubwomen and four guests attended this convention.
Our special guest and speaker was Wendy Carriker, GFWC First Vice President from Mount Airy, North Carolina. Her focus has been on providing meals for food-insecure children. She is committed to serving the students of North Carolina. In 2026 Carriker will be GFWC International president.
The 2022-24 GFWC Maine Administration's theme is, "Soaring To New Heights." The "kite" is the icon representing this theme. Maureen Provencal, a member of the GFWC Semper Fidelis Club in Skowhegan, serves as GFWC Maine president. It is the goal of this administration to, "Spread Real Awareness" and "Break the Stigma" of mental health. We are focusing on the facts, treatment and prevention of mental illness during this administration.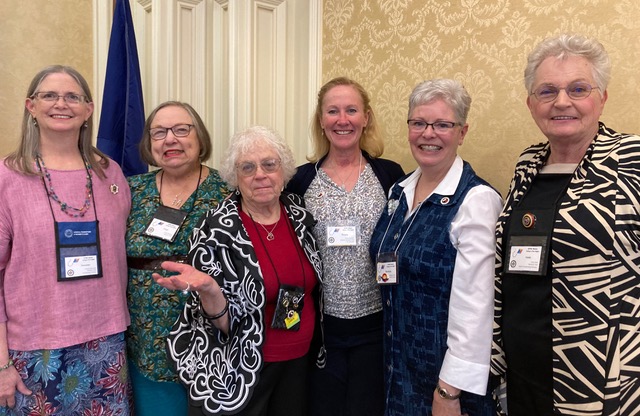 Members were pleased to have Morgan Sturdivant, WABI TV assistant news director, welcome GFWC members to Bangor. She expressed her thanks to the membership for all we do to serve our communities, counties, state, nation and the world.
The "Yellow Tulip Project" began in Maine and is now national. GFWC Maine supports this project wholeheartedly. It is a youth driven movement dedicated to smashing the stigma surrounding mental illness, one tulip at a time. The yellow tulip represents happiness and hope. This organization is passionate about community building, and fiercely dedicated to positive change so that people know there is help available. It is important for people to know that things will get better, and that suicide is never an option.
Many GFWC Maine clubs have planted yellow tulip gardens of hope in their hometowns. The GFWC Miosac Club is pleased to be one of those clubs. The yellow tulips are now in bloom and can be viewed at the Marion Doore Park at the corner of Court and Pleasant streets. Additional yellow tulip bulbs will be planted this fall at this location.
We welcomed Amanda Chambers, division manager of Rape Response Services in Bangor, and Kristen Shumway, advocate for the Maine Coalition Against Sexual Assault. Both women spoke about human trafficking, commercial sex exploitation, and sexual violence. This is now a big problem in Maine, even in Piscataquis and Penobscot counties. This is not just a city issue. This is here in rural Maine, and was an eye-opening discussion.
Reports and presentations were read and enjoyed from the chair of many GFWC Maine programs and projects. Some of those presentations were the Signature Program on Domestic & Sexual Violence Awareness & Prevention, the Elder Abuse Essay Scholarship, Arts & Culture, Education & Libraries, Civic Engagement & Outreach, Health & Wellness, Environment, Leadership and Membership to mention a few. Our GFWC Maine District presidents gave their reports. Those reporting were Jennifer Mabee, co-president of the Northern District, and GFWC Maine Southern District President Anne Newman. The clubwomen of GFWC Maine are busy!
Linda Dunbar of Canaan provided us with a break-out session of painting rocks with special messages of love and support written on them, to be placed in our tulip gardens, play grounds, or around our towns to be found by curious little (or big) hands!
Elvis is in the house! Don Boudreau, an Elvis impersonator from southern Maine, provided us with entertainment at the "Rock Our Socks Off" Banquet on May 11. Boudreau is an award-winning solo Elvis tribute artist from Maine with many years of musical experience in the tri-state area and beyond. He has accumulated many top place awards over the years. He was fabulous! What a grand time we all had!
An approximate guess of 1000 pairs of socks were donated during this banquet for area homeless shelters by GFWC Maine clubwomen.
A memorial service was held on the morning of May 12 to honor our GFWC Maine clubwomen who have passed away during the last year. This is always a very moving and emotional service. These clubwomen have given so much of themselves to our Federation, and will not be forgotten.
Many raffles and drawings were held by clubs, community service projects, and special committees. The GFWC Miosac Club is thrilled to say that our own Moschella was the winner of a basket containing $400 worth of assorted gift cards!
Additional information about GFWC may be obtained by going to www.gfwc.org or www.gfwcmaine.org. If interested in joining the GFWC Miosac Club, call Cress at 207-717-7576. All ages are welcome. Come join our organization and help others while having fun yourselves!