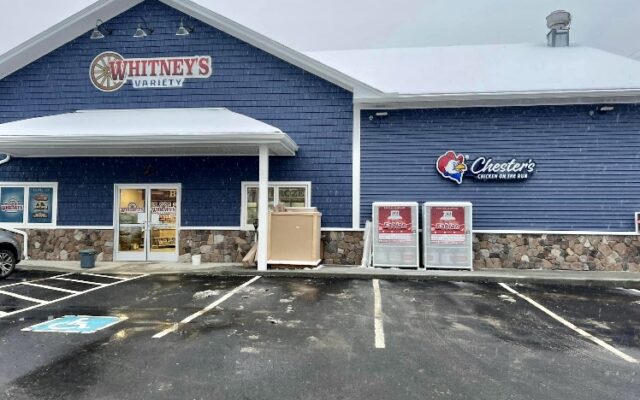 Whitney's-Variety
File photo courtesy of Whitney's Variety
Whitney's Variety grand opening/ribbon cutting
DOVER-FOXCROFT — On Jan. 20 of this year, siblings Alan Whitney and Laci Daigle opened the doors of Whitney's Variety for the first time. The attractive building now stands where Foxbrook Variety stood for decades, with a larger footprint for more parking and a convenience store more than double the size; this brand-new building includes a larger, more modern deli counter, hot foods, and Chester's Fried Chicken.
Whitney Markets have been in existence since 2004, and have operated in several Maine towns. "It is a multi-generational, family-owned and operated business," Whitney said, "and when the opportunity to open a location in Dover Foxcroft presented itself, we had to jump on it."
The Whitneys took ownership at the southernmost corner of Pleasant Street and East Main Street in September of 2022, and experienced significant challenges securing the services they needed for the build-out.
"I had a few key businesses that really stepped up and provided us with the service we needed to make progress and eventually open in January," Whitney said. "Powell's Refrigeration, Seaman Electric, Triple L Plumbing & Heating, and Chuck Lawrence at South St. Development — these guys had my back."
Though Whitney's Variety has been open for business since January, there will be an official grand opening celebration Thursday, May 25 from noon to 2 p.m., and a ribbon-cutting ceremony facilitated by the Piscataquis Chamber of Commerce at 1 p.m.
Lisa Dowling, store manager, is excited about the event, "There will be raffles and giveaways during the event, and great discounts on fuel, all day."
Whitney's Variety is open from 6 a.m. to 9 p.m., seven days per week. The deli closes at 7 p.m., and the fried chicken is only available until 6 p.m. The Whitney's team is committed to serving the community with friendly service and a large variety of items one might be seeking at a convenience store.
"Laci and I love Dover-Foxcroft," said Whitney, "the town really sold us on this location."