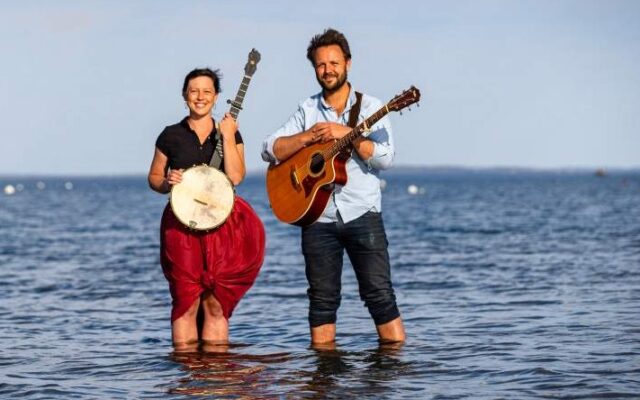 06Elsie&Ethan2
Contributed photo ELSIE & ETHAN — Elise & Ethan will perform at the Wayside Theatre in North Dexter at 7 p.m. on Friday, May 20, the first performance of the Wayside Grange & Theatre's 2023 Season.
Wayside Grange & Theatre present Elsie & Ethan on Friday
DEXTER — Wayside Grange & Theatre is pleased to open their first concert of the 2023 Season with the original & acoustic sounds of Elsie & Ethan at the Wayside Theatre in North Dexter.
Elsie & Ethan will deliver original and traditional songs and tunes that come straight from the heart. These New England based songsters, on fiddle, guitar, vocals, cello, and banjo, bring together their unique musical backgrounds to create rich original sounds that weave together musical worlds of past, present, and a hopeful future.
The talented duo have each shared their music and spirits with audiences across New England and beyond while maintaining a deeply rooted connection to the thriving Vermont and Maine based folk music communities from which they've emerged.
To learn more about Elsie & Ethan, visit their website at www.elsieandethan.com.
From now through October, the 2023 Season at Wayside Theatre will be entertaining the area with a wide variety of music with many of the musical groups stemming from the area and others traveling a great distance. Wayside received a generous donation from McKusick Petroleum again this year to help in this endeavor. The doors open at Wayside Grange in North Dexter at 6:30 p.m. and the concerts begin at 7 p.m.
Tickets are $15 and are available at the door. Light refreshments and drinks will be available in our downstairs dining area.
If you know of a band, theater group, debate club, or social group that are looking for a venue to practice or perform to an audience of ninety or less, or just use the hall for music jams or sound checks please contact Grange Master Dave Pearson at 207-924-5035 and we can try to work something out for them.
Also, if you would like to join Wayside Grange & Theatre and/or volunteer call Dave or Tim Breen at 207-355-5507 and please check out our Facebook page at www.Facebook.com/waysidestage.
The Grange Volunteers have improved access by recently putting in a ground level entrance and a chair lift and refurbished the grand old eight burner Grange stove.
Keep watching our Facebook page for family fun events.