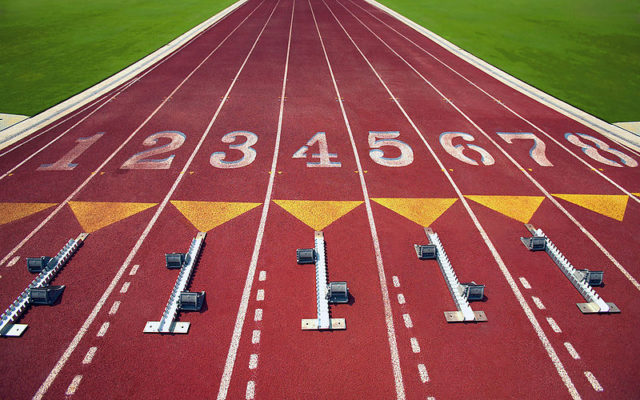 Dexter, Penquis track run at Bangor
BANGOR — The Dexter Regional High School and Penquis Valley High School track teams were both in action at a Penobscot Valley Conference meet at Cameron Stadium on May 12.
The Dexter boys finished the day with a score of 20.5 points to place fourth among a field of six teams.
Darmiar Miller led the Tigers with his second-place performance in the triple jump, leaping a top distance of 38 feet, 1 inch. He also came in fifth in the high jump by clearing 5-00.
Three Dexter high jumpers scored points, with Bryce Cooper finishing third in the standings at 5-02 and Alex Morris tied for sixth place with his height of 4-09.
Morris also came in fifth in the 110 hurdles in 22.34 seconds and he was sixth in the 400 with his time of 61.42 seconds.
Ezekiel Bermudez added a sixth-place run in the 1,600 in 6:25.89.
The Penquis boys scored nine points to place fifth in the standings.
Andrew Lagasse led the Patriots by finishing fourth in the 400 with his time of 57.73 seconds. He also came in fifth in the 200 at 25.84 second and had a sixth-place throw in the javelin at a distance of 108-02.
Jareth Williams was sixth in the 100 at 12.16 seconds, and Lucas Chai had a sixth-place triple jump performance at 34-06.50.
In the girls' meet, Dexter picked up 15 points to come in fourth among five point-scoring schools.
Lauryn Brunner ended up second in the high jump by clearing the bar at 4-04. She also placed sixth in the long jump with a distance of 14-03.50.
Elyssa Jermone came in third in the 100 hurdles at 19.85 seconds.
The Penquis girls were fifth with six points.
The Patriots 4×100 — made up by Sky Guzy, Addison Conklin, Layla Chai, and Jahlysa Cruz, had the third-best time among point-scoring squads with the foursome having a time of 59.75 seconds.
Full meet results are available at http://www.sub5.com/youth-pages/outdoor-track/2023-outdoor-results/.