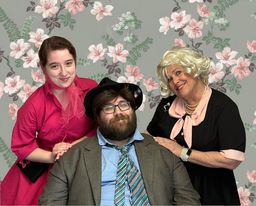 RSC Merry Wives (1)
Photo courtesy of Shana Page MERRY WIVES OF WINDSOR — Kristen Alberts as Mrs. Page, Joshua Fournier as John Falstaff, and Mary Freeman at Mrs. Ford in the Recycled Shakespeare Company's production of "The Merry Wives of Windsor" which will be at the Central Hall Commons on May 21.
'The Merry Wives of Windsor'
DOVER-FOXCROFT — The Central Hall Commons, 152 East Main Street, is once again delighted to welcome a delightful theater troupe at 2 p.m. on Sunday, May 21.
Join the Recycled Shakespeare Company in comedic mayhem at their production of Shakespeare's "The Merry Wives of Windsor." When the infamous buffoon John Falstaff rolls into town he plans to claim rich married women as his lovers to get to their money. But the merry wives and a jealous husband devise plans to trap Falstaff in his own game while friends are hatching matches of their own. Join the whole town in laughter and song at the expense of Falstaff.
As with every play by RSC it is free and accessible to all to attend. For a $10 donation you may reserve a front row, best view seat by contacting Lyn at 207-314-4730 or recycledshakespeare@gmail.com.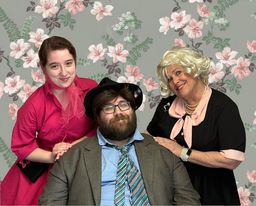 Concessions and RSC merchandise will be available for purchase and donations gladly accepted, all to support RSC 's work to bring free, quality, grassroots, green, community theater throughout Maine.
Musician and music teacher, Joshua Bickford of Oakland has written all original music to enliven the production as he has written music to Shakespeare's songs.
This 1950s-era interpretation is guided by seasoned director Vanessa Glazier of Waterville with choreography by Emily Carlton of China and produced by Lyn Rowden of Fairfield.
Joshua Fournier of Fairfield brings Falstaff to life while Mary Freeman of South Paris and Kristen Alberts of South China act as the merry wives. Murray Herard of Oakland sparks the comedic fuse as the jealous husband and his alter ego. Tammy Werber of Whitefield, Becca Bradstreet of Waterville, Sarah Mayven Crocker of Augusta, and Lena Page, of Albion, round out the hilarity along with several other actors across the state in a cast ranging from age 8 to 80.
For more information Like and Follow RSC at Facebook.com/recycledshakespeare or contact recycledshakespeare@gmail.com or 207-314-4730.