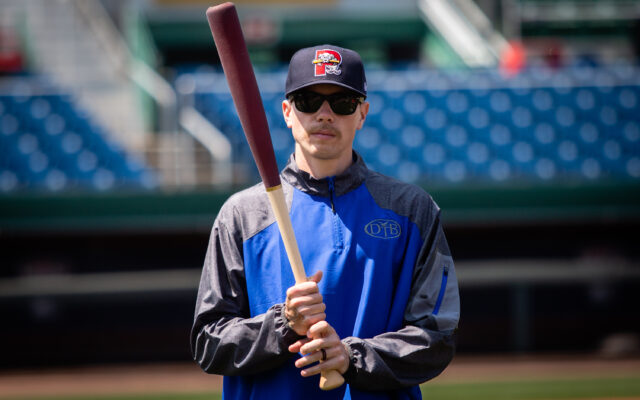 dove-tail-baseball-bat-maine-1
Bangor Daily News photo/Troy Bennett EXACT BAT COPIES — Portland Sea Dogs shortstop Christian Koss holds a Dove Tail Bat at Hadlock Field in Portland on May 10, 2023. New technology developed by the Maine-based company will allow for the exact copying of a player's favorite bat.
Two Maine companies teaming up on new baseball bat copying machine
By Troy Bennett, Bangor Daily News Staff
PORTLAND — When Sea Dogs shortstop Christian Koss and catcher Mickey Gasper, of the rival Somerset Patriots, faced off against each other May 10 at Hadlock Field, both swung Maine-made Dove Tail bats crafted in Shirley.
And if either of the players should crack their favorite slab of baseball lumber, it won't be the end of the world, thanks to a new high-tech scanning machine unveiled in Portland on May 10.
The bat scanner, developed by Dove Tail and Livermore Falls-based software company Newfangled Solutions, can make ultra-precise measurements of a player's stick, then send the info to the Piscataquis County bat manufacturing facility via the internet, where the player's beloved ball-walloper can be reproduced and shipped overnight to a player.
The old method was to ship a player's bat to the factory, where it would be hand-measured with calipers. If the calipers are held at even a slight angle, the measurements are ruined. Plus, the player is without the bat during the entire process.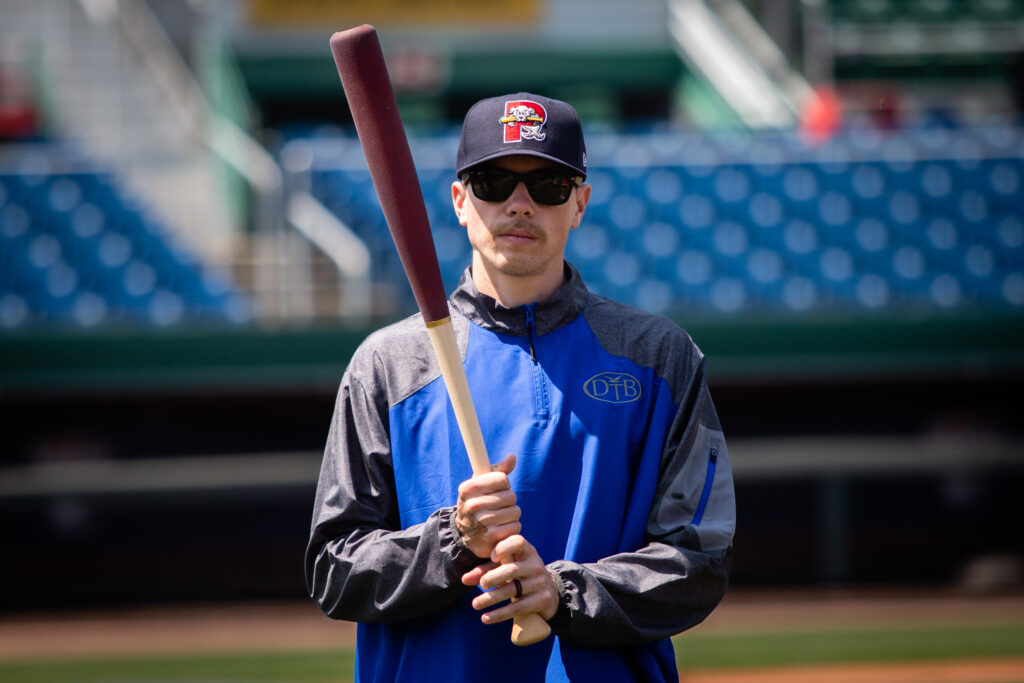 Dove Tail Bats owner Paul Lancisi said the machine is so accurate, it can measure a broken bat as well as an intact specimen. It can even pick up tiny, baseball-induced dings along a bat's barrel.
"But the software will then smooth it out," he said.
Within the next three years, Dove Tail hopes to have the machines installed in several major league clubhouses.
"When there are 40-some-odd bat companies, with 30 teams. The market share is really tough," said Lancisi."So you have to stand apart. We can copy a bat to within one-thousandth of an inch."
Lacisi said with COVID-19 clubhouse restrictions, it's been increasingly difficult to get his bat sales force around major league players in order to promote his products. With the scanner, a player will only need to pop their bat into the device, let it go through its four-minute scanning cycle and then wait for a new bat to arrive via overnight courier.
Currently about 25 Major League Baseball players use Dove Tail Bats. They include Pete Alonzo and Jeff McNeil of the New York Mets and Giancarlo Stanton and Harrison Bader of the New York Yankees.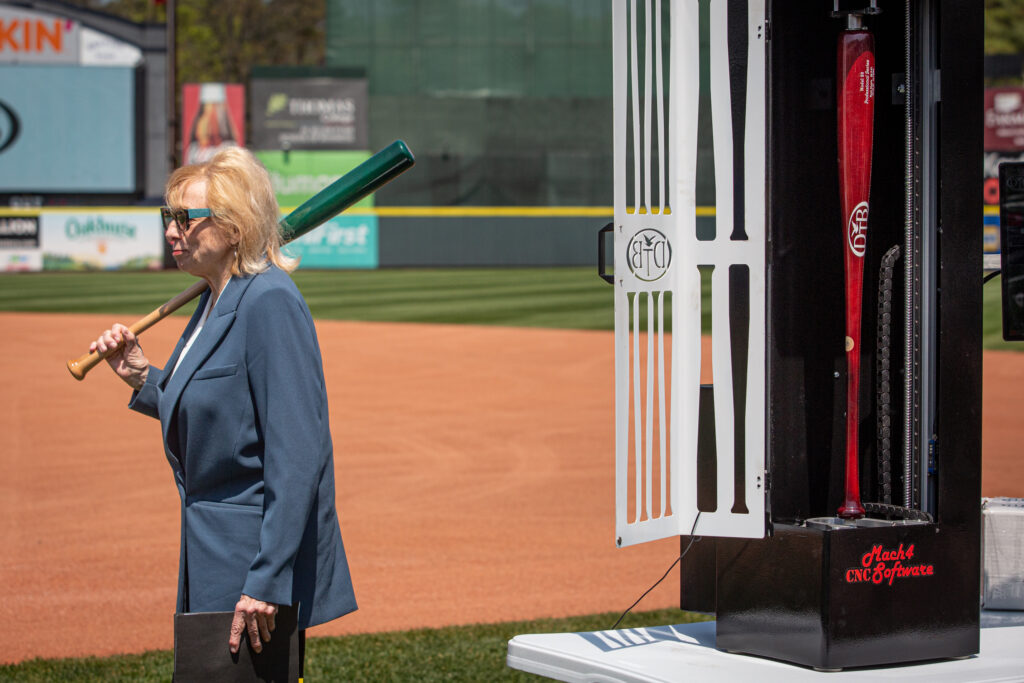 Dove Tail Bats, which began manufacturing baseball bats in 2007, produced over 30,000 bats in 2022.
The new machine can scan any bat, from any manufacturer.
"Someone could actually hand-carve a bat for a customer, and get a really great feel, or put tape on or do anything they want," said Brain Barker of Newfangled Solutions. "And because we're picking it up with optics, that [bat] profile is [still] going to be generated."
Barker studied mechanical engineering at the University of Maine and has run Newfangled Solutions for 17 years, specializing in automation software.
"As a Mainer, I'm happy that everything associated with Dove Tail Bats and this machine — from the lumber used to the technology — is made in Maine," he said.
Maine Gov. Janet Mills, who was on hand for the unveiling, agreed.
"This is a home run for our state," Mills said.
Lancisi he's already in talks with a few Major League Baseball teams about getting the Dove Tail machine installed in their clubhouses.
"I'm hoping that within three years, we'll have all 30 teams," he said.