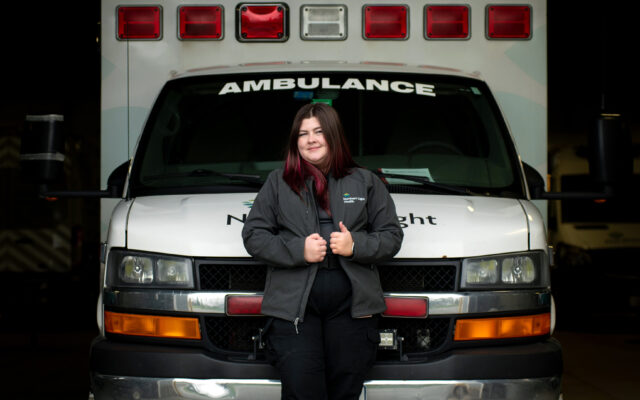 Northern-Light-EMS-A LCO
Bangor Daily News photo/Linda Coan O'Kresik EMT GRAD — Sherralyn Robbins, 22, recently graduated from the Northern Light Medical Transport and Emergency Care's Work to Grow program. The seven-week accelerated program includes nearly 100 hands-on clinical hours in the ambulance along with classroom time. The program has graduated 45 basic EMTs in the last two years.
Maine hospital system has nearly solved its EMT shortage
A program that launched in October 2021 has mostly reversed a major Maine hospital system's shortage of emergency medical technicians after staffing dropped 30 percent during the COVID-19 pandemic.
The program through Northern Light Medical Transport and Emergency Care includes seven weeks of training, in the ambulance and the classroom, for students of all backgrounds.
Students are hired and paid as full-time employees while they train, committing to two years with Northern Light Health. After they pass a national exam and obtain their Maine license, they are promoted to basic EMTs.
With 45 students from four cohorts graduated, positions for basic EMTs are close to full across five ambulance divisions, and having a few openings is normal, said Andrea McGraw, associate vice president of emergency medical services. Bangor's division, the largest, has filled its full-time vacancies for EMTs.
The staffing crisis among emergency medical workers is not unique to Northern Light or even Maine but reflects a nationwide problem, McGraw said. The hospital system has seemingly found a solution to rebuild its force of EMTs, though advanced EMTs and paramedics are still needed. This means more complete crews and the patients they transport are breathing easier.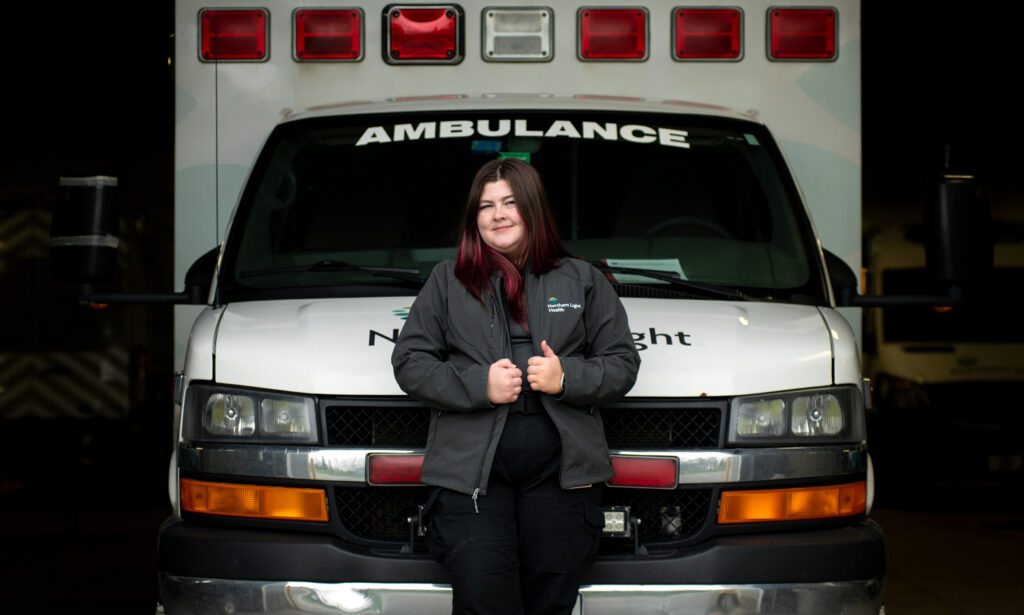 "We knew there was a problem. We tried something different because we were at the point that we needed to do something," McGraw said about the Work to Grow program, a model used in other Northern Light departments. "We tweaked it along the way, and it has been successful."
Program leaders have heard from EMS agencies in southern Maine curious about how they achieved success, lessons learned and what could be done differently.
Now the Northern Light team is working to get approval for an advanced program for EMTs and thinking about how to adapt the model for people interested in per diem work. They have considered a similar training program for paramedics, though the logistics are harder to coordinate, McGraw said.
Across the five divisions, there are openings for about 10 advanced EMTs and 25 paramedics, said Karen Sanborn, a Northern Light Health spokesperson.
During the pandemic, short-staffed crews worked longer days and picked up extra shifts, leading to burnout and fatigue. Leaders joined them in covering ambulance calls. Fewer EMTs and other emergency responders meant delays in transporting patients, for example, from a hospital to a nursing home, and more reliance on mutual aid partners.
Some workers left due to exhaustion or Maine's COVID-19 vaccine mandate, while others retired or chose to advance their careers, said Crystal Bagley, education and training supervisor for Northern Light Transport and Emergency Care.
"Now we can say yes to more of the discharges from facilities to a patient's next stop on their journey versus doing it in a day or two. We can do it in real time," she said.
The Work to Grow program is based on a model that Northern Light Health uses for registered nurses, certified nursing assistants, respiratory therapists and other positions. The model has been in place for more than five years, but it has evolved over time, Sanborn said.
Bagley, who taught students along with paramedic and operations coordinator Josh Carr, thinks the program appeals to people because they get to learn from experienced professionals while earning a paycheck, which provides stability.
In a traditional program for EMTs, unless a sponsor is involved, students must pay tuition and plan to take time away from work, Bagley said, noting there is far less hands-on learning that prepares them for the real world. This program gives students nearly 100 hours of clinical exposure on the ambulance, which typically begins their second week, she said.
Students are hired as full-time emergency vehicle operators, making $17.75 an hour as they go through training, which includes learning how to drive ambulances. Once they are licensed EMTs, their title changes and they get paid $20 an hour, Bagley said.
She builds schedules for students, pairing them with mentors and arranging for ambulance training at locations that interest them. For instance, a student living in the Northern Light Mayo Hospital EMS region may want to work at one of three bases — in Dover-Foxcroft, Dexter or Corinth — once licensed, so she works with them to coordinate.
The program's students were of varying ages and occupations. The youngest was 18, while the oldest participants were in their late 50s or early 60s. They included a former newspaper owner and electrician, as well as jail guards and certified nursing assistants.
Sherralyn Robbins, 22, recently completed the program and now works as an EMT in the Bangor division. The Eddington resident graduated from the University of Maine with an English degree in 2019. She stumbled across the EMT job on Indeed.com and decided to go for it, not having any medical workers in her family.
"I had an experience last summer where I was met with the death of somebody close to me," she said. "The EMTs who came to try to resuscitate were wonderful people, and I guess that always stuck in my mind. I wanted to be that for other people."
The program moved fast, but Robbins liked that the learning experiences were meaningful and much more involved than reading a textbook, she said. She recalls learning about EMS history on the first day, when a presenter advised students to set aside their judgment when treating a patient.
"It's about meeting people where they are and treating them," she said.
Bagley typically gets from two to three requests a week from people inquiring about when the program, a partnership with Kennebec Valley Community College, will reopen. It's on pause because EMT positions are nearly full, but she would "do it again in a heartbeat," she said.