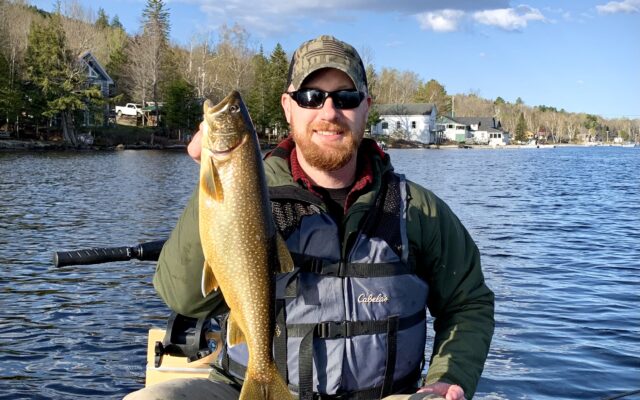 IMG_8309
Photo courtesy of Chris Sargent MOOSE RIVER TOGUE — Bangor Daily News Outdoors contributor Chris Sargent caught this five-pound togue while trolling recently on the Moose River in Rockwood.
Spring trolling in a tiny canoe on the Moose River
By Chris Sargent
It seemed like a crazy idea at the time, even to me. I'm sure those who were privy to my plan beforehand shared similar thoughts, and when the moment of truth came, I was admittedly a bit apprehensive and certainly nervous.
As I shuttled my gear down to the dock, a steady flow of boats puttered by in the fog of a chilly, overcast May morning a few years ago. Like planes taxiing down a runway, one by one their engines roared to full throttle once clear of the headway-speed-only area, then sped off to their chosen fishing spots.
The smelts were in and the time was now for big fish. With a deep breath and healthy dose of optimism, I shoved off, hopped in, weeble-wobbled my way to the stern and sat down. Crazy or not, I planned to spend the morning trolling for togue and salmon at the mouth of the Moose River on Moosehead Lake — in a 13-foot canoe.
As I write this, my first trip of the 2023 season to our family camp on the Moose River is just a few days away. While I'm excited, I can't help but be a bit apprehensive and anxious. I'm not sure what to expect.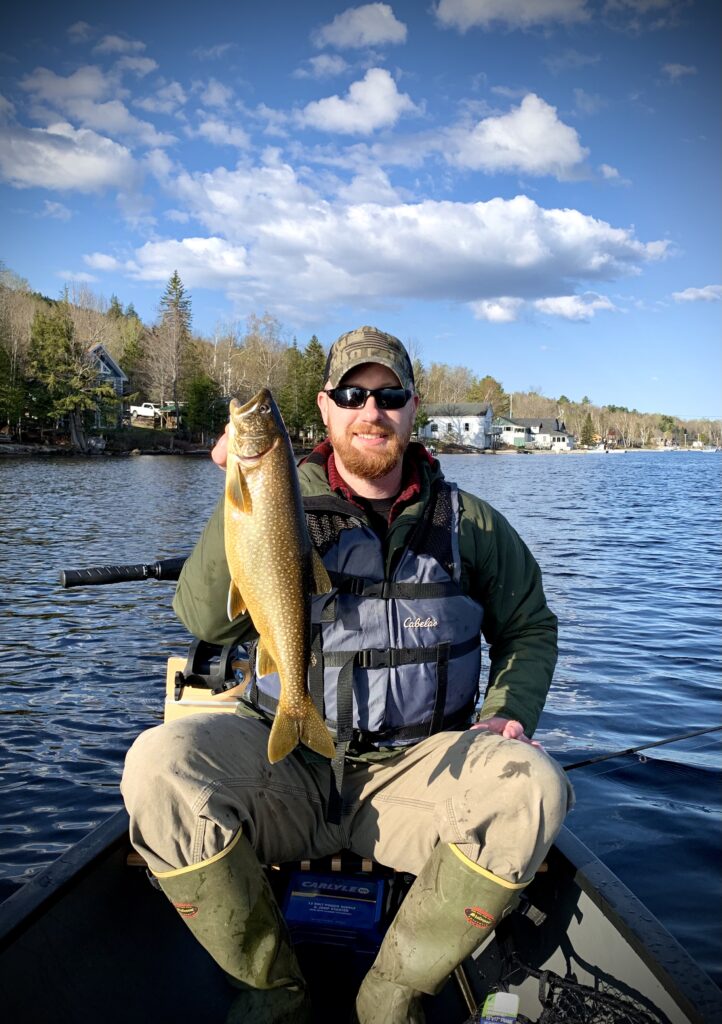 The recent train derailment in Rockwood near Brassua Lake and speculation about potential ecological impacts leaves me wondering about the current state, as well as the future, of a treasured fishery.
I'm not an ichthyologist, ecologist or biologist. I'm just a simple fisherman who's worried about more than 500 gallons of diesel fuel, and who knows what else, leaking into a watershed that includes the Moose River, which feeds one of our state's most beloved lakes.
Regardless, I'll still be dragging my secret weapon lure a couple feet off the bottom for a couple days and hoping for the best.
For my trip a few years ago, I'd purchased the canoe despite COVID-related supply and manufacturer issues with the help of "a friend who had a buddy who knew a canoe dealer" sort of scenario. Camo in color, the Old Town Discovery 133 is short but wide-beamed, stable and keeled. I planned to use it as an all-purpose vessel. It would be perfect for spring beaver trapping, stream fishing and the occasional evening paddle on a calm lake or pond, but because it is my only boat, I wanted to squeeze the most I could out of it and that meant a trolling motor.
After considerable research, I purchased a 30-pound thrust Minn Kota Endura electric trolling motor as well as a simple aluminum trolling motor side-mount for canoes. I was surprised at how easy the mount was to install and how secure it seemed to be. Attaching the trolling motor to the mount was even easier and the only thing left to do was to power the whole deal.
I settled on a recharge-able battery booster pack, which is lightweight, portable and easily connects to the leads of the trolling motor via the positive and negative charging clamps. After a few test runs on a small local lake, it was time to head north.
Trolling from a small canoe isn't for everyone. It's slow, uncomfortable and limiting, but there are advantages. Canoes are extremely portable. I can carry mine with ease, and it travels well strapped to the top of my truck with the trolling motor and mount in the bed. Since no trailer is involved, there's no need to find a boat ramp, wait at said boat ramp on a busy day or find parking for a truck and trailer.
There's no plug to forget, no gas to worry about (for an electric trolling motor) and far less U.S. Coast Guard-required safety equipment to carry on board. They are shallow on the draft so you can get to places large motorboats can't, and if the trolling motor fails, you can always paddle. I've learned that although it's a workout, a fast and hard J-stroke can achieve appropriate trolling speeds for most lures.
There are absolute disadvantages, though. Don't expect a luxurious, overly comfortable experience. You'll likely be sitting the entire time, unable to get up, walk around or stretch. You'll have to make sure everything you need is within arm's reach and ready yourself for the occasional heart-stopping moment when you're convinced that you'll tip.
On that note, you'll be limited to calm waters and will have to watch the weather. Safety is paramount and while personal flotation devices aren't comfortable, you'll never find me in my canoe without one on. In addition, I always let someone know where I'm going and how long I intend to be out.
As for that maiden voyage on the river, I set the motor at level 2, which I figured to be around 1 1/2 to 2 mph and took a couple sips of my coffee. Moosehead Lake is no place for such a small boat, but I limited my range to just beyond the mouth of the river.
I hugged the southern shore and hadn't gone a hundred yards before my rod twitched, then doubled over. A couple minutes later, I lifted a five-pound togue from the water. Over the next hour and a half, I landed three more togue in the river and had countless other hits while watching boat after boat race by to get into the lake.
Someday I'll have a beautiful new fishing boat, but it will never top that quiet, cold, foggy morning when I dared to be the brave man in a tiny canoe.