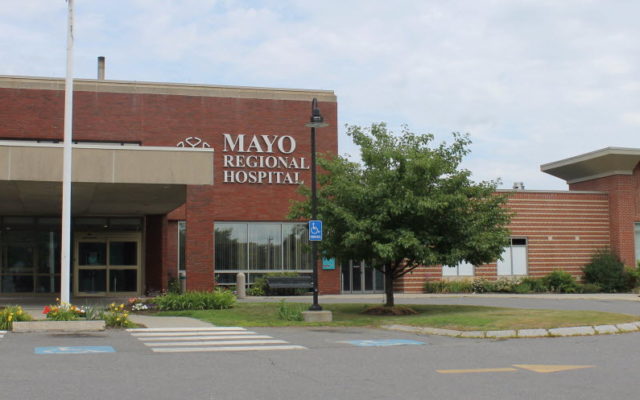 ax247_4e5a_9
Northern Light Mayo Hospital in Dover-Foxcroft
Northern Light is offering sign-on bonuses up to $15K amid labor shortage
Northern Light Health hospitals around the state are offering $3,000 to $15,000 sign-on bonuses to registered nurses in an effort to address Maine's health care worker shortage.
Sign-on bonuses are also available to behavioral health clinicians, respiratory therapists, radiology and computed tomography technologists and physical therapists, among others. Bonuses typically depend on the job location and candidates' experience.
There's an emphasis on nurses because even before the COVID-19 pandemic, Maine was not training as many as it needed given the number of those retiring, said Catharine MacLaren, vice president of talent and diversity.
"It's not a secret that staffing has been a challenge. We look at the greatest needs for positions and what's going on in the market," she said about the sign-on bonuses, which are just one recruiting strategy. "Those are the two biggest factors."
Employers across Maine — in health care, law enforcement and other industries — are counting on sign-on bonuses to draw talent and ease labor shortages exacerbated during the pandemic. It's challenging in a state that has more people needing health care services than those working in the field. It forces employers to get creative, and the bonuses are just one approach to attract candidates.
"We're always paying attention to what's going on around us," MacLaren said. "Health care can be incredibly rewarding. It's also a demanding industry, so we want to make it as easy as possible for people."
Maine is projected to have a shortage of 1,450 registered nurses in 2025, according to a report commissioned by the Maine Nursing Action Coalition and Maine Hospital Association and released last year. The projection, an improvement compared to a shortage of 2,250 nurses in 2021, was mostly driven by an annual increase in early career and newly educated nurses.
Nearly a third of nurses nationwide said they are likely to leave the profession for another career due to the pandemic, up 7 points since 2021, an AMN Healthcare survey, released this month, shows.
MaineHealth, another major health care employer in Maine, also offers sign-on bonuses at its facilities, which range from $3,000 to $20,000, said Helene Kennedy, MaineHealth's vice president of talent acquisition and workforce development. Nursing bonuses range from $10,000 to $20,000 depending on experience.
Respiratory therapists were in high demand during the pandemic, MacLaren said. Positions in Bangor are eligible for a $10,000 sign-on bonus, according to an April 27 Facebook post from Northern Light Eastern Maine Medical Center.
A separate post sought candidates for radiology and computed tomography technologists, who work with patients to get quality images that help with diagnoses and treatment. New graduates are eligible for a $5,000 sign-on bonus, while technologists with two or more years of experience could receive $10,000.
For some candidates, the salary and bonuses ultimately determine which job they select, though it isn't usually that simple. Opportunities for professional development, good benefits and feeling connected to a company's mission are some of the factors important to people, which recruiters keep in mind, hospital officials said.
Northern Light Health takes a three-pronged approach to staffing, which includes recruitment, retention and "growing our own," which helps workers advance in their careers, MacLaren said.
Employers also consider, for example, that some workers are parents and might be drawn to a part-time position or need flexibility in their work schedule. Or maybe a candidate is tired of doing hard, physical work but has a wide skill set in their field.
"How are we thinking about opportunities for people to preserve that knowledge?" she said.
MacLaren highlighted training programs, like one available at six hospitals for respiratory therapists. The program, a partnership with Kennebec Valley Community College, allows trainees to receive full-time pay as they study and work a part-time job through Northern Light.
MaineHealth offers comprehensive relocation packages for many roles, language support and a workforce development program that trains employees, Kennedy said.
"We have found this investment along with the investments we have made in compensation and new benefits is helping to differentiate us in the market and enabled us to attract high-quality talent," she said.
Both health systems emphasized the importance of training future health care professionals because it directly affects hiring. They reach out to Maine students to educate them about career paths and offer clinical training, which helps attract them to the field, Kennedy said.
Northern Light Health has seen its retention improve in the last six to eight months, MacLaren said, though figures weren't immediately available Thursday.
In the last six months, the system has seen more people show up for hiring events across the state, though people from out of state tend to be interested in Mercy Hospital in Portland than some of the others, she said.
"I have heard people say that no one wants to work, or fewer people want to work," she said. "You do have to be more creative, I think. If you're in an industry that historically could put up positions, get a lot of applicants and call it a day after doing your due diligence, those days are not so prevalent anymore."