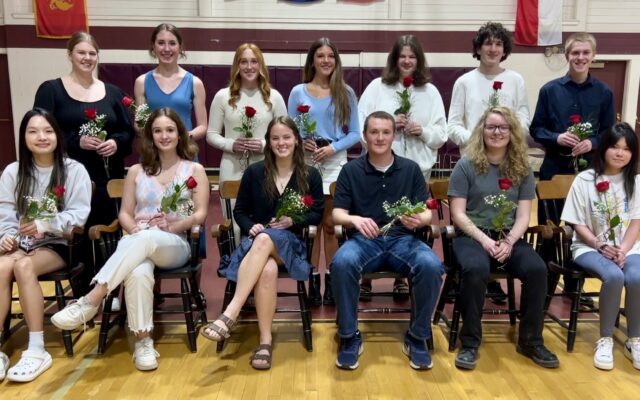 IMG_2984 2
Photo courtesy of Foxcroft Academy ROSE AWARDS — The Foxcroft Academy Class of 2023 Rose Award honorees — those ranking in the top 15 percent — are front, from left, Anh Viet Phuong "Ana" Tran, Laney Reardon, Leah Hill, Adam Conner, Mackenzie Goodine, and Le Nguyet Anh "Jennie" Duong. Back, Abby Kemp, Abby Knapp, Laurne Martin, Annie Raynes, Rachel Mullis, Eion McCloskey, and Carter Pratt.
Foxcroft Academy announces Rose Award recipients, honor parts for graduation
DOVER-FOXCROFT — On Tuesday, May 2 Foxcroft Academy held a special ceremony to announce the Class of 2023 outstanding scholars at its annual Rose Award ceremony. This year, the recipients are Adam Conner, Le Nguyet Anh "Jennie" Duong, Mackenzie Goodine, Leah Hill, Abrielle Kemp, Abigail Knapp, Lauren Martin, Eion McCloskey, Rachel Mullis, Carter Pratt, Anna Raynes, Laney Reardon, and Anh Viet Phuong "Ana" Tran.
The Rose Awards were established in 1931 when Frank G. Stone was head of Foxcroft Academy. Rose Award recipients have accumulated a grade point average that places them in the top 15 percent of their class's permanent students. For the 38th consecutive year, a medallion with the Foxcroft Academy seal was presented to the recipients in addition to the traditional rose. Priscilla White, former English teacher and librarian who retired after 36 years of service, and Robert Beek, who taught mathematics at FA for 33 years, conceived the idea for this permanent award and contributed funds to have the die-cast for the medallion, which has now become a permanent part of the annual ceremony.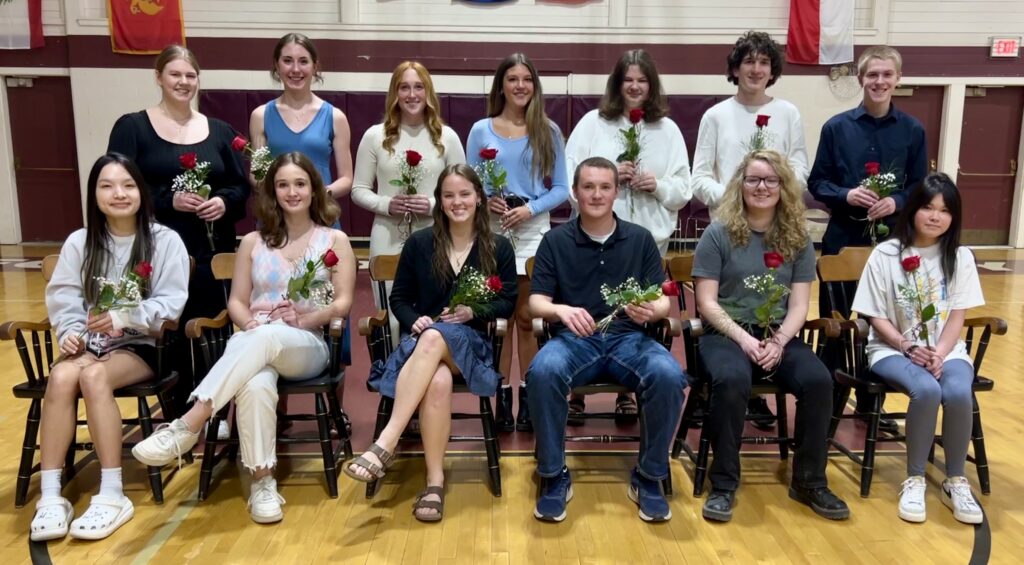 In addition, Foxcroft Academy Head of School Arnold Shorey is pleased to announce the honor parts for the Class of 2023, the 200th class in school history.
The valedictorian for the Class of 2023 is Rachel Mullis. Rachel is the daughter of Brian and Elizabeth Mullis of Dover-Foxcroft. Rachel has been active in the Foxcroft Academy community as a member of National Honor Society, Key Club, and Student Council, International Club, Spanish Club, Environmental Club, and has been a peer mediator. She is a candidate student in the International Baccalaureate Diploma program and a Rose Award recipient. This fall, Rachel is awaiting decisions based on acceptances, but will be majoring in English.
The salutatorian for the Class of 2023 is Abigail Knapp. Abby is the daughter of Roger and Angie Knapp, and she lives in Dover-Foxcroft. She has been heavily involved at FA as she's been a member of National Honor Society, Key Club, Student Council, and other various clubs. She's been a four-year member of the girls' soccer, basketball, and track teams, serving as team captain during her senior year. Abby received the 2023 MPA Award and is a Rose Award winner. This fall, Abby plans on attending Colby College in Waterville with an undeclared major.
Graduation exercises are scheduled for Sunday, June 11 at 1 p.m. in the Jim Robinson Field House. The faculty speaker is Brett Almasi, and the guest speakers are Donna Newhouse and Nick Lavigne, former faculty members. More details to come soon.