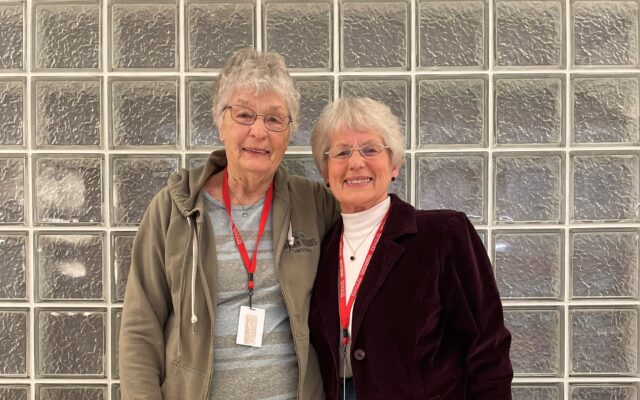 IMG_2481 (1)
Photo courtesy of SeDoMoCha School FOSTER GRANDPARENTS — The SeDoMoCha School honored its foster grandparents recently. The volunteers are Evelyn Sudsbury, left, and Cherylee Brown, and, not pictured, Wesley Mallett.
SeDoMoCha School honors its foster grandparents
DOVER-FOXCROFT — During the April Students in the Spotlight celebration, SeDoMoCha School and the Penquis Foster Grandparent Program officials took the time to recognize the school's three foster grandparents.
Cherylee Brown, Wesley Mallett, and Evelyn Sudsbury have volunteered their time in several classrooms over the years. School staff and students wanted to show appreciation for everything that they do for the school and community.
Penquis Foster Grandparent Program Director Mariah Staples spoke about each of the three and thanked them all for their service.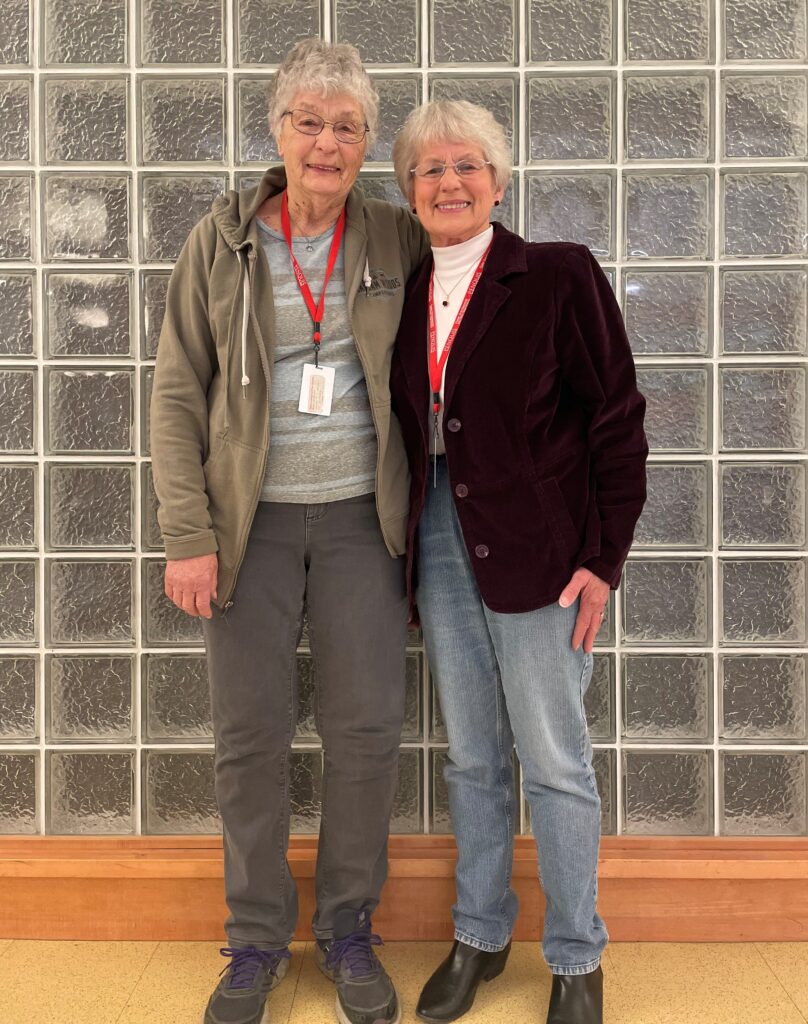 Brown has been a Penquis foster grandparent since September of 2019. She volunteers four days a week at 5.5 hours a day. Last program year she served 772 hours. She is kind, patient, and dedicated to the students she serves. Even during the height of the pandemic she continued to serve the students of SeDoMoCha.
In Brown's own words, "In March of 2020, school was done for me. What a sense of loss I felt! I was looking forward to finishing the year with the class I'd met, enjoyed and struggled along with. It was like starting a quilt and tucking it away undone — full of pins and loose threads and incomplete."
Brown did not let the pandemic stop her, she became a pen pal with students and even had a chance to meet outside with the students she missed so much. When allowed,Brown returned to the classroom to do what she does best, mentoring, and tutoring the students at SeDoMoCha.
Mallett started as a Penquis foster grandparent in February 2022. He volunteers five days a week for 2.5 hours a day. Last program year he served 241 hours. He has a desire to help students and is committed to our program. He has a kind and gentle way about him.
In Mallett's own words, he states, "The Foster Grandparent Program makes me feel more useful. I love helping the children do math. Almost everyday I volunteer and I see improvement."
Sudsbury has been a Penquis foster grandparent since September of 2009. She is a dedicated, caring volunteer, and a wonderful advocate for our program. She volunteers five days a week serving 6.5 hours a day. Last program year she served a total of 1,442.5 hours.
Sudsbury has mentored hundreds of students over the years. Her caring and compassion will have a long lasting impact on the children she served.
In Sudsbury's own words, she states, "Every year it gets better and easier to be in the Foster Grandparent Program because you know you are making a difference in the children you help. Just to see them come to school each day, the smiles and hugs you get make you feel wanted. The heart of a Foster Grandparent is not measured in size, but in the depth of the commitment to make a difference in the young lives of children."