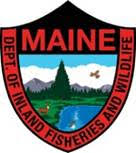 Maine Warden Service annual honors
WINSLOW – Game Warden Pilot Jeff Spencer of Eagle Lake was honored as the Maine Game Warden of the Year by his peers at the annual awards banquet at the Winslow VFW Hall on April 21.
Gov. Janet Mills was the featured speaker at the ceremony, which also included remarks from Department of Inland Fisheries and Wildlife Commissioner Judy Camuso.
"It is an honor to recognize the outstanding work of those protecting Maine's natural resources, and protecting those that enjoy them," said Camuso. "The outstanding work of the men and women in the Maine Warden Service is well known not only in Maine, but beyond our borders as well."
The awards ceremony gives special recognition to game wardens for exceptional performance during 2022. Awards are given for the Maine Game Warden of the Year, Game Warden Supervisor of the Year, the Legendary Game Warden of the Year, as well as awards for conduct above the normal line of duty, outstanding work that merits special attention, and recognizes individuals and groups who assisted the Maine Warden Service.
Achievements that were recognized included incidents where human lives were saved, and other awards highlighted the conservation of Maine's fish and wildlife resources in ways deserving of special recognition.
Spencer, a game warden for nearly 25 years, began his warden career in the North Maine Woods in the Estcourt Station district where he quickly made an impact with numerous cases regarding over the limit fish, and night hunting. He later was promoted to sergeant, then became a pilot. In all of his positions, Spencer has been a role model for others, and displayed a hardworking attitude that carried over to others he worked with.
Over the years, Spencer became well known for his investigative skills, including one case involving a report of three dead moose found near the shores of Little Clayton Lake during the summer. He worked tirelessly on this case, piecing together small pieces of physical evidence and clues, never stopping when encountering any roadblocks on the case. Spencer's investigation led him to Tennessee, where he served a search warrant on a man who was convicted for the killing of three moose out of season and the waste of three moose.
As a pilot, Spencer was praised for his search and rescue skills from the air, as well as helping game wardens protect fish and wildlife resources. Spencer has been responsible for several recent successful search and rescue finds from his aircraft, as well as multiple fish and wildlife cases.
During the fall of 2020 Spencer was called out to a search off the Island Pond Road in the North Maine Woods. By late afternoon, after flying for over 10 hours, he located the lost subject along a brook several miles from the vehicle. From the air, Spencer has a unique ability to observe illegal activities, then direct game wardens on the ground to the area which has led to many over the limit cases, gear restriction violations, deer baiting cases, and illegal moose cases.
Sgt. Mike Joy, of Division E in Ashland, was awarded the Supervisor of the Year honor. Joy has been a sergeant in eastern Aroostook County since 2018 and is well respected by his peers and partners of the agency.
Retired Game Warden Pat Dorian was awarded the 2022 Legendary Game Warden for an outstanding 34-year career. Dorian began his career in Chamberlain Lake as a district warden, where he tells the story that he let the first fisherman he caught without a license go without a ticket because no one told him how to fill out a summons book when he started.
Dorian worked in a variety of areas throughout the state, before he became a sergeant in the Moosehead Lake area in 1986. He later was promoted.
Dorian was commended by multiple nominators for the outstanding work environment he created as a supervisor, and his lead by example style. He never asked anyone to do anything that he would not do. While Dorian was known as a tireless worker, he also made sure that his staff that he supervised made time for their families, often covering their shifts when coverage was sparse so they could attend family events.
Dorian became the supervisor of the search and rescue team, and modernized the way the team conducted searches. He upgraded equipment and built strong relationships with volunteer staff and teams. Dorian's reputation and intuition as search team leader was revered. Two of the more high profile cases he helped solve through the recovery of murder victims resulted in books being written about the searches and the warden service.
Dorian retired in 2009, but is still very active in the warden service. He helps with maintenance of remote camps, reports on illegal activities, always helps wardens who seek advice, and works to help with annual meetings and work details.
As the nomination concluded, "Pat is always thinking of so many others, and he's always nominating others for this Legendary Award, he never thinks of himself, but it is high time, he is so deserving."
2022 Meritorious Service Award honorees include Game Warden Troy Dauphinee of the Abbot district and Warden Pilot Nicholas Mangino. The two wardens were recognized for their quick response actions and risking their own lives in rescuing a snowmobiler who they saw break through the ice.
An Exemplary Service Award was presented to Game Warden Paul Mason of the Brownville/Milo district. Recognized for his outstanding work with his digital forensic examination equipment and his expertise that let to charges in three night hunting cases, on hunting under the influence, hunting over bait, illegal bear baits, hunting closed season and many others as well as his work in summonsing someone who used a vehicle to kill a deer.
Game Warden Jared Herrick of the Bingham/Caratunk district was also presented with an Exemplary Service Award. Recognized for the apprehension of three night hunters within minutes after hearing four gunshots in a remote portion of the North Maine woods.