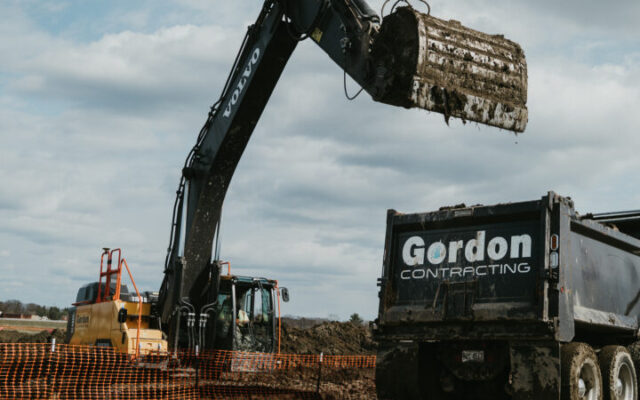 DSC05183-1200×450
Photo courtesy of Gordon Contracting ON THE JOB — A Gordon Contracting construction site. This year the Sangerville-based company will be carrying out a $17.5 million reconstruction project on Route 1 in Searsport, installing an ADA lift at Dexter Regional High School, and has more projects across Maine.
Gordon Contracting plans busy construction season
SANGERVILLE — Earlier this year Gordon Contracting of Sangerville was awarded a $17.5 million project to reconstruct about two miles of Route 1 in downtown Searsport. The work will account for about 70 percent of the annual volume for the company which has projects planned for across Maine this year.
A year ago Gordon Contracting completed $24 million in construction projects throughout the state.
Speaking from the Gordon Contracting North Dexter Road office, Chief Operating Officer/Project Manager Drew Straehle said the Searsport project will consist of "removing the existing roadway and the base gravel underneath and then replacing all the drainage and the gravel below that and then the new pavement. It's a total reconstruction. Typically you see paving projects that do a mill and overlay where they just mill a small amount of pavement out and they put a couple of inches of new pavement in that's kind of like a band-aid. A full reconstruction makes the road solid for about 10-20 years."
"Seventy percent of our workforce and our annual gross will be on this project," Straehle, who has been with Gordon Contracting for nearly a decade, said. About 75 percent of the firm's workforce resides in Piscataquis County, including Straehle who said he moved to the region from southern Maine to better serve in his position.

He said Gordon Contracting has about 10 active projects including in Dexter, Bar Harbor, Biddeford, Calais, Millinocket, Portland, Westbrook, and Woodstock. The company will be installing an ADA-accessible lift at Dexter Regional High School to replace an antiquated chairlift.
Gordon Contracting is hiring for a number of positions including construction laborers, operators, and truck drivers.
"Typically for construction laborers we hire all the time because we're constantly looking for new help," Straehle said. Equipment operators and truck drivers are hired more on an as-needed basis.
"We hire 'green' as we call it with no entry level experience, we'll train you," he said. "We pay for training and then we pay you to take training and then we put you in the workforce. We also hire experienced laborers as well."
Testing will be done on equipment before potential operators go on the job site. Straehle said after prospective employees have interviewed and agreed on salary and financial benefit terms "We send them down back to our shop and we have them load trucks and test equipment and see if they actually operate on the stick. This way we know we can put them in the field."
Operators generally use long-reach excavators and Gordon Contracting also has equipment such as loaders, skid steers, and water trucks.
The company offers full benefits such as health insurance, dental, vision, and IRA, as well as safety bonuses.
"We provide annual safety bonuses for the crew," Straehle said. "When a crew goes all year with no accidents or incidents or lost time or (lost or damaged equipment), (President Brian Howard) increases their annual bonuses."
He said bonuses are given for Christmas and another based on performance."If that crew is safe all year, no injuries or accidents, then that annual performance-based bonus is increased based on the money (Howard) saves on insurance," Straehle said.
Those interested can apply online at https://www.gcmaine.com/draft-job-application/. Staehle said applicants can also contact him to learn more at 207-876-3798 ext. 7, 207-730-0223, or Drew@gcmaine.com.