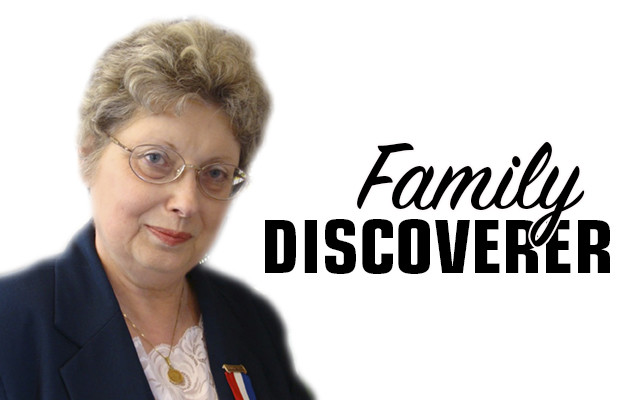 Nancy Battick.jpg
Nancy Battick (of Dover-Foxcroft, president of the Daughters of Union Veterans.) (BDN Photo by Diana Bowley)
Same-name confusion
By Nancy Battick
When something seems to be too good to be true, it usually is. That's the same for genealogists as well.
When your gut says something is wrong, you are almost always right. Recently my own gut told me I was researching the wrong relative. It was another case of two people with the same name.
I was trying to trace my father's first cousin, a Lithuanian immigrant named Joe (Joseph) Simokaitis (that's Si-Mo-KITE-Us). Joe was the son of one of my grandfather's sisters who remained in Lithuania. I was hoping to discover which sister, as there were two, and no one in the family knows which one married Joe's father. All I had for clues were notes I took when I talked with my father about his family.
I knew Joe lived in Foxcroft and then moved. I figured with a name like that it would be easy to track him. But that didn't prove to be the case. Turned out the surname Simokaitis is common and the given name Joseph even more so.
In the 1910 U.S. Census for Foxcroft, Joe Simokaitis is found with wife, Marcella, daughters, Matilda and Nettie, and an infant son. All this agreed with my father's recollections. Joe registered for the draft in 1918, giving his birthdate as 1883 and indicating he was naturalized. In 1920 he's still in Foxcroft and then he disappears.
At the same time Joseph Simokaitis appears in Lewiston records with wife Barbara and children. Was this the same Joe? Lithuanians often adopted English names so was Marcella calling herself Barbara? The records for Joe in Lewiston are abundant, and I constructed his family tree easily. But my gut was telling me this wasn't the right man. If Joe was in Maine, why wasn't he keeping in touch with his family?
A deeper search soon revealed that these were two different men. I found my Joe in New York in the 1930 census with wife Marcella. The New York Death Index revealed that Joseph died in 1962 and his birth year was 1883. I also found a marriage record for daughter Matilda who married in New York state in 1929. This was clearly the correct family.
These two unrelated Joes both emigrated from Lithuania, were naturalized, both married with children, did similar work, and were born in the same decade. And they both lived in Maine at one time or another.
I discarded my research on Joe Simokaitis from Lewiston and now must do more work on my Joe and his family.
Let this be a warning. Genealogists often want someone to be an ancestor and figure any differences are mistakes in the records. While records do contain errors, try to verify you're not dealing with someone of the same name, even as in this case when the name is unusual.
This happens when we research, and my tale of the two Joseph Simokaitis' of Maine is a caution to all genealogists. Remember, trust your gut.
Columnist Nancy Battick of Dover-Foxcroft has researched genealogy for over 30 years. She is past president of the Maine Genealogical Society, author of several genealogical articles and co-transcribed the Vital Records of Dover-Foxcroft.  Nancy holds an MA in History from UM and lives in DF with her husband, Jack, another avid genealogist. Reader emails are welcome at nbattick@roadrunner.com.