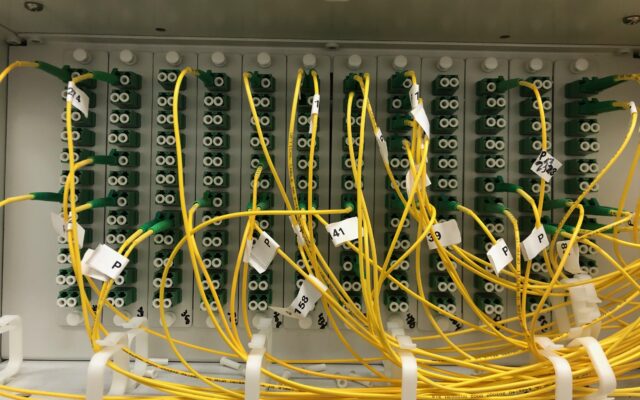 Fiber Connectivity to Business and Community (1) (1)
Photo courtesy of Downeast Broadband Utility Fiber connections bring broadband internet to businesses and households in Down East Maine.
Local projects part of $34M awarded to expand broadband through Connect the Ready program
The Maine Connectivity Authority announced more than $34 million in grant funding to expand access to high-speed, reliable and affordable internet across Maine. The Connect the Ready grants are the single largest investment in Maine's broadband infrastructure to date, will provide broadband service to more than 16,000 homes and businesses and will leverage over $17 million in private investment from communities and service providers. The 12 funded projects cover 31 communities across nine counties.
These include:
$1,556,059 Town of Abbot + Premium Choice Broadband (also covering portions of Parkman, Guilford)
$705,866 Town of Bowerbank + Premium Choice Broadband (also covering portions of Sebec)
$2,292,601 Town of Bradford + Premium Choice Broadband (also covering portions of Charleston)
$2,172,890 Town of Greenville + Premium Choice Broadband (also covering portions of Beaver Cove, Shirley, and the Unorganized Townships of Lily Bay and Frenchtown)
$1,247,609 Town of Willimantic + Premium Choice Broadband (also covering portions of townships of Blanchard and Elliottsville)
"Expanding access to high-speed internet is critical to businesses and families in Maine," said Andrew Butcher, president of the Maine Connectivity Authority. "Today's grant announcements are one more part of Maine's commitment to making sure that everyone in the state who wants it has access to broadband technology. We are proud to support the hard work of committed local partners and service providers. These grants will help thousands of Maine people conduct business, see a doctor, take classes and take advantage of all the benefits of reliable, affordable broadband."
Connect the Ready is a competitive grant program that encourages public/private partnerships and collaboration to build broadband infrastructure in unserved or underserved areas of the state. The Maine Connectivity Authority received 29 grant applications for this round of funding, with requests of more than $102 million. MCA will announce the next Connect the Ready grant round later this spring.
"There is an overwhelming demand for support to improve connectivity in Maine. Today, we are taking an important step to expand access, but there is much work to do," Butcher said. "The projects that will receive grant awards today were those that are best positioned to move forward in areas of greatest need. We look forward to working with other applicants to strengthen their proposals, so they are competitive for the next round of awards later this year. The interest in this program is amazing. Communities are engaged and working hard to serve their residents and local businesses."
Additional program information and a complete listing of approved projects and grant amounts can also be found on MCA's website.
Connect the Ready is part of the comprehensive suite of MCA's All-In Programs, which are funded by a $150 million allocation from the American Rescue Plan Act's Capital Projects Fund and the Maine Jobs and Recovery Program. This represents a tenfold increase over any past investment in Maine's broadband infrastructure. The All-In programs are designed to reach the last mile in the most rural places, connect communities ready to scale their infrastructure, prepare communities for investment, ensure affordable options for everyone, and invest in partnerships to build a modern broadband infrastructure for Maine.
Established in 2021, the Maine Connectivity Authority (MCA) is a quasi-governmental agency charged with achieving universal access to affordable high-speed broadband in Maine and is designed to proactively address the state's connectivity needs while managing the unprecedented influx of funding for the development of the state's broadband infrastructure.