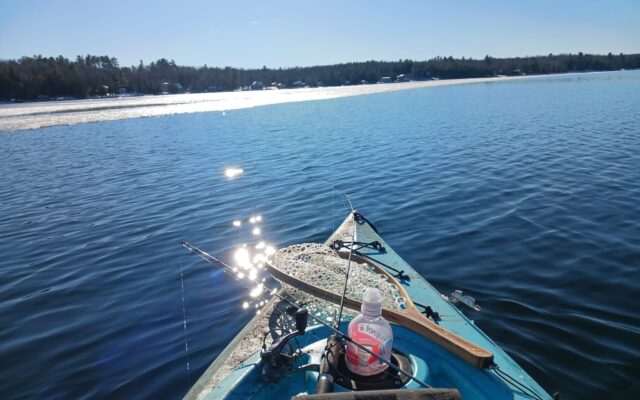 Murdock kayak fishing
Photo courtesy of Kyle Murdock WINTER PADDLE — Ice is visible along the shoreline of Wassookeag Lake in Dexter during a fishing outing earlier this month. Kyle Murdock fishes out of his kayak using a flasher device and has achieved good success.
Lack of ice doesn't keep this angler from catching togue from his kayak
By Pete Warner, Bangor Daily News Staff
DEXTER — This has been a difficult and unpredictable winter with little safe ice on Maine's lakes and ponds.
Warm weather has challenged folks who enjoy ice fishing to find good, consistent ice on some of their favorite waters.
Even so, no ice has proven to be no problem for one Penobscot County angler.
Once New Year's Day arrives, Kyle Murdock is almost certain that he'll be able to get out onto Wassookeag Lake — one way or the other.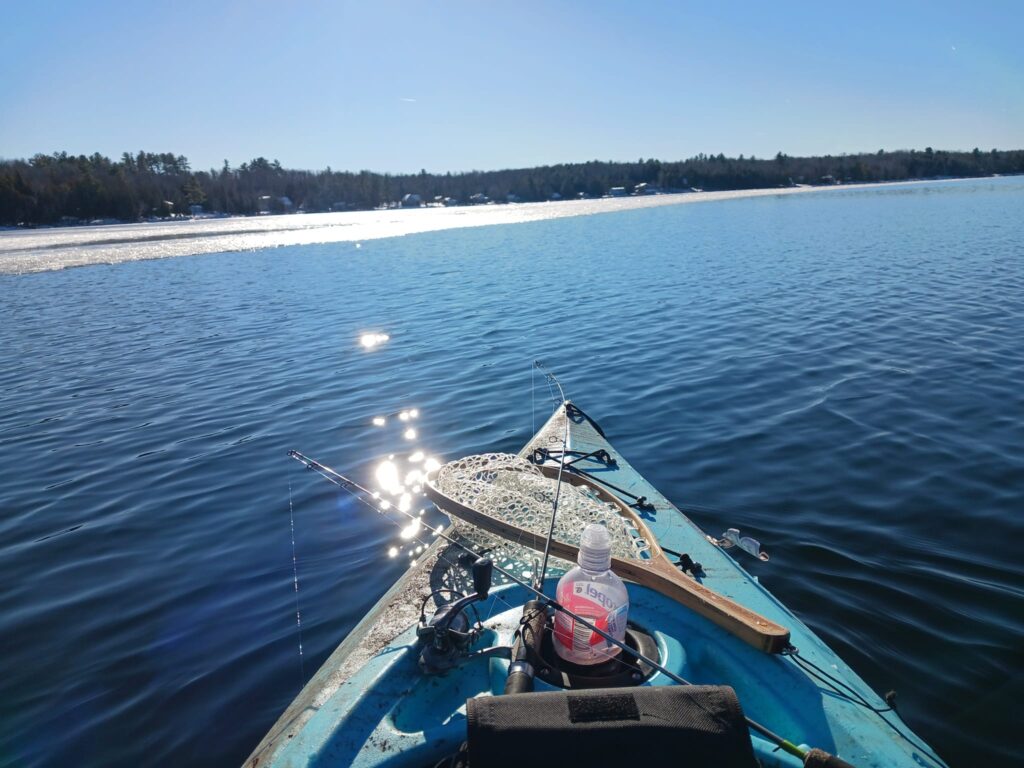 Murdock has a simple solution to the ice problem: He slides his kayak down to the water's edge, gets in and starts paddling.
For the last several years, kayak fishing is Murdock's preferred method for targeting lake trout on Wassookeag. Recently, with conditions not suitable for tromping around on the ice, he hit the frigid waters as he's done in similar times in the past.
It might sound a little scary to be paddling in such frigid water with the chance of going for a dangerous polar dip, but Murdock has enough experience in his kayak to do so with confidence.
"I wear my life jacket. It doesn't bother me," Murdock said.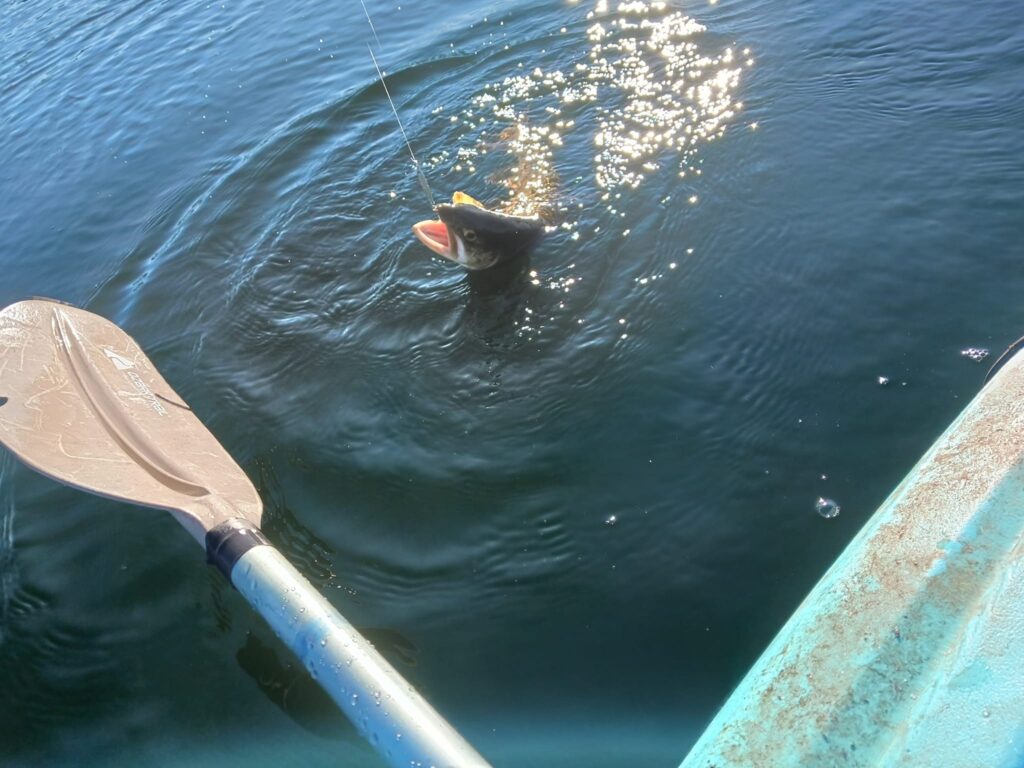 "I duck hunt. I'm out in the dark when it's cold, paddling around. I was out there this spring when the ice went out," he said.
So Murdock doesn't mind getting a few quizzical looks from people on and around the lake. And he spends enough time on Wassookeag that many of the regulars are used to seeing him out there.
"I fish like that all year round, provided that it's not windy, from ice out to ice in," said Murdock, who lives only a mile from the lake.
It should be pointed out that fishing out of a kayak or boat is not for everyone. Nor is it permitted everywhere in Maine at this time of year.
Open-water fishing is legal year round in Maine in the South Zone, while the North Zone is closed to open water fishing from Oct. 1 to March 31. Wassookeag is located in the South Zone.
For a long time, Murdock had limited success fishing Wassookeag, but he credits a friend showing him a new tool to find fish.
It involves the use of a flasher, a piece of electronic equipment with an illuminated dial that shows the bottom and the position of fish.
After landing five fish during the first morning outing with his buddy he was, well, hooked.
"I went home that afternoon and bought a flasher," Murdock said.
He has since developed a successful technique for catching lake trout from his kayak. When he marks one on the flasher, he drops down his jig and starts twitching his rod. When Murdock reels up or jigs, he is able to watch as the fish, represented by a colored line, pursues it.
"It'll tell you what depth your jig is at and when the fish comes in, it shows you what the fish is doing, so you can react accordingly," he said.
Murdock tries to keep things simple while in the kayak. He uses a three-foot ice fishing rod that helps him maintain his center of gravity and only carries a small selection of lures, along with the flasher.
Usually, if the fish are going to bite, they'll do so right away.
"It's kind of like playing a video game, really," he said. "Not all the fish I mark, I catch. Sometimes you've just got to mess with them."
The biggest deterrent to fishing out of the kayak is the weather. Since he must be moving slowly to scan the water, fighting wind and waves is almost impossible to overcome and also magnifies the cold.
Once the ice sets in for the long haul, Murdock will leave his kayak at home, grab his flasher and head out onto hardwater for more winter fun.
He's got a technique for that, too. Murdock drills holes and probes them with the transducer. Rather than standing around and waiting for flags, he's jigging aggressively for lake trout.
"You don't sit on one hole all day long and jig on one hole, you move around," Murdock said.
Sometimes, despite marking lots of fish, it might take some time before he gets one on the hook. Unless a fish is injured during the process, he maintains a catch-and-release ethic.
Regardless, Murdock has achieved much better success using his flasher fishing method than he did with traditional techniques.
"I've had a lot of people say, 'I'd like to try that,' but I get a lot of 'wow, that's kind of cool, I've never thought of that,'" he said.