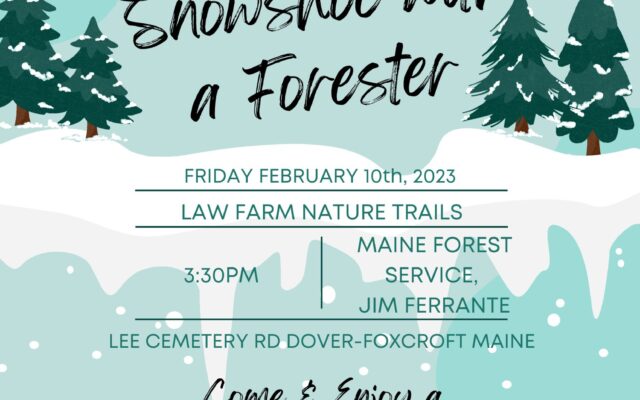 Snowshoe with a forester flyer
Snowshoe with a forester at the Law Farm
DOVER-FOXCROFT — The Piscataquis County Soil and Water Conservation District is excited to kick off our sixth annual snowshoeing adventure at the Law Farm. Our "Snowshoe with a Forester" afterschool event will take place on Friday, Feb. 10 at 3:30 p.m. at the Law Farm Nature Trails.
Our snowshoeing adventure is always a great time. It is designed to offer something for the beginner and the snowshoeing expert, so all are welcome! We will be working with Maine Forest Services Jim Ferrante to walk and talk with us about all things forestry related.
The PCSWCD looks forward to seeing you out at the Law Farm for this fantastic event. Spaces are limited and you must pre-register to join us. This event is free this year, with a big thank you to the Dover-Foxcroft Kiwanis club for their sponsorship.
To register, please visit our website at www.piscataquisswcd.org, our Facebook page at www.facebook.com/www.piscataquisswcd.org, give us a call at 207-564-2321 ext. 3, or send along an email to info@piscataquisswcd.org. We look forward to sharing the outdoors with you!