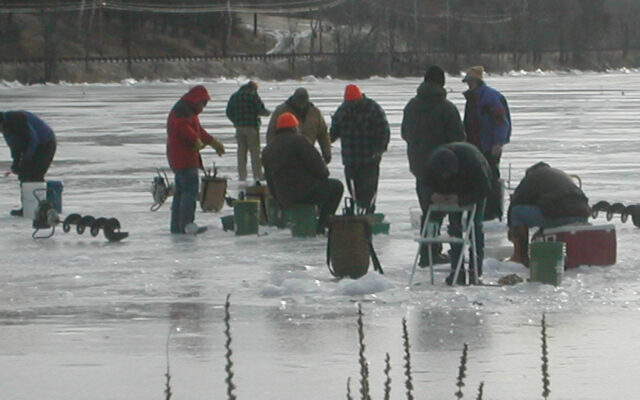 icefishDB (1)
Bangor Daily News file photo
Maine ice fishing derbies are being canceled because the ice isn't safe
By Pete Warner, Bangor Daily News Staff
Most of Maine barely has any snow to enjoy the outdoors — and adding insult to injury is the limited amount of safe ice on many of the state's lakes and ponds forcing the cancellation of local ice fishing derbies.
So far this winter, warm temperatures and a significant pre-Christmas rainstorm have been instrumental in slowing the formation of ice in many areas of Maine.
The state is experiencing a warm stretch, including December temperatures in Bangor that were 5 degrees warmer than average. The lack of ice and snow is disrupting an iconic season of derbies, along with activities like snowmobiling, Nordic skiing and pond skating.
In an attempt to attract early season anglers, some organizations schedule ice fishing derbies starting in mid-January. There is less competition than in February, when numerous events are scheduled all around the state.
However, earlier derbies also run the risk of falling victim to unsafe ice conditions.
The 6th Oak Hill Pike Derby, which had been slated for Feb. 4 on Sabattus Lake, has been canceled. That derby serves as a fundraiser for co-curricular activities at Oak Hill High School in Wales.
"It's unfortunate we had to cancel it for the weather," said Amy Raymond, president of the Oak Hill High School Booster Club. "This is such a big fundraiser for our club. We are currently looking into other fundraisers that we could do to bring in some money."
Raymond, who can see Sabattus Lake from her home, said Wednesday there are visible areas of open water. A Saturday forecast that includes heavy rain and temperatures approaching 50 degrees are expected to make matters worse.
"It's just unfortunate that Mother Nature was not in our favor," Raymond said.
Canceling the derby means the Oak Hill High School Booster Club likely won't be able to do as much to help its students, which previously has included the purchase of new uniforms and equipment for their sports teams.
"In the past we've made close to $40,000," Raymond said. "It has gone down a bit, but it's still worth doing it."
The club is refunding the tickets that have already been purchased.
The Dexter Fish and Game Association has pulled the plug on its annual ice fishing derby, which was scheduled for Jan. 14-15, because of unsafe ice conditions on Lake Wassookeag.
The club is hoping that folks who planned to participate in the ice fishing derby will instead consider buying tickets for their raffle items. Among the things up for grabs are 10 different firearms and a crossbow.
Tickets for the gun and crossbow raffle are $10 each or six for $50, while tickets for the non-firearms raffle cost $5 apiece. Members will be selling tickets on Friday and again from 9 a.m. to 5 p.m. Saturday and 9 a.m. to 4 p.m. Sunday at Lakeshore Restaurant in Dexter. Tickets also are available at Pond View Sports in Dexter.
The Youth Ice Fishing Derby scheduled for Saturday on Lake St. George in Liberty also has been canceled due to unsafe ice conditions.
The Icefishforkids Horne Pond Derby in Limington has been postponed until Feb. 11. That event benefits the Standish Fish and Game Club and the Bonny Eagle Backpack Program.
As of Wednesday, organizers were still planning to move forward with the North Anson Snowmobile Club derby scheduled for Saturday on Sandy Pond in Embden and the Operation Reboot OutDoors derby set for Jan. 21 at Great Pond.