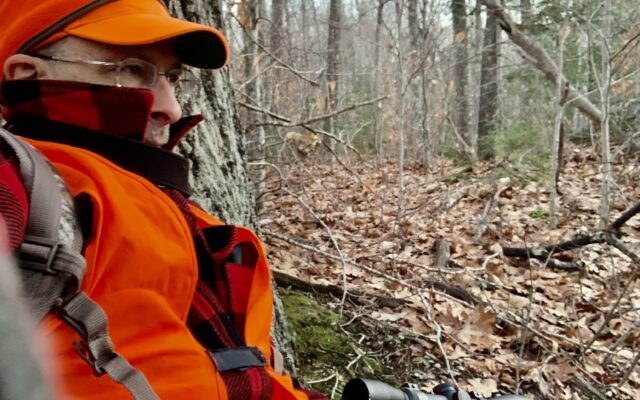 IMG-5387
Bangor Daily News photo/Pete Warner BDN Outdoors Editor Pete Warner sits and waits in the hope of seeing a deer while hunting during the 2022 season.
Here's my bucket list of Maine outdoor adventures for 2023
By Pete Warner, Bangor Daily News Staff
Beginning a new year is a time of reflection.
The older I get, the more I realize we aren't guaranteed anything in this life. Everything can change in an instant.
With that reality in mind, I decided to create a to-do list of activities I want to undertake, places I'm longing to see and the people I would like to share those experiences with during 2023.
That said, I would really love to hear some of your thoughts about favorite outdoors pursuits or cherished venues that you believe make Maine special. Feel free to email me at pwarner@bangordailynews.com.
Inspired in part by interactions and interviews with wonderful friends and some real pros last year, here goes (in no particular order):
— Above all, I hope to spend more time out and about with family and good friends. It doesn't have to involve a rod and reel, a shotgun or a rifle. Our hunting and fishing crew, including John Holyoke, Chris Lander and Bill Lander, talk every year about doing more together.
The challenge is that life's responsibilities, and unexpected developments, can get in the way. Regardless, I see some overnight fishing/camping trips on the horizon.
— During his time at the Bangor Daily News, John always spoke enthusiastically about the opportunities awaiting anglers at Long Lake in Aroostook County. I would like to visit St. Agatha next spring or early summer and try to catch one of those football-shaped landlocked salmon. Heck, maybe I'll even make it up for ice fishing.
— I want to finally climb Katahdin. I'm sure I can do the ascent physically, but I'm going to rely on friends who know the lay of the land in hopes of getting the most out of the experience.
— I would love to spend a day in Maine's coastal waters pursuing bluefin tuna or sharks. Tuna seem a bit more sexy, but I would imagine getting into some sharks would provide plenty of excitement.
— Striped bass fishing in southern Maine. I have dabbled in this activity, but would like to hook up with someone who really knows their stuff. Most intriguing, and potentially scary, is the chance to target stripers at night, whether on a boat or even wading and casting near the shore.
— Tracking a buck in the snow in the expansive woods of the western Maine mountains or in the North Maine Woods. I have seen enough YouTube videos, including from the folks at "Mountain Deer" and "Big Woods Bucks" on YouTube, to realize it would be an amazing way to spend a day.
— Fly fishing at a remote pond. I'm not shy about having to hike from the vehicle to a more secluded water — and even help lug in a canoe or kayak — but the thought of flinging dry flies at native brookies on a nearly unspoiled pond is intriguing.
— Camping out in wall tents for a moose hunt. This one is predicated on drawing a permit (goodness knows I'm due), but I would welcome the challenge of living among the state's largest game animal for a few days, hunting and maybe even having to quarter a moose and haul it out. If I'm only going to get drawn once every 15 or 20 years — time is surely running out — this seems the most nostalgic way to do it.
— I would love to take a long ride through some beautiful country on a snowmobile. For years, I have heard the stories about how much fun it can be to see the woods and trails astride a sled. At this point in my life, I'm not the least bit interested in going super fast, but it sounds like a fun experience.
— Ditto for going on an ATV trek. I haven't been on one since we took Billy's old, three-wheeled machine onto Green Lake for ice fishing 15 or 20 years ago, but it would be worth kicking up some dust while bouncing along the trails.
— Maintaining and hunting a black bear baiting site. An outing late last summer with Mike Clough of Green Lake Guide Service helped spark my interest in the pursuit. It is an activity laden with hard work and intricate challenges, but it would be interesting to find a spot, set it up and bait it, then hunt there. Even having the chance to observe a sow and its cubs, with no intention of shooting, is incentive enough to consider it.
— Become a more proficient shotgun shooter. I need only grab my 20 gauge, head to a safe place where I have permission to shoot, and work on consistently making a good shot. Toward that end, I'll add duck or goose hunting to my 2023 bucket list.
— Shad fishing on the Kennebec River. Last spring, Willie Grenier was gracious enough, on behalf of the Maine Chapter of Trout Unlimited, to provide me with an introduction to this underrated fishery. Hopefully, I can figure out enough of the nuances to get into some again this year.
— Speaking of the Kennebec, taking a drift or paddle down the river in search of landlocked salmon and trout is a fantastic experience. Guide Sean McCormick treated my son William and I to a great day in his drift boat last summer and having those beautiful brown trout hit the dry flies was memorable.
— "Video game" fishing at Sebago Lake. God knows I have come up with plenty of excuses over the years for not fishing more at our camp in Raymond, but there are certainly lots of togue and salmon to be had in Maine's second largest lake. This concept of using advanced technology to find fish below the surface and target them, as demonstrated by New Hampshire angler Josh Treadwell, is really cool.
It's about as far from traditional trolling as one could imagine, but if it helps me catch more fish, it has to be a good thing.
— Learning to tie flies. I never thought I would seriously consider this particular activity, given the need for patience and precision. But the thrill of catching a fish, on a fly you tied yourself, must be amazing. An upcoming class from Penobscot Fly Fishers (Jan. 16-Feb. 20) might be just the ticket to get the process started.
— Whitewater rafting. This sport is a staple of Maine's summertime vacation fun. Despite having heard stories of some harrowing unanticipated swims in the river, it seems like a great way to spend a day with some friends.
Admittedly, there are going to be some hurdles to getting most or all of these items checked off the bucket list this year — not the least of which are the funds and time to pull it off — but time is wasting and I'm feeling an urgency to make up for lost time.
Here's to hoping everyone who enjoys the Maine outdoors has a fun-filled 2023 full of adventures!