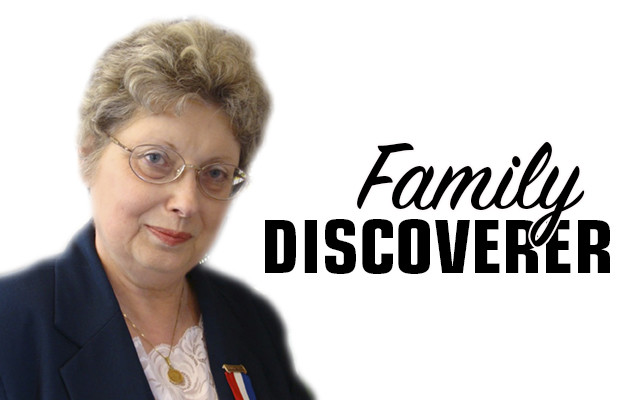 Nancy Battick.jpg
Nancy Battick (of Dover-Foxcroft, president of the Daughters of Union Veterans.) (BDN Photo by Diana Bowley)
Priorities
By Nancy Battick
Welcome to 2023, and let's hope it will be a good year for us all.
I usually dedicate my first column of the year to resolutions, though I believe the custom of making resolutions is simply creating a list of things that won't get done. But this year I have a suggestion for genealogists as they face another year. If you don't have a resolution in mind, I suggest you consider prioritizing.
As I wrote this column, my husband had been in the hospital since before Thanksgiving. I had to focus my priorities on what absolutely had to be done and on him. The elephant in the room was Christmas, and I realized nothing matters if you're together with loved ones. Fortunately, Jack arrived home for Christmas.
What does this have to do with genealogy? All too often genealogists use a shotgun approach to researching. We try to take on too heavy a load. We may be researching multiple family lines at the same time or find ourselves lured away from our original research by a tantalizing clue about another family member. All this is understandable, but it usually means no line is ever finished or clues get ignored or forgotten. This can lead to discouragement and even abandoning genealogy for a time.
Let's face it, life can be overwhelming all on its own without our making it more so. I've sometimes described myself as a one-armed juggler with dozens of balls in the air. Genealogy can do that to you if you let it. When that happens, it isn't fun anymore — and learning about your family should always be fun.
Perhaps this year you could focus on one family line, one family, or even an individual. If you've beaten your head bloody trying to batter down a brick wall, perhaps you could work on another line for a time. One thing genealogists know is that the more we research, the more lines and individuals appear in our trees demanding time and research.
I suggest you review what you've been working on, itemize the gaps in the tree, and focus your research on one gap. You don't have to dedicate the entire year to this, but just a few months or weeks to see if you can accomplish your goal regarding what you need to research. Allow yourself a little breathing space.
There's no question accomplishing a research goal is satisfying and can help you focus on other research. Working on just one individual or family can also make the work on genealogy something that is doable. Let's face it, looking at a hundred families or people can be overwhelming, while a smaller project can be viewed as much simpler and completing it can give you a feeling of accomplishment.
One of my first columns dealt with doing genealogy in nibbles instead of gulps and I do suggest you consider this. And, have a safe and happy new year. Best wishes in your research.
Columnist Nancy Battick of Dover-Foxcroft has researched genealogy for over 30 years. She is past president of the Maine Genealogical Society, author of several genealogical articles and co-transcribed the Vital Records of Dover-Foxcroft.  Nancy holds an MA in History from UM and lives in DF with her husband, Jack, another avid genealogist. Reader emails are welcome at nbattick@roadrunner.com.