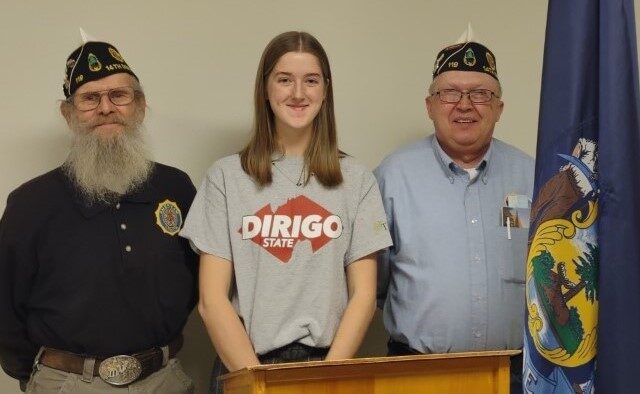 COPY PO-goodwin-2-23 – Copy
Photo courtesy of American Legion Post 119 DIRIGO STATE — PCHS senior Samantha Goodwin gave a presentation at American Legion Post 119 of Guilford about her time at American Legion Dirigo State this past June. Goodwin is pictured with Post 119 Adjutant Steve Deane, left, and Post 119 Commander Brian Knowlton.
Goodwin presents on Dirigo State
GUILFORD — On Sunday, Dec. 18 Samantha Goodwin, a senior at Piscataquis Community High School in Guilford, did a presentation to American Legion Post 119 on her attendance at American Legion Dirigo State in June. Goodwin was sponsored by Post 119.
Dirigo State is a combination of the previous Dirigo Boys State and Dirigo Girls State. It is held annually for high school juniors to learn about the process of government. It is mainly student led and includes elections of officials and presenting and passing bills. Goodwin was her town's clerk and was elected to the House of Representatives. Guest Speakers including Gov. Janet Mills and U.S. Rep. Jared Golden.