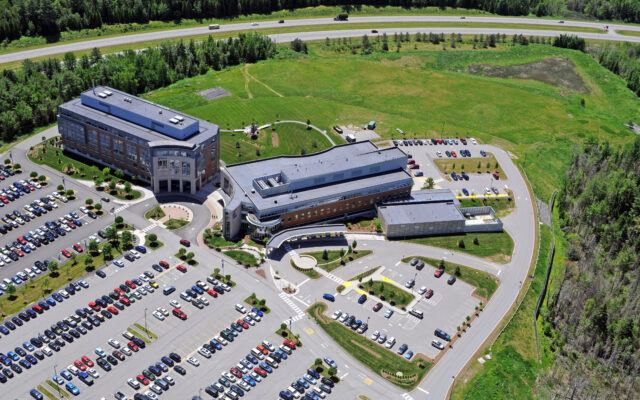 016- EMHS Brewer 06-16-2014 090 14 293 x
Photo courtesy of Northern Light Health Northern Light Health's main office in Brewer
1,400 Northern Light workers will shift to Minnesota company
By Kathleen O'Brien, Bangor Daily News Staff
The Bangor region's largest health care system will turn to a national company to manage most behind-the-scenes administrative functions, in one of Northern Light Health's latest money-saving moves to bounce back from the financial toll of the COVID-19 pandemic.
The move, announced Jan. 5, is expected to save Northern Light more than $1 billion over the next decade. It also means that more than 10 percent of the system's workforce will become employees of a Minnesota-based company, Optum, a major player in the health care industry.
The partnership with the company based in Eden Prairie, Minnesota, is the latest in a string of changes Northern Light has made or announced in recent weeks in an attempt to save money.
The Brewer-based health care system, which runs 10 hospitals and is Penobscot County's largest private employer, estimates it posted an operating loss of $131.7 million on more than $2 billion in revenue during its 2022 fiscal year, which ended on Sept. 30.
In the coming months, Optum, a national firm active throughout the health care industry and a subsidiary of the insurance company UnitedHealth Group, will take over Northern Light's administrative duties, such as patient registration, scheduling and billing, and ordering supplies like gloves and masks.
"It's a relationship for all our support services that don't provide direct hands-on care," said Tim Dentry, Northern Light's president and CEO. "Our core business is taking care of patients, and this gives us a greater ability to focus on taking care of patients with fewer costs, greater efficiency, and future investment in innovation."
Starting in March, the company also will take 1,400 of Northern Light Health's 12,500 employees, adding to Optum's workforce of 220,000. Those employees, however, will remain in Northern Light's facilities and continue serving Northern Light patients, said Paul Bolin, a senior vice president for the system and chief people officer.
None of those 1,400 employees will see a pay cut when they become Optum employees, Northern Light spokesperson Suzanne Spruce said.
"Some outsourcing is offshore to a different country or in a different state, but that's not what this is," Dentry said. "There's no planned or anticipated reduction to the workforces, and all jobs are staying in Maine with their current workforce."
Patients should notice registration and billing processes becoming more efficient, Dentry said, but their experiences with providers at Northern Light facilities will not change.
Dentry said Northern Light pursued the partnership as it assessed its financial condition.
"Last spring, the COVID-19 relief funds were gone and all the inflationary things hit the whole industry hard," he said. "We started the budget process and realized we're going to go through the same process of asking the same people how to do more with less and cut spending while these inflationary pressures were happening."
Northern Light is announcing its partnership with Optum about a month after it announced a new arrangement with another national health care company. The system said in early December that it would sell most of its laboratory services to Quest Diagnostics, which runs testing sites and medical labs across the country.
Under an all-cash deal that's expected to close in the first quarter of the year, Quest will manage nine of Northern Light's hospital laboratories, as well as the laboratory at Northern Light Cancer Care in Brewer. The lab staff will become Quest employees.
"No margin, no mission," Dentry said in explaining those moves. "We need to make a profit, but that's not our sole mission, so we need to make sure our partners' values and mission align with ours."
The sale of the system's lab services, he said, means Northern Light doesn't "have to worry about investing in laboratory equipment because Quest Diagnostics is responsible for that.
"That's one less thing to do so we can focus more on direct patient care."
Other recent money-saving moves include the closure of Eastern Maine Medical Center's primary care practice in Orono, the closure of an inpatient rehabilitation program at EMMC and a restructuring of the system's walk-in care clinic in Bangor that will task nurse practitioners and physician assistants, rather than doctors, with providing most care.
The health care system has temporarily reduced the walk-in clinic's hours while it finishes restructuring.
Northern Light will retain 10,850 employees following the Optum and Quest Diagnostics deals, Spruce said.
The latest changes were recommendations from recovery and comprehensive action plans Northern Light asked each of its 10 hospitals to draft, Dentry said.
"They made the hard decisions, and there will be a few more hard decisions coming up," he said.