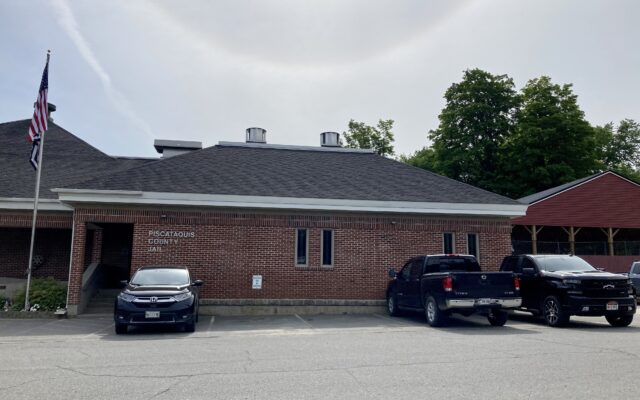 Piscataquis-County-Jail-070522
Observer photo/Valerie Royzman The Piscataquis County Jail in Dover-Foxcroft.
Commissioners OK boarding rate increase for prisoners outside of Piscataquis
DOVER-FOXCROFT — Piscataquis County's commissioners agreed to raise the daily boarding rate for prisoners from outside the county during a meeting Tuesday.
The Piscataquis County Jail in Dover-Foxcroft has been boarding prisoners from surrounding counties, Chief Deputy Todd Lyford said. He asked commissioners to update the boarding rate from $65 to $85 a day.
Across Maine, it's a regular practice for prisoners to be shuttled between county jails, depending on which ones have space.
"We ask that you guys set a rate of $85 so that we can send that information out to other counties," he said. "That way they know exactly what we're charging."
Commissioners Andrew Torbett and Wayne Erkinnen approved the change.
Here are other highlights from Tuesday's meeting:
It was Chairman James White's last meeting as a commissioner. His resignation is effective by the end of Tuesday, he said. White is stepping away to serve as a state representative in the Maine Legislature. Gov. Janet Mills will have to appoint an interim commissioner to serve for the remainder of the year, County Manager Michael Williams said. Paul Davis will be sworn in as a commissioner in January 2023 and will represent District 1. That's also when a new chairman will be chosen.
Commissioners approved the Registry of Deeds' request to advertise in-house for a clerk specialist, a position that will be vacated at the end of the month.
Joshua York, head of maintenance, said a part-time position in his department remains open. "We're stretched super thin and very busy, and we haven't even gotten snow yet," he said. "It's going to be an interesting winter."
Lyford asked if funds from a recent settlement with pharmaceutical companies could be used toward the jail's medication-assisted treatment program, though he did not provide specifics. Commissioners agreed to discuss the matter at their meeting Dec. 20.
The Budget Advisory Committee is scheduled to meet at 6 p.m. Thursday, Dec. 8. Commissioners will meet at 8:30 a.m. Tuesday, Dec. 13, to approve the budget.