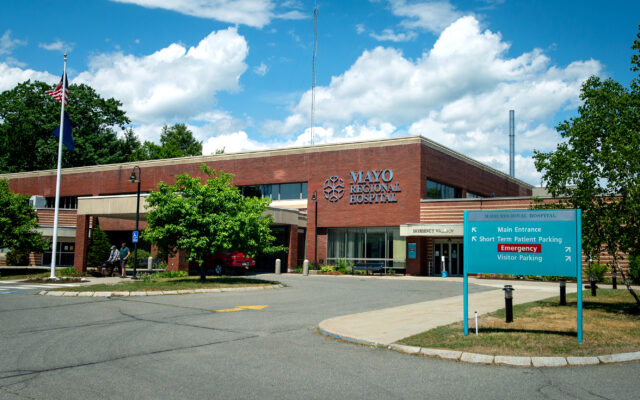 MayoRegionalHospital B LCO
Bangor Daily News photo/Linda Coan O'Kresik Northern Light Mayo Hospital in Dover-Foxcroft
Kids in these 2 Maine counties are at greater risk for poor mental health
Complex emotions among middle-schoolers are nothing new, but the sadness and hopelessness of students in two of Maine's poorest counties prior to the COVID-19 pandemic have health officials and youth advocates concerned.
In Piscataquis County, 30 percent of middle school students experienced feeling so sad or hopeless for more than two weeks in a row that they stopped doing usual activities, compared with the statewide rate of 24.8 percent, according to the 2022 Maine Shared Community Health Needs Assessment. The report includes statistics from 2019, before the pandemic forced students into social isolation. The county's rate increased nearly 10 percent from 2017.
In that same demographic of students, 24.5 percent seriously considered suicide, compared with the statewide average of 19.8 percent. The county's assessment — along with Washington County — notes the rates are significantly worse than Maine overall.
Other rural counties, such as Somerset — the poorest in Maine, according to 2020 data in the Maine Department of Labor's county profiles — did not have such alarming rates in the same mental health categories among middle-schoolers. Aroostook, Hancock and Oxford counties also saw lower percentages than Piscataquis and Washington.
The numbers are startling, according to county officials, who are planning to discuss solutions with parents and seek funding that would bring more mental health resources to students and families. Health experts and advocates expect new data will be even worse, meaning middle-schoolers in Piscataquis and Washington could be at higher risk than those in other parts of Maine.
"Having someone to go to is absolutely critical," said Sue Mackey Andrews, Helping Hands with Heart facilitator and Penquis District Public Health Council chair. "We all need people. Forty percent of our families here [in Piscataquis] work more than one job. About 15 percent work more than two jobs.
"When you do that, you're not at home. You're out making a living. At the end of the week, when there isn't enough money to pay the bills, your kids are seeing and hearing that."
Helping Hands with Heart is a Piscataquis coalition that addresses food, emergency fuel and other needs in the region.
The 2022 Maine Shared Community Health Needs Assessment, released every three years, shows access to care, mental health, social determinants of health and substance use as priorities across the state. It's a collaboration between the Maine Center for Disease Control and Prevention, Northern Light Health, Central Maine Healthcare, MaineGeneral Health and MaineHealth.
The youth mental health statistics come from the biennial Maine Integrated Youth Health Survey of students in fifth through 12th grade, conducted by the Maine Department of Health and Human Services and the Maine Department of Education. It monitors alcohol use, substance use, nutrition and more.
In Washington County, 35 percent of middle-school students reported feeling sad or hopeless in 2019, up from 19.4 percent in 2017, according to the assessment. Like Piscataquis, the county's students face worsening mental health in excess of the statewide average. Nearly 23 percent seriously considered suicide.
County-level data from the 2021 Maine Integrated Youth Health Survey, which would reflect how students felt mid-pandemic, is expected to become available in the coming days, Maine CDC spokesperson Robert Long said.
The assessments for Piscataquis and Washington counties noted concerns about the effect of the COVID-19 pandemic on youth, including the stress of homeschooling and being in potentially unsafe situations with fewer school-based supports.
Officials in both counties made clear that mental health among youth is complex and the troubling rates likely stem from a combination of factors. A major one is Piscataquis' status as the poorest or one of the poorest counties in Maine over the years, Andrews said. Washington also has persisted in that category.
This multigenerational poverty affects children in multiple ways, not the least of which is access to health care, healthy food, heat, adequate clothing and starting school while being unprepared to achieve success, Andrews said.
"This only serves to perpetuate the cycle of poverty in our region," she said.
Hillary Starbird, director of community outreach at Northern Light Mayo and C.A. Dean hospitals in Dover-Foxcroft and Greenville, pointed to the lack of transportation and other resources in rural communities.
Weighing in as a parent and not a health professional, Starbird suspects the constant presence of cellphones and social media also has exacerbated mental health issues. A student's most embarrassing moment could easily be filmed and shared online, she said.
Starbird also noted that in communities with many "grandfamilies," grandparents may not be aware of the pressures and cyberbullying that their grandchildren face online.
Anecdotally, the hospitals are seeing more youth in crisis than they did in the last two to three years, and it has become more challenging to find appropriate placements for them, said Dr. Dave McDermott, senior physician executive and vice president of medical affairs at Northern Light Mayo and C.A. Dean.
Mainers 19 years old and under had an annual rate of 210.8 incidences of suicidal intent per 10,000 emergency room visits, according to Maine Department of Health and Human Services data. That data — including intentional drug overdoses, suicidal thoughts and suicide attempts — reflect visits since 2017. Piscataquis County had a rate of 223 per 10,000 and Washington County had a rate of 172.
"For every youth, there is a different story, and there's a different tomorrow and different family and family culture and community culture," said Julie Redding, clinical director at the Community Caring Collaborative. "This is part of our continued work — how do we actually create opportunities to not just survey youth but follow up?"
The organization is a partnership of more than 45 agencies, along with nonprofits and community members, that focuses on improving the health and well-being of Washington County residents.
Redding noted "traditional stalwarts" in the area that have made mental health interventions accessible to kids, including Aroostook Mental Health Center, Sunrise Opportunities and Community Health and Counseling Services, plus programs that give families hope for betterment, like Family Futures Downeast. The program offers college classes to parents and educational programs to their children.
Calais Community Hospital and Down East Community Hospital in Machias are using the assessment to develop a three-year action plan to make positive change, according to a joint statement from their spokespeople.
Starbird's team uses the data to inform strategies at the hospitals in Piscataquis, she said. Northern Light Health is organizing a community forum for parents in Guilford in late November or early December — including a guest speaker from the National Alliance on Mental Health — to discuss the statistics.
The plan is to invite parents to start a community advisory coalition, and the hospital system wants to offer similar forums in Dexter, Dover-Foxcroft and Milo because the data would be specific to school districts, Starbird said.
Northern Light Mayo Hospital runs positive action teams in Piscataquis schools, where a group of middle- and high-school students partner to spread positivity and address bullying and substance use prevention, among other topics. The effort began in 2017 in Guilford and expanded to other districts
Helping Hands with Heart is seeking a planning grant to acquire more mental health resources, and another half a million dollars in congressionally designated funds to create a regional mentoring program for middle- and high-schoolers is pending, Andrews said.
The organization will host a presentation on 2021 Maine Integrated Youth Health Survey data at its Dec. 16 meeting.
To reach a suicide prevention hotline, call the new 988 three-digit hotline or visit suicidepreventionlifeline.org. Suicide prevention services can also be reached at 888-568-1112 or 800-273-TALK (8255).