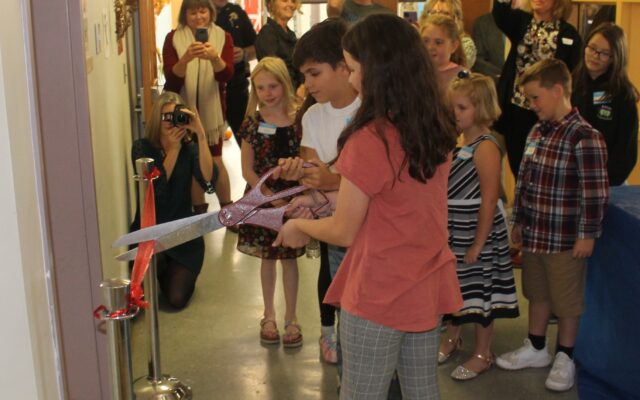 PO-classroomcut-45-22
Observer photo/Stuart Hedstrom OPENING THE PORTAL — Piscataquis Community Elementary School students Asher Chambers and Hayden Hunt cut the ceremonial ribbon to open the Pirate Portal, a 360-degree virtual reality classroom, on Nov. 4. The learning space is the only one of its kind in Maine.
PCES cuts the ribbon for virtual reality 'Pirate Portal'
GUILFORD — For several weeks, Piscataquis Community Elementary School students and teachers have been able to use the "Pirate Portal," a 360-degree virtual reality classroom, along with two dozen virtual reality headsets and eight 360 GoPros.
The learning space — the only one of its kind in Maine — was formally dedicated with a ribbon cutting on Friday, Nov. 4.
"We are the third public school in the United States to have this Igloo 360 room," PCES Principal Anita Wright said during a pre-ceremony demonstration of the Pirate Portal for the day's guests. There are other virtual reality classrooms around the country, but they are not 360-degree systems. The PCES learning room is only the third Igloo Immersive Space to be located in a U.S. public school, along with one in Texas and another in Ohio that was finished just two weeks before the one at PCES.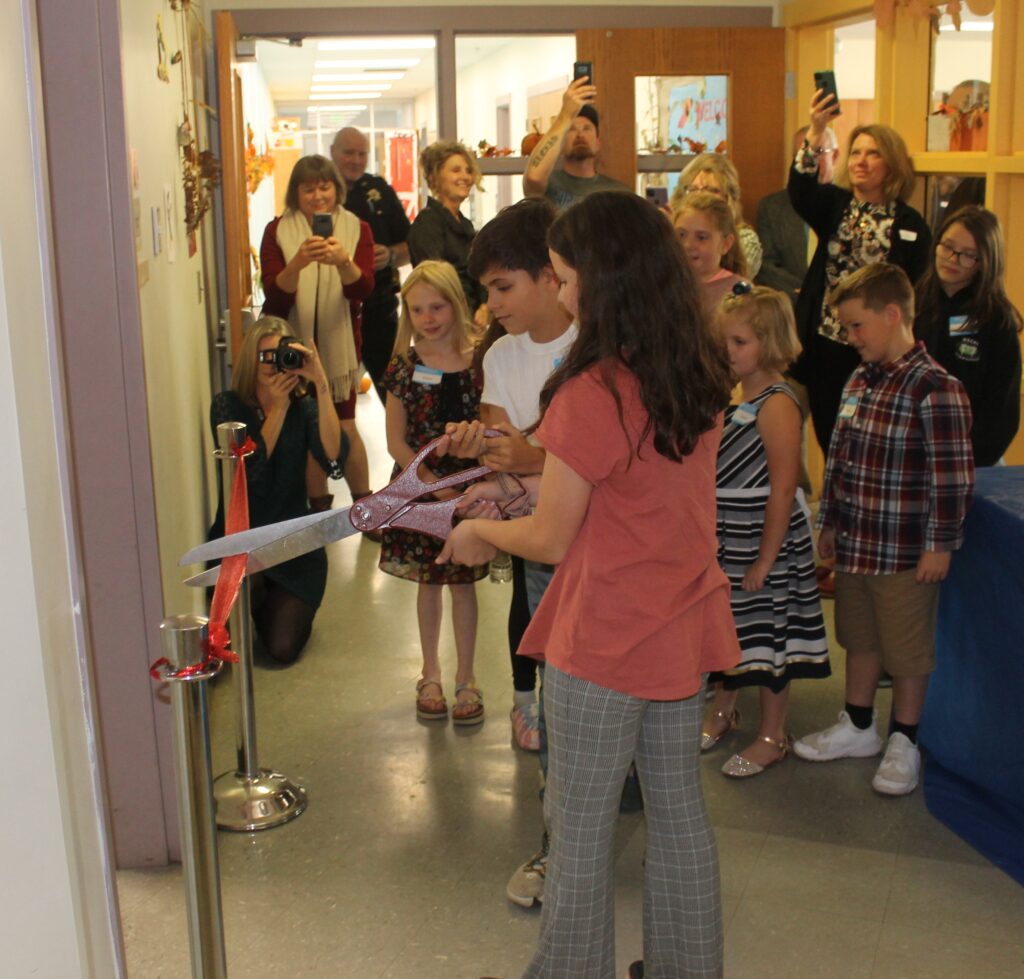 Wright learned about Igloo and its technology capabilities bringing to life experiences such as going inside the human body or meeting a lion face to face during the early days of the pandemic when she was researching how to help reengage students after they returned to the school building post-remote learning.
The majority of the project retrofitted into an existing space was funded through an approximately $120,000 Elementary and Secondary School Emergency Relief grant made up of COVID-19 relief monies. The funds were earmarked for addressing social-emotional and learning issues for students coming out of the pandemic.
PCES was awarded one of only two Avantis World grants in the United States. The 3-year grant program will provide the school with 700 lessons that can be used with two dozen head-mounted VR headsets and 360 GoPros, and content will be created specially for PCES.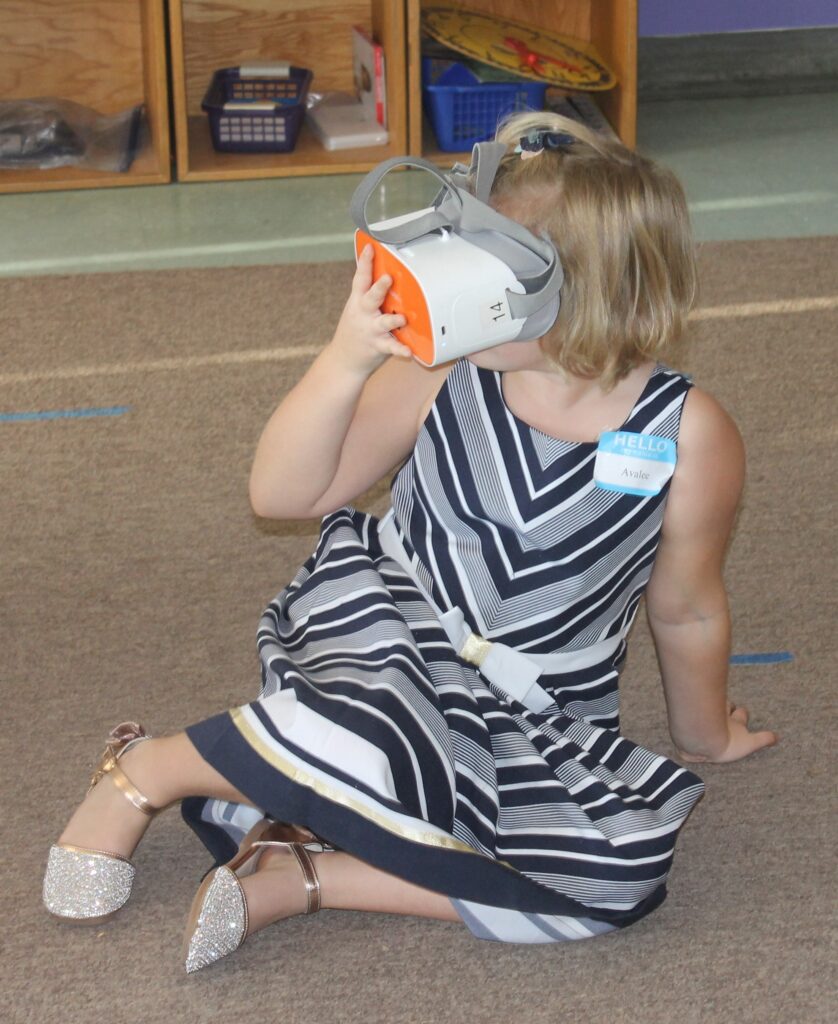 "You can't even go to a site that's going to give this to you. We have a total of 700 lessons because we have that grant and then we can request them to make some lessons for us," Wright said. "We're very happy with that."
She mentioned a reading lesson as an example of how the virtual reality classroom can be used. Students may be asked where "Goldilocks and the Three Bears" is set and then shown a forest. They could then see 360-degree pictures of a beach and realize the story would not be the same as if it took place near a body of water.
"They are going to understand the setting in a much more deep way and then when they write their own stories of course they will think what setting do you want? How would you describe it? So their writing would be more rich."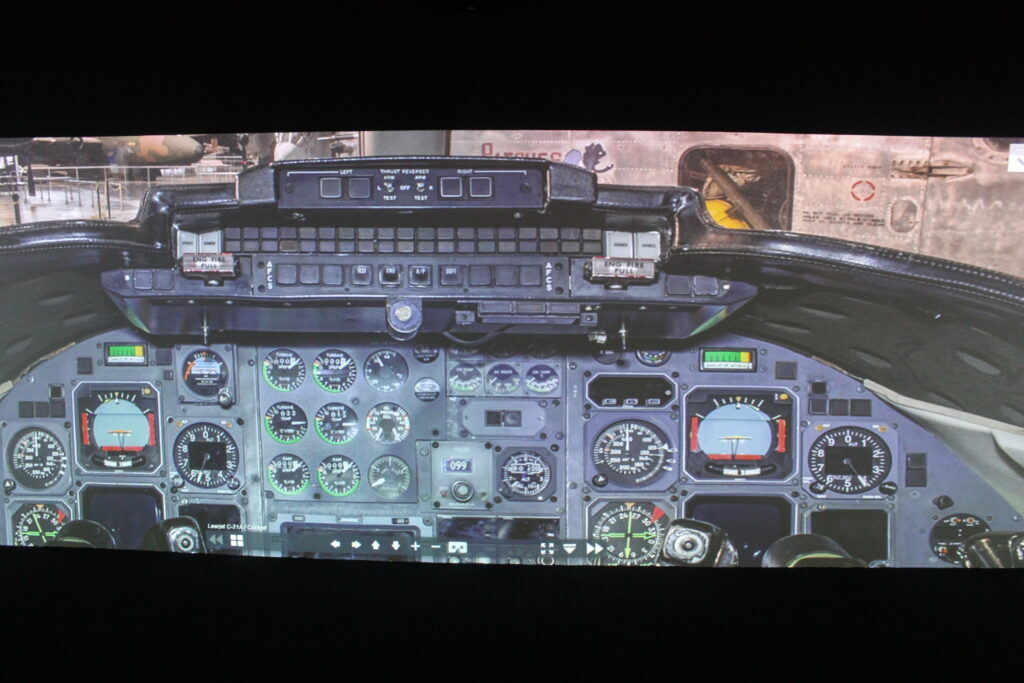 Technology Director Jennifer Watson said students and teachers can take a 360-degree picture with their phone and this can be loaded in the room. The four walls in the Pirate Portal are actually screens, similar to an IMAX theater.
Wright said with the eight 360 GoPros "we can send teachers outside, kids outside so ultimately the goal is the students would be able to make the footage that would play in this room."
The school is looking to partner with area businesses to get content enabling students to "see and experience stuff they can't go out in the field and experience," Watson said.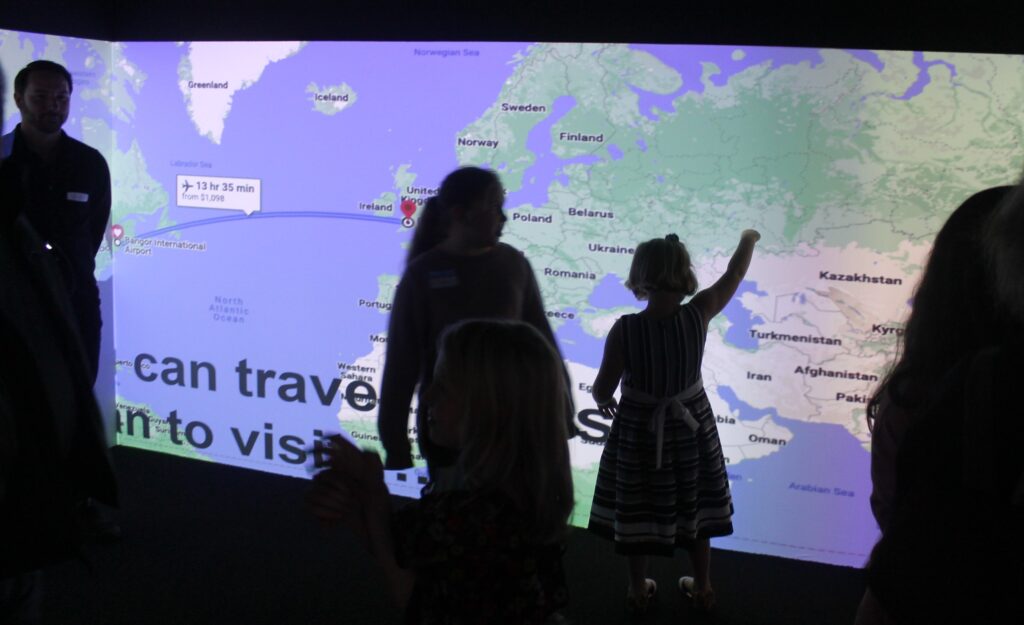 "With partners we could make it real," she said. Mentioning Stacey Fitts, senior director, asset management at Onward Energy, who was watching the demonstration, "We could give Stacey a GoPro camera and he works with windmills so maybe he could take the kids inside to get an inside view or climbing up. The learning becomes real, the students become more engaged, and they have a sense of what goes into the career, whatever the science is at the moment, and sets some aspirations because that's ultimately the goal. They have a dream and see a path to get there."
A FedEx pilot spoke to third-graders as part of a unit on thrust and drag. The students saw photos of the cockpit as they heard the pilot's words.
"We do want to talk about careers so they can see what goes into careers," Wright said. She said the pilot shared his military training, but said his best friend learned to be a pilot in college so "he talked about different ways to get there."
While learning more about the potential for PCES, Wright spoke with Thomas College Early Childhood Education Professor Pamela Thompson and about her research on using VRvirtual reality for STEM instruction.
Thompson has been training teachers with an on-site course. "We organized our students to work with the teachers who are working with 360 virtual reality here, and what the students are doing they are finding content that is embedded with the units the teachers are doing," she said.
"It's been a great opportunity for our students to see the power of this technology and also to collaborate with teachers," Thompson said.
The principal said PCES wants to use the Pirate Portal to establish a relationship with a sister school in Wales. She said the United Kingdom institution is also located in a rural part of the country.
"There's really no limits on what they can do," Watson said. She said the Pirate Portal is soundproof, and this has been tested with students going on a virtual roller coaster ride and their screams of excitement being inaudible in the hallway.
A student from each grade 2-6 homeroom was selected as an ambassador for the ribbon cutting with Asher Chambers and Hayden Hunt holding the scissors for the snipping. The cut was broadcast to the rest of the school gathered in the gym.
With everyone assembled in the large space, the student ambassadors introduced the day's guests representing Monson Arts, Piscataquis County Sheriff's Office, Onward Energy, Piscataquis County Economic Development Council, UGE Solar, Thomas College, Maine Legislature and Beal University.
Wright read excerpts of "Oh, the Places You'll Go" and asked students to think about how to move a mountain because Dr. Seuss did not specify how.
Walking to the bleachers with microphone in hand, Wright had students answer by saying several variations of "Believe in yourself."