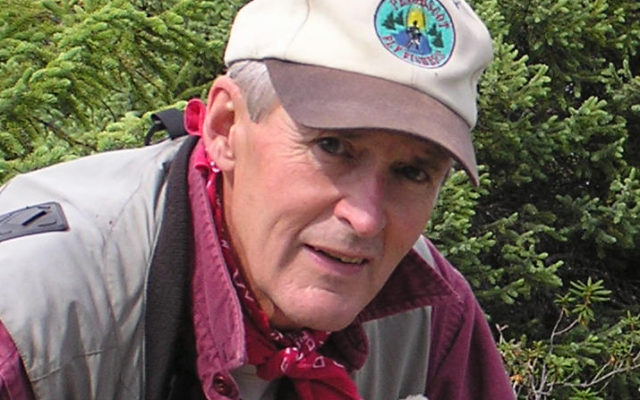 Mystery of Big Bog lives on 100 years later
By V. Paul Reynolds
David Brown and Mertley Johnson were the first Maine Game Wardens to lose their lives in the line of duty. Although there is no hard evidence, there is every reason to believe that wardens Brown and Johnson were likely murdered by Canadian poachers.
It was 100 years ago this month, November 1922, that the two wardens were last seen near Big Bog in northern Maine. Brown and Johnson were staked out in a man-made blind on the trail of suspected poachers at Big Bog. This large wetland is located in T5 R18 a few miles west of Fifth St. John Pond. Although an extensive late fall search was conducted when the wardens failed to report in, winter conditions closed down the futile search until spring.
In the spring of 1923, the wardens' bodies were found in the bog, which is the headlands of the West Branch of the Penobscot River. Although an autopsy ruled the double deaths as "presumed drowning," there was reportedly no water in the lungs of either of the deceased. With reason, this fueled long-lingering suspicions that the duo was murdered by the Canadian trappers.
Present day District Game Warden Kale O'Leary, who writes a monthly column for the Northwoods Sporting Journal, recently wrote this. "After 100 years and no definitive answers, it is unlikely that anyone will know in another 100 years how both men perished. No matter what you choose to believe in this case, David Brown and Mertley Johnson died protecting Maine's wildlife resources, and will always be remembered for this ultimate sacrifice."
O'Leary goes on:
"Their story does not simply end with their mysterious deaths however, as their legacies last into current times. During the summer of 2020, while completing the Advanced Warden School, new Game Wardens Nick Johnson, Mark D'Elia, Nick Mangino, Corey Cepelak and Steve Milton along with their Cadre staff Wardens Tom McKinney and Josh Beal, placed a stone marker which will stand the test of time and always remind visitors, who come to the campsite at Big Bog, that two brave Wardens lost their lives here so many years ago."
You can visit the campsite and view the marker placed here by traveling out the Golden Road to mile 88 and then traveling approximately 8 or 10 miles in on a right-hand branch road. Big Bog sits just west of Fifth St. John Pond and is part of the North Branch of the Penobscot River. It can be found on Delorme Gazetteer map number 48.
So this week, a full century later, we pay homage, not only to the memory of wardens Brown and Johnson, but to all Maine Game Wardens who perished in the line of duty.
The author is editor of the Northwoods Sporting Journal. He is also a Maine Guide and host of a weekly radio program "Maine Outdoors" heard Sundays at 7 p.m. on The Voice of Maine News-Talk Network. He has authored three books. Online purchase information is available at www.sportingjournal.com, Outdoor Books.