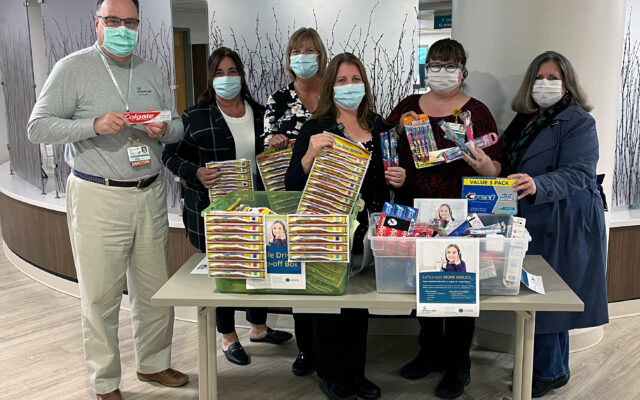 PO-mayosmiles-41-22
Photo courtesy of Northern Light Mayo Hospital SMILE DRIVE — Members of the Mayo Employee and Community Appreciation and Wellness Committee and Mayo Hospital's Senior Leadership Team present items collected during the Smile Drive to Kelly Sirimoglu,Piscataquis Regional Food Center executive director.
Mayo Hospital collects hundreds of oral health items for area families
DOVER-FOXCROFT — Oral health is an important part of overall health, but sometimes, families don't have the tools they need to fight tooth decay. Recently, Northern Light Mayo Hospital employees addressed this problem by collecting toothbrushes, toothpaste, and floss for Piscataquis County families.
Items collected during the Smile Drive will be distributed by the Piscataquis Regional Food Center.
"Families fighting hunger are more likely to be fighting cavities, too. Mayo's Smile Drive supports our effort to provide the oral health products that are most in need. This generous donation will help us assist dozens, if not hundreds of families in our region," says Kelly Sirimoglu, executive director, PRFC.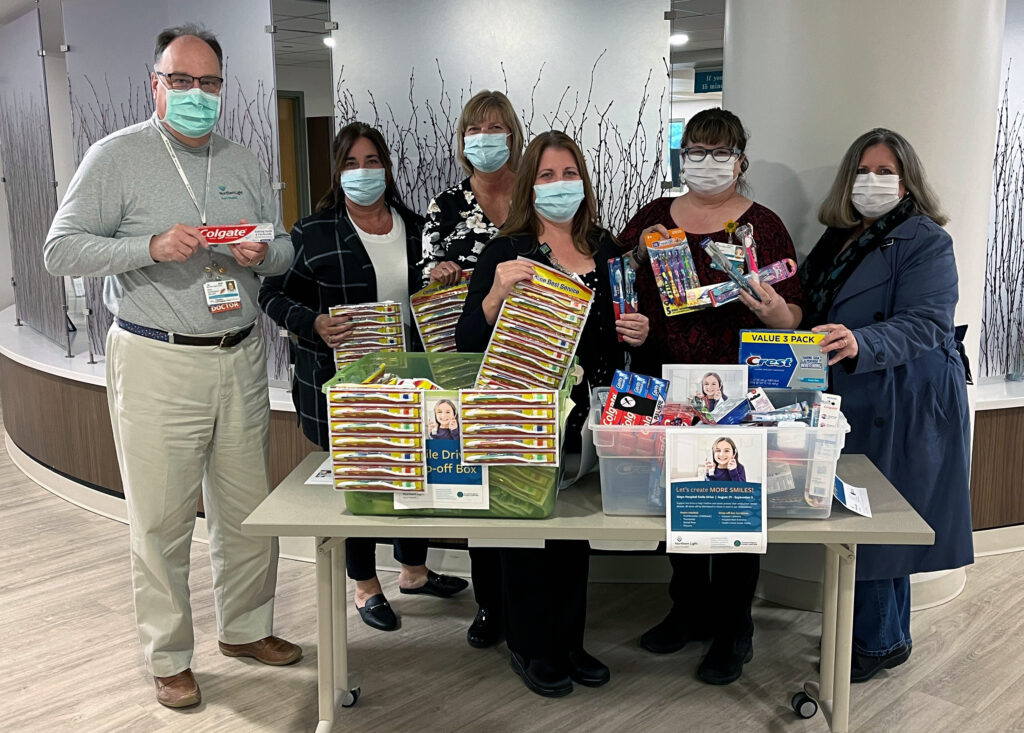 Mayo employees donated 509 toothbrushes, 45 tubes of toothpaste, and 28 packages of floss and flossers. The Smile Drive was coordinated by the Mayo Employee and Community Appreciation and Wellness Committee.
Oral health is an area of special concern in Piscataquis County. Access to dental care lags behind the state average for both children and adults, according to the 2021 Maine Shared Community Health Needs Assessment. While the Smile Drive doesn't replace the need for routine dental care, Mayo employees hope that it will help create more smiles for children and families.
"For many, the cost of basic oral health items can be a hardship. The Smile Drive is a way for us to remove that burden from families concerned with putting food on the table, heating their homes, and filling up the car so they can get to medical appointment," says Whitney Gould-Cookson, MS, RD, LD, clinical dietitian, Mayo Hospital, and PRFC board chair.
The PRFC distributes food to pantries throughout Piscataquis County and in Dexter, Corinna, and Newport. PRFC also delivers food boxes and farm-fresh produce to low-income, homebound seniors and provides storage and light processing space for small farms and food entrepreneurs. To learn more, visit prfoodcenter.org.